The MLC Is Hiring — Manager, Public Relations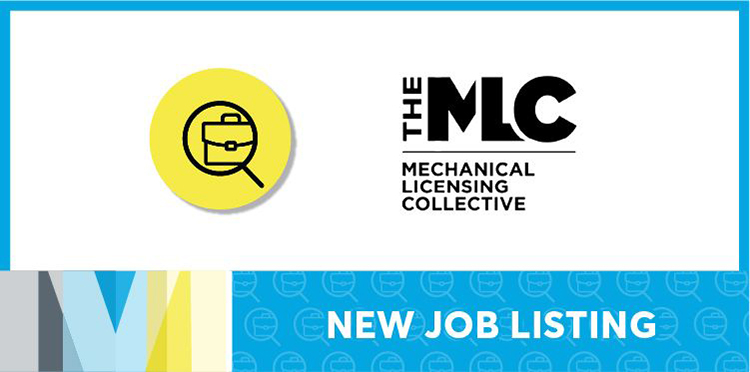 Are you interested in helping create a brand-new, purpose-driven company in the music industry? Do you thrive in a collaborative, entrepreneurial environment? If you do, we'd like to get to know you. ​
The Mechanical Licensing Collective (MLC) is committed to excellence, service, transparency, and diversity. Our culture is collaborative, our people are adaptable, and our office environment is open. On our team, you are respected, valued for your unique strengths and experiences, and empowered to identify and resolve your own challenges.

THE ROLE
In this role, the Public Relations Manager will lead multiple communication projects, including specific written assignments and campaigns. The PR Manager will support the Communications team with pitch writing, media release creation, publicity strategy development, journalist and influencer outreach, and systems management.  Strong candidates will demonstrate excellent use of several technology platforms to produce both creative and analytical work. This position reports to the Director of Corporate Communications and will support national communication needs as well as internal support for The MLC team.

QUALIFICATIONS  
Bachelor's degree in a related field
Five years of corporate public relations experience
Ridiculously amazing writing skills
Music Tech content marketing experience preferred
Self-starter and highly organized
Highly effective working remotely
Strong MS skills; especially PowerPoint
Experience with Hubspot preferred


ESSENTIAL RESPONSIBILITIES​
AS THE MANAGER OF PUBLIC RELATIONS INITIATIVES, YOU WILL:
Develop and implement publicity strategies with high attention to detail.
Create and maintain PR plans, including planning timelines, tracking activity, analyzing media coverage, and producing reports.
Update and maintain company lists and press lists for media, press coverage, and pitches.
Create and execute writing projects including content marketing, press releases, website copy, and other assignments to support marketing efforts.Identify and secure feature press on The MLC key executives.
Pitch executives for panels, conferences, and high-profile industry events.
Field press inquiries and liaison with outside PR companies.
Suggest and participate in outreach activities that include writing support.
Create and distribute media email blasts.
Provide rapid response daily pitching.
Assist with department communication requests as needed.

AS YOU DEVELOP STRONG RELATIONSHIPS WITH STAKEHOLDERS FOR THE MLC, YOU WILL:
Develop and maintain strong relationships with the press, media, bloggers, and media outlets.

Create PR plans to align with media and outreach strategies.
Identify pitch story opportunities appropriate for a variety of audiences.
Facilitate interviews with external stakeholders.

YOU WILL CHAMPION THE MLC'S CULTURE BY:​
Applying The MLC's Guiding Principles to your work and your behaviors
Being process-oriented, data-driven, and tech-savvy; being collaborative, curious, and open to new ideas
Engaging in a diverse and dynamic team; continuing with personal development
Inspiring others with your enthusiasm and humility


Click here to apply for the role.


THE MLC IS AN EQUAL OPPORTUNITY EMPLOYER THAT COMMITS TO PURSUING, HIRING, AND CELEBRATING A DIVERSE WORKFORCE AND CREATING AN INCLUSIVE ENVIRONMENT. THE MLC DOES NOT MAKE EMPLOYMENT DECISIONS BASED ON RACE, COLOR, RELIGION OR RELIGIOUS BELIEF, ETHNIC OR NATIONAL ORIGIN, SEX, GENDER, GENDER-IDENTITY, SEXUAL ORIENTATION, MARITAL STATUS, CITIZENSHIP STATUS, DISABILITY, AGE, MILITARY OR VETERAN STATUS, OR ANY OTHER CATEGORY PROTECTED BY LOCAL, STATE, OR FEDERAL LAW. THIS POLICY APPLIES TO ALL TERMS AND CONDITIONS OF EMPLOYMENT, INCLUDING RECRUITING, HIRING, PLACEMENT, PROMOTION, TERMINATION, LAYOFF, TRANSFER, LEAVES OF ABSENCE, AND COMPENSATION.