The MLC is Hiring — Assistant GC, DSP Relations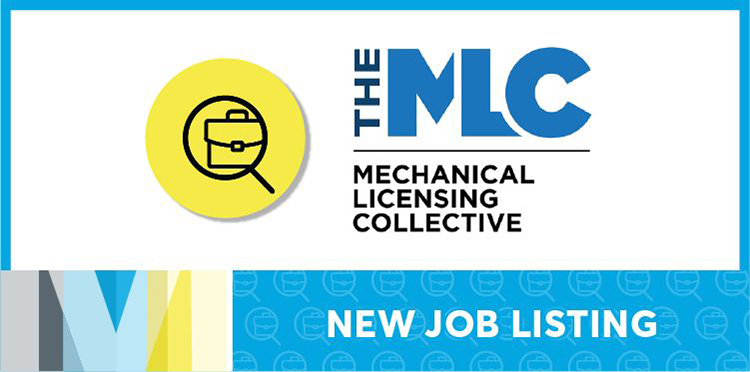 Are you interested in helping create a brand-new, purpose-driven company in the music industry? Do you thrive in a collaborative, entrepreneurial environment?  If you do, we would like to get to know you.
Working at The MLC
The MLC is committed to excellence, service, transparency, and diversity. Our culture is collaborative, our people are adaptable, and our office environment is open. On our team, you are respected, valued for your unique strengths and experiences, and empowered to identify and resolve your own challenges.
The Role
In this role, you will partner closely with the executive management team in defining and leading strategies and goals for the Digital Services Provider (DSP) Relations team. You will also drive operational excellence within the team and throughout The MLC. You will lead and influence processes across various departments including legal, operations, and technology. In this role, you are expected to ensure the efficient and effective collaboration between The MLC and DSPs. You love to solve problems, big and small, you thrive in a dynamic, fast-paced environment; you approach every challenge head-on. As a member of The MLC's leadership team, you will help to design, maintain, and champion The MLC's unique culture.
Essential Responsibilities
You Will Develop and Maintain Relationships With DSPs Required to Provide Data and Payments to The MLC By:
• Resolving complicated issues with DSPs in a way that aligns with regulatory requirements, provides guidance for practical steps of compliance and operational protocols, and documents solutions
• Partnering with other departments to create and maintain processes and documentation to address DSP questions and concerns efficiently
• Collaborating at high levels of decision-making while building trusting relationships with DSPs
• Engaging outside counsel and expertise as needed

You Will Develop and Execute Strategic Initiatives By:
• Creating and executing strategy and processes in support of The MLC's business goals
• Anticipating bottlenecks, assessing risks, mitigating issues and developing processes and protocols for escalation
• Working with the Technology and Data Analytics teams to track KPI's, analyzing these metrics to support data-driven recommendations for the Senior Leadership Team and the Board
• Participating on industry panels or committees as needed
You Will Build and Lead a World Class Team By:
• Leading a team to execute the strategies for the DSP onboarding and training processes
• Leveraging analytical skills to develop new opportunity areas that maximize efficiency and productivity
• Aligning budget planning, forecasting, & resource management to meet and exceed goals
You Will Champion The MLC's Culture By:
• Embracing The MLC's leadership values and applying The MLC's Guiding Principles to your team's work
• Being process-oriented, data-driven, and tech-savvy; being collaborative, curious, and open to new ideas
• Building a diverse and dynamic team; mentoring team members; developing future leaders
• Inspiring others with your enthusiasm and humility
Click Here to Apply
THE MLC IS AN EQUAL OPPORTUNITY EMPLOYER THAT COMMITS TO PURSUING, HIRING, AND CELEBRATING A DIVERSE WORKFORCE AND CREATING AN INCLUSIVE ENVIRONMENT. THE MLC DOES NOT MAKE EMPLOYMENT DECISIONS BASED ON RACE, COLOR, RELIGION OR RELIGIOUS BELIEF, ETHNIC OR NATIONAL ORIGIN, SEX, GENDER, GENDER-IDENTITY, SEXUAL ORIENTATION, MARITAL STATUS, CITIZENSHIP STATUS, DISABILITY, AGE, MILITARY OR VETERAN STATUS, OR ANY OTHER CATEGORY PROTECTED BY LOCAL, STATE, OR FEDERAL LAW. THIS POLICY APPLIES TO ALL TERMS AND CONDITIONS OF EMPLOYMENT, INCLUDING RECRUITING, HIRING, PLACEMENT, PROMOTION, TERMINATION, LAYOFF, TRANSFER, LEAVES OF ABSENCE, AND COMPENSATION.