Sony Music Publishing Chairman & CEO Jon Platt To Keynote Music Biz 2022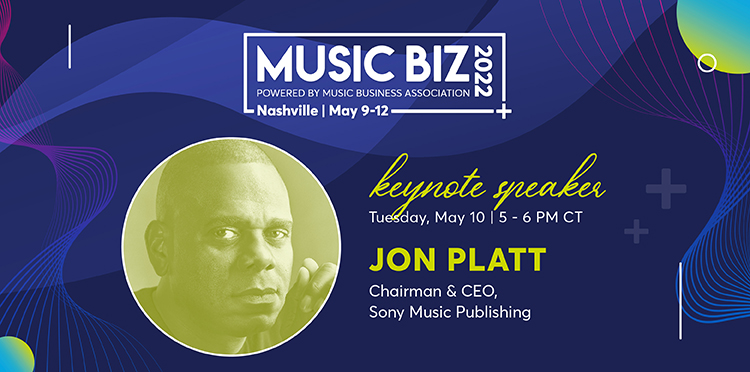 Conversation will cover the music publishing space,
and how Platt has influenced its evolution throughout his career
January 6, 2022 — The Music Business Association (Music Biz) has confirmed that Sony Music Publishing (SMP) Chairman & CEO, Jon Platt will participate in a keynote conversation during the organization's upcoming Music Biz 2022 conference, to be held May 9 – 12, 2022 at the JW Marriott Nashville. All of Music Biz 2022's keynotes will appear under the Music Biz LIVE banner, which began as a virtual interview series during the COVID-19 pandemic and has blossomed into a vital forum where key figures from the global music business discuss the most timely issues of the day.
Amidst a 25-year career working with songwriters including Jay-Z, Beyoncé, Drake, Pharrell Williams and Rihanna, Platt has greatly influenced the dominance of Hip-Hop music by elevating how R&B/Hip-Hop artists are respected & compensated as songwriters. Thanks to Platt's songwriter-first, universally inclusive leadership style, SMP is setting the standard on how songwriters are paid and was the first company to expedite foreign royalty payments.
"Of the many seismic shifts our industry has seen in the last two years, one thing that stands out is the rising profile of the publishing sector, particularly with regard to the streaming economy," said Music Biz President, Portia Sabin. "Through his tireless work supporting both legendary and new songwriters, Jon is perfectly positioned to discuss these changes, and I'm honored to chat with him about this and more at our May event."
Music Biz 2022 takes place May 9 – 12, 2022 at the JW Marriott Nashville. The first in-person Music Biz event since January 2020, attendees can expect four days of industry-defining conversations and connections, as well as important discussions on how our industry may evolve to become more inclusive and better serve the needs of all industry professionals. Visit musicbiz2022.com for the preliminary conference agenda, event registration & lodging information, COVID-19 protocols, and more.
# # # #
About the Music Business Association
The Music Business Association (Music Biz) is a not-for-profit membership organization that advances, promotes and invests in the future of the music business by providing a trusted forum where ideas and cooperation flourish. Through events, education and engagement, the Association brings together the full breadth of the industry for unparalleled access to networking, resources and thought leadership.


Media Contacts
For Music Business Association:
Nicole Hennessey, Vice President — nicole.hennessey@musicbiz.org


For Sony Music Publishing:
Katie McClenny, Director — katie.mcclenny@sonymusicpub.com