Smart Speakers Driving New Music Consumption Habits, Says New AudienceNet Study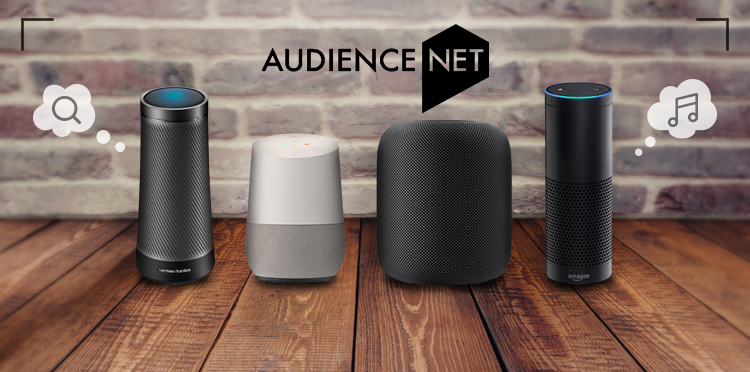 October 10, 2018 – Music subscription services are gaining traction as the dominant way consumers listen to music, with smartphones and new devices, such as smart speakers, driving adoption of these services, especially among younger audiences. This is according to "Audiomonitor 2018: The Overall Music Listening Landscape," a new report provided to the Music Business Association (Music Biz) from research firm AudienceNet. The report was based on a survey of a statistically and demographically representative sample of the US population (3000 participants, aged 16+), and was detailed in a webinar hosted by Music Biz and AudienceNet.
New to this year's report was a study of the adoption rates and uses of smart speakers, which are already influencing how audiences consume media. According to AudienceNet's findings, 14% of the U.S. population now owns a smart speaker, and listening to music was the most popular use case among owners. Amazon's Echo and smaller Echo Dot proved to be the most popular smart speakers, over offerings from Google and Apple.

In terms of format, Smart speakers most positively impacted on-demand streaming services, with 43% of owners now using these services more than they did before purchasing their device. And, notably owning a smart speaker led 37% of owners to start paying for a subscription service.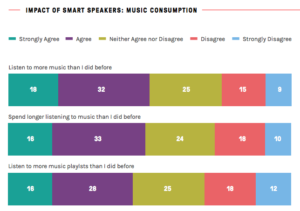 Furthermore, a striking 73% of smart speaker owners said their device has changed the way they listen to music to at least some extent — specifically, approximately half of smart speaker owners agreed they listened to more music and spent longer listening than they did before getting their device (50% and 49% respectively).  43% of smart speaker owners also agreed that using their device increased the amount of music playlists they listen to, while around 40% discovered more music and 38% listened to a broader range of music than they did previously.
In terms of AudienceNet's music consumption metrics, which are tracked annually, on-demand streaming accounted for 27% of overall music consumption and was the most popular format among younger demographics by a significant margin, taking up 60% of 16 -19 year olds listening time, a 13% increase over last year.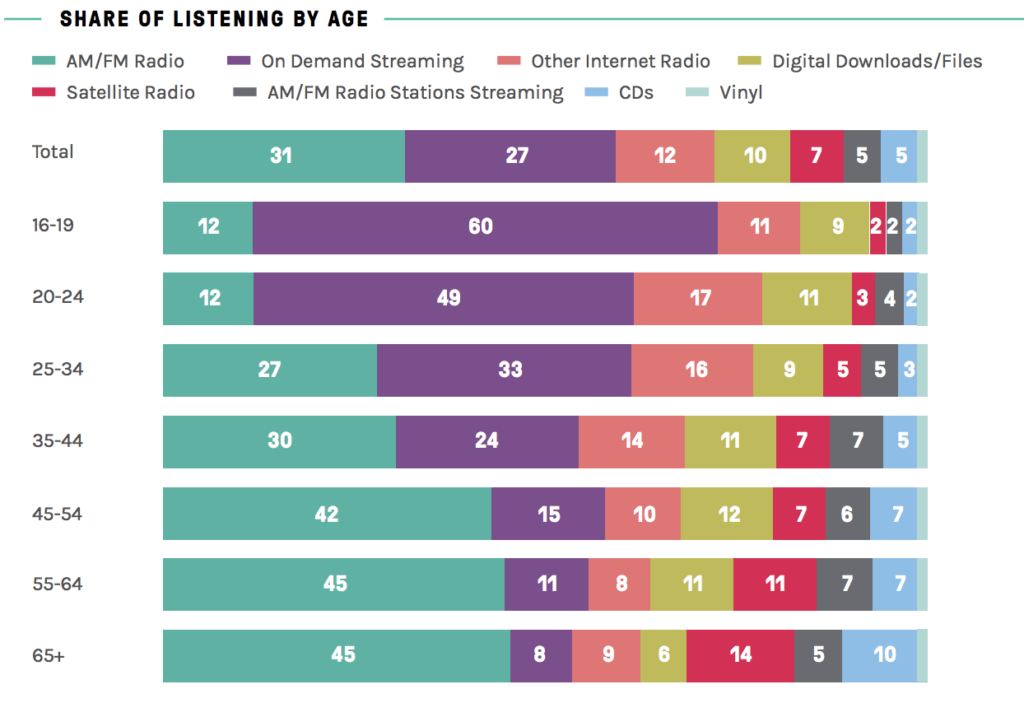 Despite a 3% drop since last year, AM/FM Radio was still the most popular listening source in the U.S. accounting for 31% of total listening time. However, AM/FM radio only accounted for 12% of listening among 16-24 year olds, with popularity of the format rising as respondent age increased. Listenership to radio and CD players was very low among 16-24 year olds, and grew in linear fashion as participants got older, peaking among those age 65+ at 45%.
Back in the realm of hardware, smartphones were the primary listening choice among younger listeners, taking the majority share of listening among all aged 34 and below (45% for ages 16-19, 40% for ages 20-24, and 31% for ages 25-34). The smartphone also proved to be single most used device for music consumption, capturing 25% of total time spent listening — up 6% from the same study last year. Collectively, however radio receivers of all varieties (AM/FM radios, in-car AM/FM receivers) accounted for the majority of listening time to music among the total sample when combined (30%).
For access to the report and the recorded webinar, contact Music Biz VP Nicole Hennessey at nicole.hennessey@musicbiz.org or 856.313.5532 or Robert Delmonte, AudienceNet Music & Entertainment Insight Lead at robert@audiencenet.co.uk or +44 (0) 20 7729 8059.
About the Music Business Association
The Music Business Association is a not-for-profit membership organization that advances, promotes and invests in the future of the music business by providing a trusted forum where ideas and cooperation flourish. Through events, education and engagement, the Association brings together the full breadth of the industry for unparalleled access to networking, resources and thought leadership.
The Association's esteemed Annual Conference, Music Biz 2019, is set to take place Sunday, May 5 through Wednesday, May 8 at the new JW Marriott Nashville. The Conference draws over 2200 attendees from across the globe and showcases more than 300 speakers at 100+ programs. Music Biz 2019 will offer the commerce and content sectors a place to meet with trading partners and brands, network with new companies, learn about new trends and products impacting the music business, as well as music creatives a place to discuss their craft and learn more about the legal, metadata, financial, and other matters that impact their royalties. For specific event details, visit the Music Biz 2019 event page.
About AudienceNet
AudienceNet is an accredited, full-service market research agency, specialised in conducting music and entertainment research across domestic and foreign territories. We provide music consumer data globally, currently conducting nationally representative research in 20 countries, across 6 continents. In terms of bespoke projects, our clients include, or have included: UMG, SME, WMG, Beggars, 7Digital, BPI, IFPI, ERA, IFPI, UK Music, Panasonic, Dolby, Abbey Road Studios and the BBC.