RIAA Issues 2018 Year End Music Industry Revenue Report: Comment from Music Biz President James Donio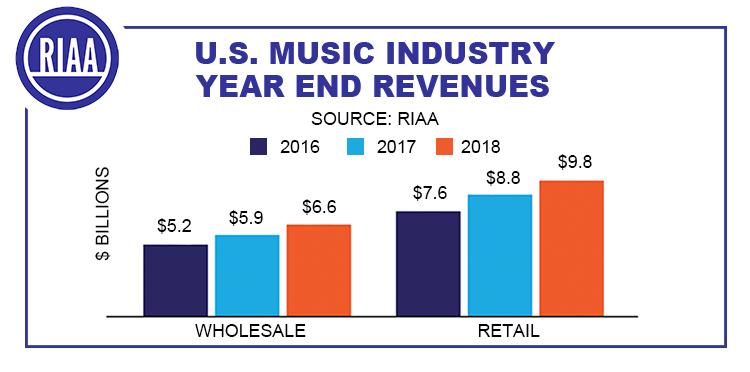 James Donio, President of the Music Business Association (Music Biz), has issued the following statement regarding today's release of the Recording Industry Association of America's (RIAA) 2018 Year End Music Industry Revenue Report:
"The Music Business Association applauds the efforts of our industry partners in 2018, which have resulted in a third consecutive year of double-digit growth as shown in today's RIAA Year End Report. The number of paid subscribers to on-demand streaming services topped 50 million for the first time in 2018, as the breadth of choices and platforms continue to empower consumers to branch out of their comfort zones and discover music they might not otherwise experience. With more than a million new subscribers signing up for these services per month, it is truly exciting to see how the monetization of music has adapted to benefit both creators and consumers.
"Outside of on-demand streaming, digital and customized radio services saw a 32% increase in 2018, marking the first time the format has surpassed the billion-dollar mark. And once again, vinyl records proved to be the marquee physical format in 2018, comprising more than one-third of revenue earned across all physical music at $419 million. Given that the format reached heights it has not seen since 1988, it is clear that vinyl records hold high importance for music fans seeking tangible pieces of art from their favorite performers and serious collectors alike.
"Given the upward trend since 2016, we believe the striking industry-wide success outlined today will continue throughout 2019, driven by a strong slate of artists across all genres set to release new music in the weeks and months ahead."
Click here to read the full RIAA report.