Reservoir's Golnar Khosrowshahi Confirmed as NY:LON Connect 2020 Publishing Track Keynote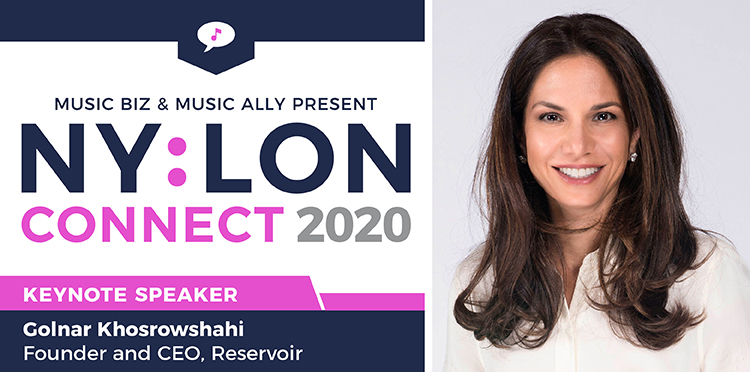 Music Biz and Music Ally also confirm slate of speakers for
2020 Startup Showcase & Award Program
December 19, 2019 — The Music Business Association (Music Biz) and Music Ally today announce that Reservoir Founder and CEO Golnar Khosrowshahi will keynote the Publishing & Rights program track at the fourth annual NY:LON Connect Global Music Business Summit, taking place January 16 – 17, 2020 at the Dream Downtown Hotel in New York City. The summit is sponsored by Dataclef, Gracenote, AdRev, MQA and FUGA, with support from DataArt, HFA/Mint, Exactuals, Last.FM, LyricFind, and Single Music.
Under Khosrowshahi's leadership, Reservoir has grown to represent over 110,000 copyrights and 20,000 master recordings with titles dating as far back as the 1920s, and earned the Publisher of the Year Award at Music Business Worldwide's The A&R Awards in 2017 and 2019. Named one of Billboard's Most Powerful Female Executives in 2017, 2018 and 2019 and a Billboard Indie Power Player in 2017 and 2018, her unparalleled perspective on the music publishing space will inform an insightful keynote conversation about how publishing has transformed and will continue to drive growth and evolution in the global music marketplace.
"Fresh off her being featured on Billboard's Women in Music 2019 list, we are excited to announce that Golnar will kick off the Publishing track of this year's NY:LON Connect summit," commented Music Biz President Portia Sabin. "Her trailblazing career and multitude of well-deserved accolades make her the perfect voice to lead the conversation about the future of music publishing."
This year's NY:LON Connect summit marks the return of the NY:LON Connect Startup Showcase and Award. Music Biz and Music Ally will once again host five of the top music-related startups and hold an audience vote to determine which company is poised to have the biggest impact on the music business.
Presenters from each startup company in this year's program include:
Lydia Gregory, Co-Founder and CEO of FeedForward (UK)
Morgan Hayduk, Co-Founder and Co-CEO of Beatdapp (Canada)
Matan Kollnescher, Founder and CEO of MyPart (Israel)
Alex Mitchell, Founder and CEO of Boomy (US)
Zack Zalon, Co-Founder and CEO of Super Hi-Fi (US)
"Right from the outset, NY:LON Connect has always highlighted some of the most innovative new ideas in the music business," said Music Ally CEO and Co-Founder Paul Brindley. "The showcase not only gives attendees a chance to hear from some of the startups who are helping to shape the industry, but also the ability to choose who they think has the most potential for the future."
In addition, the following panelists and moderators have joined the NY:LON Connect 2020 agenda:
Brian Braiker, Editor for AdAge
Tamar Herman, Contributor for Billboard and Forbes
Rich Isaacson, EVP and GM of Def Jam Recordings
Ben Kihnel, Strategic Director for AdRev
Soy Kim, Associate Director, Digital Marketing for Columbia Records
Ari Melber, Host of MSNBC's The Beat with Ari Melber
Heesun Park, GM of peermusic Korea
Puja Patel, Editor-In-Chief for Pitchfork
Regan Smith, General Counsel and Associate Register of Copyrights for the U.S. Copyright Office
'Tosin Sorinola; Head of Marketing, Africa for Transsnet Music (Boomplay Music)
Already announced, NY:LON Connect 2020 will feature keynote interviews with Spotify's Cecilia Qvist, YouTube Music's Sun Lee, Warner Music Group's Scott Cohen, 300 Entertainment's Kevin Liles, and Q&A's Troy Carter. For more event details, visit nylonconnect.com.
Registrations for NY:LON Connect 2020 are sold out. For those interested in being placed on a wait list, please fill out the form linked here, and Music Biz staff will reach out in the event that additional seats open up. For registration questions, contact Evelyn Dichter at evelyn.dichter@musicbiz.org.
About NY:LON Connect
Hosted by the Music Business Association (Music Biz) and Music Ally, the NY:LON Connect summit alternates between London and New York each year to unite the global music business community. The summit is strategically planned for January to set a common agenda around what issues the global industry must face in the new year. The five programming tracks for NY:LON Connect 2020 represent the biggest opportunities the industry will encounter in the next calendar year — Emerging International & Influential Markets; Technology, Innovations & Startups; Publishing & Rights; Global Streaming; and Label Evolution. The summit is sponsored by Dataclef, Gracenote, AdRev, MQA and FUGA, with support from DataArt, HFA/Mint, Exactuals, Last.FM, LyricFind, and Single Music.
About the Music Business Association
The Music Business Association (Music Biz) is a not-for-profit membership organization that advances, promotes and invests in the future of the music business by providing a trusted forum where ideas and cooperation flourish. Through events, education and engagement, Music Biz brings together the full breadth of the industry for unparalleled access to networking, resources and thought leadership.
About Music Ally
Music Ally has been covering the music industry's fast-moving digital developments since 2002. Known as a digital thought leader in the global music business, our clients span the music and technology sectors, including all of the major labels and indies, music publishers and collecting societies, music platforms like Spotify and Deezer, and tech giants like Google, Facebook and Microsoft. We are the leading periodical on the new music business, enabling companies to understand the landscape and effectively operate through marketing, training and advisory services. We also collaborate with global events and produce our own conference, awards and networking events.
For Media Inquiries:
Kiva Kamerling
The Press House
kiva@thepresshouse.com
347-804-4675