Q&A's Troy Carter to Deliver Finale Keynote at NY:LON Connect 2020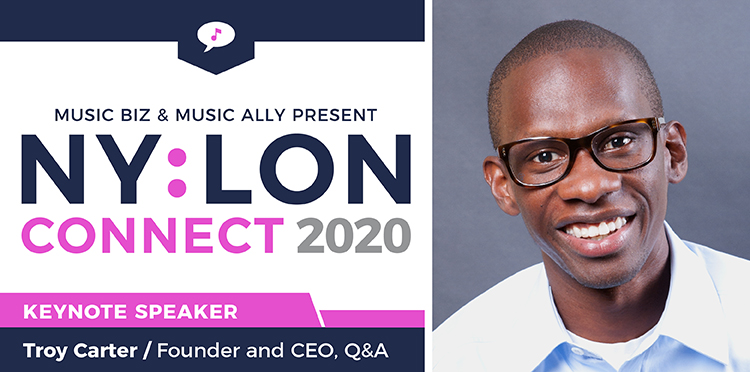 Music Biz and Music Ally also confirm esteemed panelists from
Kanjian Music, Napster, The Orchard, SOCAN, VKontakte and more.
October 8, 2019 — The Music Business Association (Music Biz) and Music Ally today announce that Q&A Founder and CEO Troy Carter will deliver the closing keynote for the fourth annual NY:LON Connect Global Music Business Summit, the first music business forum for the calendar year featuring impactful conversations between key power players whose ideas are pushing global growth industry-wide. Sponsored in part by Dataclef, Gracenote, AdRev, DataArt, FUGA and MQA, the summit is set for January 16 – 17, 2020 at the Dream Downtown Hotel in New York City.
Carter founded Q&A as a new music and technology company focused on building an integrated solution for artists via distribution, management, label services, and data analytics with a highly collaborative, artist-driven approach. He most recently served as Global Head of Creator Services for Spotify, overseeing the company's relationships with artists, producers, songwriters and record companies. Prior to Spotify, he was the founder and CEO of Atom Factory and co-founder and Managing Partner of Cross Culture Ventures. Carter was also named Entertainment Advisor to the Estate of Prince Rogers Nelson in 2017.

"Troy Carter is the ideal person to discuss innovation in today's music industry, as he and Q&A look to shake up how our sector does business," commented Music Biz President Portia Sabin. "Between his work with cutting-edge artists like Lady Gaga, John Legend, Lindsey Stirling, Meghan Trainor and Charlie Puth, to name a few, and his ideas on the continuing integration of music and technology, his perspectives will be invaluable as we discuss the state of the global industry in 2020."

"Q&A is one of the most intriguing and significant new players in the modern music business, so I'm delighted that Troy has agreed to give the closing keynote," said Music Ally CEO and Co-Founder Paul Brindley. "We are also excited to unveil other key speakers from a variety of music markets and companies from across the globe. This is shaping up to be our best lineup to date for NY:LON Connect."

In addition to the already announced keynote speakers — Spotify's Cecilia Qvist, YouTube Music's Sun Lee, and Warner Music Group's Scott Cohen —  Music Biz and Music Ally have confirmed the first slate of panelists for this year's summit: 
Jonathan Azu, Founder & Managing Partner of Culture Collective

Eric Baptiste, CEO of SOCAN

Jake Beaumont-Nesbitt, Advisor for the International Music Managers Forum

Noah Becker, President of AdRev

Bryan Calhoun, Head of Digital Strategy and Business Development for BPG/Maverick 

Diego Farias, Co-Founder & CEO of Amuse

Angel Gambino, CCO of Napster

Mike Jbara, CEO of MQA

Mary Megan Peer, Deputy CEO of peermusic

Konstantin Sidorkov, Director of Strategic Communications for VKontakte

Alex Taggart, General Manager of Outdustry

Monika Tashman, Partner at Manatt, Phelps & Phillips LLP

Colleen Theis, COO of The Orchard

Kelli Turner, President & COO of SESAC

Marek Włodarczyk, Owner & CEO of Independent Digital

Xiaoman Zou, Co-Founder & COO of Kanjian Music
For more NY:LON Connect 2020 details, sponsorship information, and to register, visit nylonconnect.com.

About NY:LON Connect
Hosted by the Music Business Association (Music Biz) and Music Ally, the NY:LON Connect summit alternates between London and New York each year to unite the global music business community. The summit is strategically planned for January to set a common agenda around what issues the global industry must face in the new year. The five programming tracks for NY:LON Connect 2020 represent the biggest opportunities the industry will encounter in the next calendar year — Emerging International & Influential Markets; Technology, Innovations & Startups; Publishing & Rights; Global Streaming; and Label Evolution. 
About the Music Business Association
The Music Business Association (Music Biz) is a not-for-profit membership organization that advances, promotes and invests in the future of the music business by providing a trusted forum where ideas and cooperation flourish. Through events, education and engagement, Music Biz brings together the full breadth of the industry for unparalleled access to networking, resources and thought leadership.
About Music Ally
Music Ally has been covering the music industry's fast-moving digital developments since 2002. Known as a digital thought leader in the global music business, our clients span the music and technology sectors, including all of the major labels and indies, music publishers and collecting societies, music platforms like Spotify and Deezer, and tech giants like Google, Facebook and Microsoft. We are the leading periodical on the new music business, enabling companies to understand the landscape and effectively operate through marketing, training and advisory services. We also collaborate with global events and produce our own conference, awards and networking events.
For Media Inquiries:  
Kiva Kamerling
The Press House
kiva@thepresshouse.com
347-804-4675