Music Biz 2017 Speaker Spotlight: Phil Shmerling, InCrowd Capital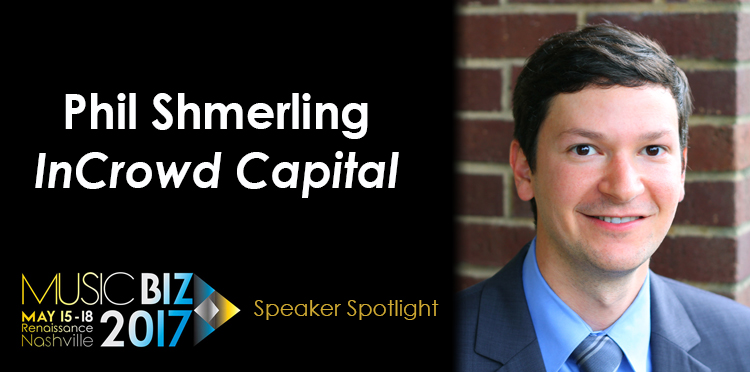 The Music Business Association is excited to welcome Phil Shmerling, CEO, InCrowd Capital for 'Investing, Incubation & Funding for Music Startups' on Thursday, May 18 at 11 AM during the Music Biz 2017 convention in Nashville! Check out the fun Speaker Spotlight below to get to know Phil little more before his Music Biz panel!
What's the first concert you ever attended OR what's the best concert you've ever attended? What did it mean to you and can you describe the experience?
The first concert I ever attended was Paul McCartney at the Liberty Bowl in Memphis, TN in 1993.  I was 11 years old, which might be late for a first concert, but what better first than Sir Paul?!?  I remember Paul playing several instruments and being blown away by his talent.  However, my most vivid memory of that concert was the Hey Jude encore – everyone in the stadium was singing the coda together with lighters raised in the air.  Being my first concert, I did not expect the lighters.  Add to that it was the first time I had ever heard Hey Jude, I felt more emotion during that moment than any other concert I have ever seen since.
How did you know you wanted to get into the music industry? Or maybe you didn't?
Being a venture capitalist, I cannot really say I am in the music industry, even though we do seek out investments in music tech. In saying that, what most attracted me to the venture world is highly paralleled to music. As a boring finance guy, I have always been attracted to creatives – whether it be entrepreneurs, artists or musicians. While I chose venture capital as my profession, I just as easily could have ended up with, and maybe still can end up with, a role in the music business. I am passionate about any role where I can do something to help creatives more easily and lucratively create something special, no matter what the field.
Who do you predict will be the biggest breakout artist in the next year or years ahead?
It turns out that I am not a great judge of who will be the next big artists. I would say generally, though, that in the years ahead, the next breakout artists will be a hobbyist; a couch guitarist; a person with limited musical talent. As it becomes easier to create and record music over the next decade or two, anyone with a computer or phone will be able to turn a melody in their head into a recording-studio quality track. As it becomes cheaper and easier to create music, we will see a boom in content creation coming from a wide variety of artists. I think there are many people out there who do not want to hear that, but I think it is true. Music will start to become like photography, where the super-talented will still succeed, but where anyone with a smartphone can create something on par with an average professional – no musical talent or knowledge required.
What can attendees expect from your panel at Music Biz 2017?
Our panel will help anyone wanting to start a company in the music world consider different options for raising capital, including accelerators, venture capital, angels, bootstrapping (customers; self-financing), crowdfunding and loans.  Which is the right choice for your type or stage of business?  What strategies can you use to increase your chances of landing funding?  What do investors look for? And more.
---
Music Biz 2017, the industry's premier convention, is set to bring together 1,500+ music industry professionals from across the globe Monday, May 15 to Thursday, May 18 in Nashville at the Renaissance hotel. The "four most important days on the industry calendar" will include 100+ panels; workshops with Apple, Amazon, Google/YouTube, SoundCloud, Spotify, and Pandora; meetups; mixers; live music; awards honoring Reba McEntire, Adele, Lukas Graham, Maren Morris, Paula Abdul, Hamilton & more; keynotes from Spotify's Troy Carter & Atlantic's Julie Greenwald with Kelly Clarkson; and so much more.
Visit musicbiz2017.sched.com for the full schedule and musicbiz2017.eventbrite.com to register!
Questions? Reach out to Music Biz's VP of Communications Nicole Hennessey at nicole.hennessey@musicbiz.org today!