NY:LON Connect Unites Global Music Business Community to Set Agenda for 2020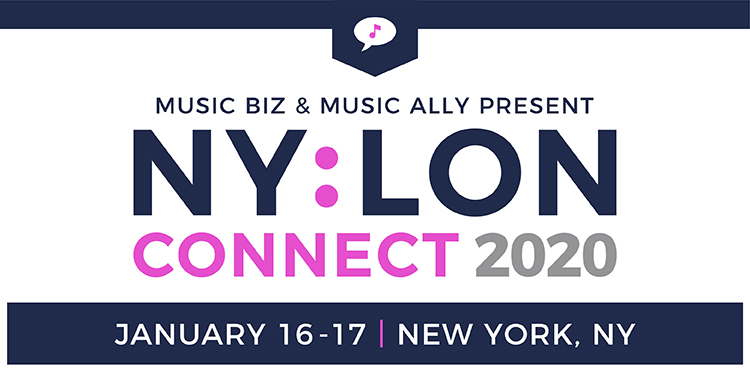 Spotify's Cecilia Qvist, YouTube Music's Sun Lee and
WMG's Scott Cohen confirmed to deliver keynotes
September 10, 2019 — The Music Business Association (Music Biz) and Music Ally today announce the preliminary keynote and program details for the fourth annual NY:LON Connect Global Music Business Summit. The event will take place Thursday, January 16 through Friday, January 17 at the Dream Downtown Hotel in New York City, with currently confirmed sponsorship from MQA, AdRev, Dataclef and Gracenote.
Strategically set as the first music business forum for the calendar year, attendees can expect the 2020 summit to feature impactful conversations between key power players whose ideas are pushing global growth industry-wide. The five programming tracks represent the biggest opportunities the industry will encounter in 2020 — Emerging International & Influential Markets; Technology, Innovations & Startups; Publishing & Rights; Global Streaming; and Label Evolution. 
As in years past, the program will feature keynote presentations from the most influential voices in the modern music business. Spotify's Global Head of Markets, Cecilia Qvist, will deliver the opening keynote on Thursday morning, kicking off the Global Streaming track. Qvist leads Spotify's internationalization and product localization efforts, as well as overseeing the company's international business and global user growth.
Sun Lee, YouTube Music's Head of Music Content Partnerships & Subscriptions for Korea and Greater China, will begin the summit's second day with a keynote to open the Emerging International & Influential Markets track. In her role, Lee oversees the subscription business for YouTube in Korea after successful launches of both YouTube Premium and YouTube Music. She was recently recognized on Billboard's 2019 International Power Players list.
Scott Cohen, Chief Innovation Officer – Recorded Music for Warner Music Group, is also confirmed to deliver a keynote that will open the Technology, Innovation & Startups track on Friday afternoon. In his current position, Cohen works closely with Warner's senior management team to help chart the long-term course of the company at the intersection of music, technology, and culture. Prior to WMG, Cohen notably co-founded The Orchard to provide independent artists the ability to sell their music to mainstream audiences. 
"After three highly successful events in both New York and London, the NY:LON brand has come to represent the kind of impactful conversations necessary to set the tone for our industry in the new year," commented Music Biz President Portia Sabin. "We're thrilled to once again partner with Music Ally to host this ever-essential forum, as we continue our dedication to promoting growth in the worldwide music business while addressing the needs of each industry subset."
"Music Ally is delighted to be back in New York with Music Biz for the fourth edition of NY:LON Connect," said Music Ally CEO and Co-Founder Paul Brindley. "This year's program promises to be our best ever. But I know from past delegates that it's the quality of the attendees as much as the speakers that makes this event so special, so I'll be looking forward to some more great conversations and networking to start the year on the right note."

The NY:LON Connect summit alternates between London and New York each year, uniting top executives and influencers from the international community in conversations that will foster new ideas to drive positive change within the business at large. For more information on NY:LON Connect 2020, sponsorship information, and to register, visit nylonconnect.com.
About the Music Business Association
The Music Business Association (Music Biz) is a not-for-profit membership organization that advances, promotes and invests in the future of the music business by providing a trusted forum where ideas and cooperation flourish. Through events, education and engagement, Music Biz brings together the full breadth of the industry for unparalleled access to networking, resources and thought leadership.
About Music Ally
Music Ally has been covering the music industry's fast-moving digital developments since 2002. Known as a digital thought leader in the global music business, Music Ally's clients span the music and technology sectors, including all of the major labels and larger indies, music publishers and collecting societies, music platforms like Spotify and Deezer, and tech giants like Google, Facebook and Microsoft. Music Ally is the leading periodical on the new music business, enabling companies to understand the landscape and effectively operate through marketing, training and advisory services. Music Ally also collaborates with global events and produces their own conferences and networking events, including the one-day digital marketing event Sandbox Summit.
For Media Inquiries:  
Kiva Kamerling
The Press House
kiva@thepresshouse.com
347-804-4675