NARM, Billboard, and TAG Target TV Music Discovery In New Whitepaper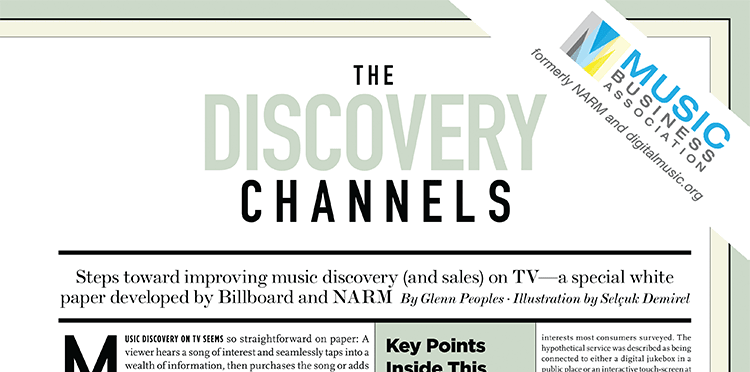 This press release was issued by NARM and digitalmusic.org before the two entities became collectively known as the Music Business Association on October 7, 2013.
May 18, 2012 – digitalmusic.org, the virtual home of music business association NARM's digital initiatives, has teamed up with Billboard and TAG Strategic to produce the new white paper "What's That Song?: Improving Music Discovery on Television." Written by Billboard Senior Editorial Analyst Glenn Peoples and based on the "Music & TV: Enabling Discovery for the Connected Consumer" session at NARM and digitalmusic.org's Music Biz 2012, the paper details the opportunities and challenges presented by music discovery on television, and lays out several recommendations for how to improve monetization and engagement. The white paper is available today exclusively in Billboard magazine (dated May 26, 2012), and can be found on Billboard.biz this Monday, May 21. 
"Television is becoming more and more important to music discovery, and it was great to get together with all the best minds on the subject and talk things through in a substantive way," said Bill Wilson, Vice President of Digital Strategy and Development at NARM and digitalmusic.org. "We think this white paper will go a long way toward harnessing TV's full potential as a music-discovery resource and are excited to share it with the world."
"Billboard is always working to lead the discussion around the ever-changing music business. We're pleased to work with top partners like NARM and TAG Strategic to provide the sorts of insights that will continue to help the music business learn and evolve," said Bill Werde, Billboard's Editorial Director.
Among the white paper's many takeaways are:
Viewers are eight times more likely to buy music at the moment of discovery than at a later time.
Much discovery has moved from brick-and-mortar stores to digital media.
Discovery can be as basic as text on a television screen while still being effective.
The second screen, including mobile phones and tablet devices, has enormous, untapped potential to offer rich, immersive music experiences.
Connecting music discovery on television with music purchases and subscription services will improve monetization and engagement.
Stakeholders all along the value chain must band together for metadata, hardware, applications, download stores, and subscription services to maximize music's potential on television.
The "Music & TV: Enabling Discovery for the Connected Consumer" session, held Wednesday, May 9, included the following speakers:
Ted Cohen, TAG Strategic
Russ Crupnick, The NPD Group
Jay Friedman, Audible Magic
Daryl Berg, Reveille/Shine America
Brian McNelis, Lakeshore Entertainment
Vickie Nauman, 7digital
Barry Smith, West10
Chris Woods, TuneSat