MusicWatch Report: Music Livestreams Net Larger Audience Than Podcasts Through COVID-19 Pandemic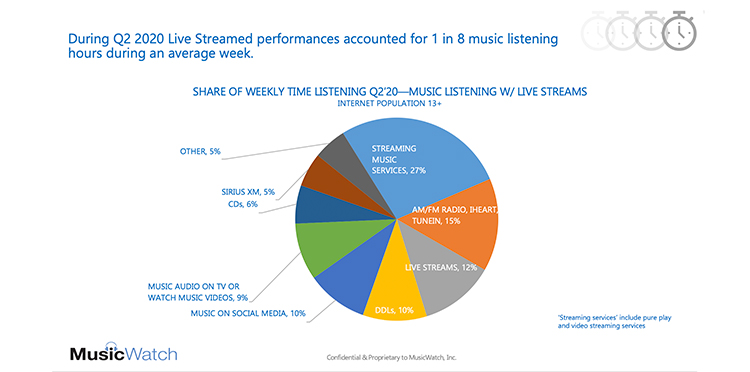 MusicWatch has released a series of comprehensive reports covering the music livestream landscape, measuring the audience for the newly prominent format and how time spent watching livestreams compared to that of other music and audio formats, among other metrics. According to MusicWatch's data,  music livestreams have been watched by over 110 million people age 13+ in the U.S. — a larger audience than those who listen to podcasts, CDs or song downloads. In the initial months of the COVID-19 pandemic, MusicWatch also found that one in eight music listening hours were spent viewing livestreams.
"Nearly 3 of 4 rated the live stream experience as excellent or very good, but half of viewers also agreed that they aren't an adequate replacement for being in person at a live performance," offered MusicWatch Managing Partner Russ Crupnick. On the monetization end, MusicWatch found that one-third of livestream consumers were willing to pay for livestream access in one form or another, including drive-in livestreams, bundles with streaming subscriptions, standalone subscriptions, and more.
Most of the performances consumers watched were presented by artists they would have wanted to see in person. However, a small number took advantage of the virtual experience to watch artists that they were not aware of, demonstrating how the livestream ecosystem can help boost artist discovery.
"It's difficult to say whether the live stream phenomenon will last post-pandemic, but the majority of live streamers report that they'll keep watching," Crupnick offered on the future of the format. "The good news is that frequent attendees to in-person shows and frequent livestreamers are expecting to keep watching when live events resume."
For more information please contact MusicWatch at info@musicwatchinc.com.