Music Watch's Russ Crupnick Shares Jazz Connect 'Music Industry Reboot: A Fresh Look at the Way Music is Bought, Sold and Consumed' Data Presentation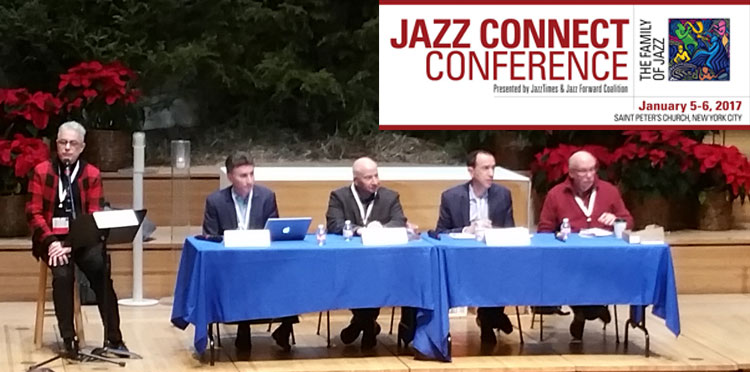 On January 5, Music Biz President James Donio led a panel at the Jazz Connect conference in New York City, "Music Industry Reboot: A Fresh Look at the Way Music is Bought, Sold and Consumed." Joining Jim were Russ Crupnick of Music Watch, Jim Lidestri of Border City Media, Larry Miller of NYU Steinhardt and Musonomics, and Silvio Petroluongo of Billboard.
Lidestri discussed the findings of his BuzzAngle Music 2016 U.S. Report, digging in particularly on the statistics on streaming and the higher percentage of "long tail" tracks that are getting streamed, and Petroluongo broke out some of Nielsen's 2016 jazz market numbers. Crupnick was kind enough to provide the MusicWatch consumer research data that was shared at the event. Of the total number of music listeners polled, 16% or 1 in 6 consider themselves to be regular listeners to Jazz. Jazz fans spend nearly 30 hours per week listening to music, much higher than the 21 hours of the average listener; and they are still listening to their CDs, vinyl and download collections. The panel covered how, in a streaming era, the days of a compartmentalized "section" devoted to specific genres might be waning. Thanks to playlists fans are being exposed to more variety across genres. As the MusicWatch data points out, most Jazz fans also listen to hits from the 80's and 90's and many listen to Adult Pop and Country.
The panel discussed how the "internet of things" might help grow music engagement in the home, and the MusicWatch findings show a much higher affinity for tech such as Sonos devices and high performance headphones.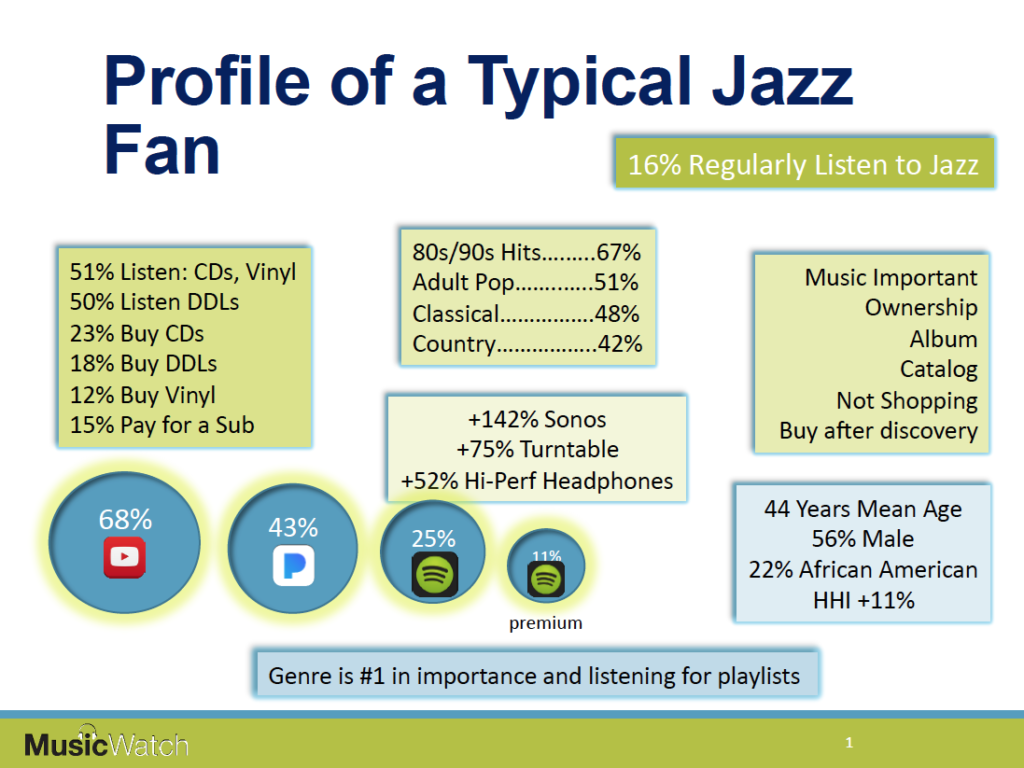 The Jazz fan is a valuable customer, with a higher likelihood of buying after discovery, and a lingering regard for ownership, albums and catalog. Jazz listeners are also more likely to invest in an on-demand subscription; 15 percent are paying to subscribe compared with 11 percent of the overall population. Despite large numbers who currently stream, one in four Jazz fans still buy CDs.