Music Business Association Taps Kobalt, EMPIRE, mtheory Nashville, Hopeless Records and UnitedMasters for New Board Members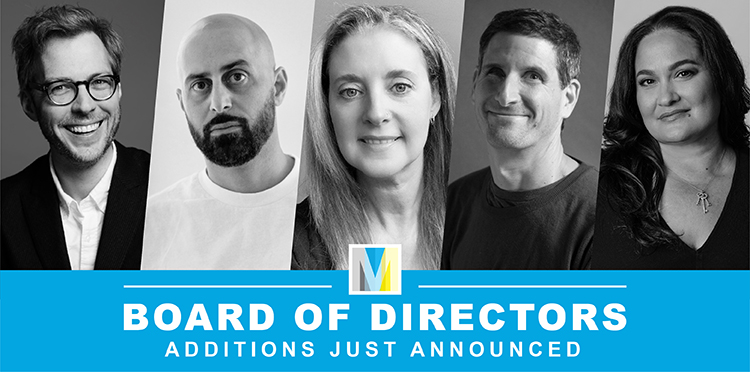 Association Membership Has Expanded To Include
23 Diverse New Member Companies Over Past Three Months
December 5, 2019 — The Music Business Association (Music Biz) today announced the addition of five new members to its Board of Directors, with the aim of diversifying the Board to align with the makeup of the Association's evolving membership. The newly appointed members include: Bob Bruderman, EVP of Global Digital Partnerships at Kobalt Music Group; Ghazi, CEO & Founder of EMPIRE; Cameo Carlson, President of mtheory Nashville; Louis Posen, Founder and President of Hopeless Records; and Lauren Wirtzer-Seawood, President of UnitedMasters.
"I am extremely fortunate and pleased to welcome Bob, Ghazi, Cameo, Louis, and Lauren to Music Biz's board — five important, trendsetting leaders from across the label, distribution, indie music, publishing segments and beyond," said Music Biz President Portia Sabin. "This new group perfectly complements the dedicated members already serving on our Board. I feel that our collective work — both to support our membership year-round and in planning our Annual Music Biz Conference in May — will be informed by a modern perspective on where we are as an industry and where we are headed next."
Music Biz's dedication to serving growth across the entire industry has clearly resonated, as the following 23 companies from the breadth of the music business have joined as members in the past three months:
AdRev
AGD Entertainment
Axum Management Capabilities
Bandcamp
Cygnus Companies LLC
EnterGain
IAFAR
Independent Alliance For Artist Rights
IEMITO
Infinite Catalog
Jason Moll, CPA
LAUM MUSIC
Music Fund Advisors
Neverest
Oregon Catholic Press
Pearl Note Music Services
Pop-Daze Entertainment
Starchive
Sweet
Truflow Hub
Tunecore
Ursa Music
Vezt
The Association has also expanded its Academic Partnership program, founded to support the development of our industry's future leaders, through the addition of Pittsburgh, PA's Point Park University and Columbia College Chicago. When a college or university becomes an Academic Partner, the students and educators involved in music business, technology and entertainment law programs receive access to Music Biz's entire slate of member benefits. Visit Music Biz's website to learn more about the program.
About Our New Board Members
Bob Bruderman is EVP of Global Digital Partnerships at Kobalt Music Group. In this role, he leads the digital commercial partnership, strategy, and licensing efforts globally for Kobalt Publishing and AWAL, Kobalt's recordings company, working with a wide range of start-up digital services as well as with established players, including Amazon, Apple, Facebook, SiriusXM/Pandora, Soundcloud, Spotify, and YouTube, among many more. Bruderman also serves on the Board of Directors of the Mechanical Licensing Collective (MLC), the DDEX Licensing Group, contributes to various industry initiatives and organizations. 
Ghazi is CEO & Founder of EMPIRE, an independent label, distribution and publishing company with an artist-centric focus that has worked with some of today's brightest stars, including Kendrick Lamar, Anderson.Paak, Cardi B and XXXTentacion. EMPIRE's industry-leading label and distribution strategy, coupled with a fierce entrepreneurial and tech-savvy spirit, has allowed the San Francisco based company to fully embrace the digital landscape and scale globally in just 10 years.
Cameo Carlson is President of mtheory Nashville, a company that provides marketing, digital and social strategy, sales, tour marketing, creative, and project financing services for the music industry. Carlson previously served as Head of Digital Business Development for Borman Entertainment and as EVP of Universal Motown Republic Group. Earlier in her career, Carlson held various mobile/digital product development, strategy, sales and marketing roles serving artists such as Keith Urban, Lady Antebellum, Amy Winehouse, Lil Wayne and Jack Johnson. 
Louis Posen is the Founder and President of independent record label, Hopeless Records. Under Posen's leadership, the label has become one of the largest indie record labels (by market share) in the world, and has released over 300 albums with sales exceeding five million albums for such artists as Avenged Sevenfold, All Time Low, The Wonder Years, Sum 41, Neck Deep, The Used, and Waterparks. Named the "Paul Newman of Punk Rock" by Businessweek for his commitment to social entrepreneurship, Posen also founded non-profit Sub City, which has donated over $3 million and raises awareness for more than 50 non-profit organizations by connecting artists, fans, and causes they are passionate about. 
Lauren Wirtzer-Seawood is President of UnitedMasters, an independent music distribution startup that enables artists to operationalize their independence and maximize their creative and economic potential. Wirtzer-Seawood is a highly respected executive in both the music and technology industries. She previously served as Head of Music Partnerships at Instagram, where she led efforts to connect artists with Instagram's global community of one billion users. She also spent more than two years as the Head of Digital at Beyonce's Parkwood Entertainment, and was instrumental in the surprise launch of Beyonce's self-titled visual album.
About the Music Business Association
The Music Business Association (Music Biz) is a not-for-profit membership organization that advances, promotes and invests in the future of the music business by providing a trusted forum where ideas and cooperation flourish. Through events, education and engagement, Music Biz brings together the full breadth of the industry for unparalleled access to networking, resources and thought leadership.
For Media Inquiries
Kiva Kamerling
The Press House
kiva@thepresshouse.com
347-804-4675