Music Business Association Names 2023 Bizzy Award Winners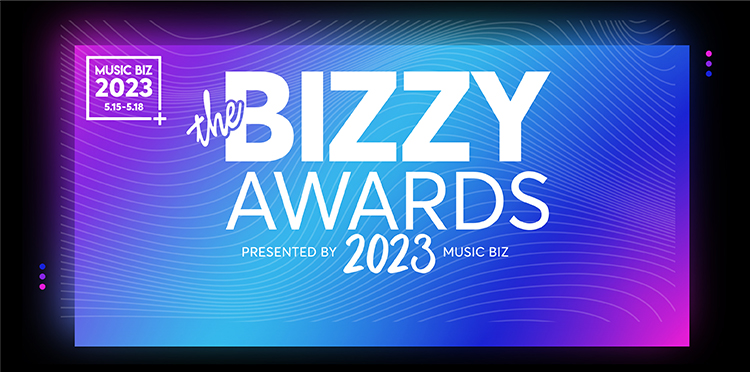 Winners in all nine categories were crowned during the Music Biz 2023 Awards Dinner on May 17
May 17, 2023 — The Music Business Association (Music Biz) announced the winners of this year's Bizzy Awards during this evening's second annual Bizzy Awards Dinner, hosted by Noelle Scaggs (Fitz and the Tantrums, Elektra solo recording artist, Diversify the Stage) and Nashville drag queen Tracey Ottomey at the JW Marriott Nashville during the Music Biz 2023 conference and sponsored by The LSS Group at RBC Wealth Management.
This year marks the second time that nominations for the Association's awards program were crowd-sourced, allowing the global music business at large to recognize their companies and peers who are making a difference in improving the global industry.
The festivities kicked off during this year's Music Biz Pre-Awards Cocktail Party sponsored by WMX and ADA, who highlighted social justice organizations creating meaningful change for historically underserved and marginalized communities in Tennessee and beyond. Music Biz President Portia Sabin opened the party by announcing the inaugural Music Business Educator of the Year Award winner, and honoring the Music Biz Scholarship Foundation Class of 2023 and its generous donors.
Links to the acceptance speeches for each 2023 Bizzy Award winners can be found below:


About Music Biz 2023
After its highly successful return to an in-person format in 2022, Music Biz 2023 will take place May 15 – 18, 2023 at the JW Marriott Nashville. The organization's flagship event will once again deliver four days of industry-defining conversations and connections, plus important discussions on how our industry may evolve to better serve the needs of all music professionals. Visit musicbiz2023.com for an up-to-date conference agenda, event registration & lodging information, and more.
About The Music Business Association
The Music Business Association (Music Biz) is a not-for-profit membership organization that advances, promotes and invests in the future of the music business by providing a trusted forum where ideas and cooperation flourish. Through events, education and engagement, the Association brings together the full breadth of the industry for unparalleled access to networking, resources and thought leadership.
About RBC Wealth Management – U.S.
In the United States, RBC Wealth Management operates as a division of RBC Capital Markets, LLC. Founded in 1909, RBC Wealth Management is a member of the New York Stock Exchange, the Financial Industry Regulatory Authority, the Securities Investor Protection Corporation, and other major securities exchanges. RBC Wealth Management has $510 billion in total client assets with more than 2,100 financial advisors operating in 187 locations in 42 states.


Music Biz Media Contact
Nicole Hennessey, Vice President — nicole.hennessey@musicbiz.org