Music Business Association & Downtown Music Holdings to Co-Host Trust & Safety in Music Symposium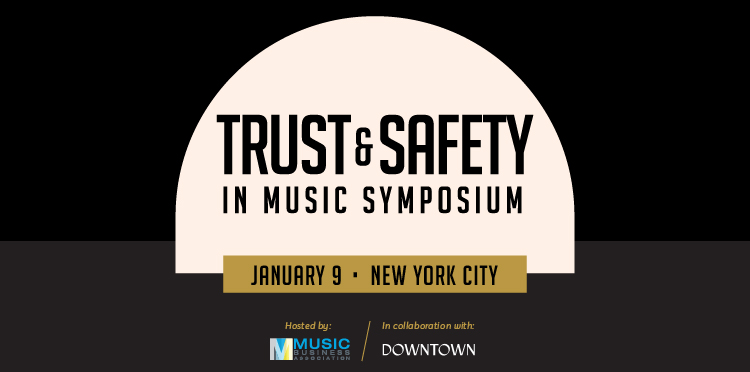 The Music Business Association and Downtown Music Holdings today announce the launch of their Trust & Safety in Music Symposium, set to take place Tuesday, January 9, 2024 at New York University's Rosenthal Pavilion. The inaugural event, which will run from 9:30 AM to 5 PM ET, will host a rich cross-section of music industry and public policy stakeholders for a candid discussion on how all sectors can collaborate to build trust and safety in the music community for artists & consumers alike. 
"2023 accelerated a critical conversation in the music industry around trust and safety in streaming, new creative models for musicians & songwriters, and the need for alignment across all corners of our business to tackle these challenges with modern methods and fresh ideas," said Molly Neuman, Chief Marketing Officer, Downtown Music Holdings. "Downtown is actively driving many of these conversations forward, and we are thrilled to continue them in this forum alongside the Music Business Association."
Over the past twelve months, Downtown has firmly established itself as a leader in the field of Trust & Safety. In June 2023, the group co-founded Music Fights Fraud, a global alliance of distributors, DSPs and the National Cyber-Forensics and Training Alliance (NCFTA) developed with aim of eradicating streaming fraud.
"We formed our Fraud Task Force earlier this year with the goal of bringing together all segments of the business to discuss ways our industry can avoid the mistakes of the past and collaborate on the prevention of trust and safety breaches in the future," added Music Business Association President, Portia Sabin. "We applaud Downtown and all the companies involved in the Task Force that address these critical conversations head-on, and I look forward to this event bringing even more industry voices into the fold."
The Trust & Safety in Music Symposium will bring in expertise from all corners of the music industry and feature a robust program with specific attention to a historical analysis of the issues of trust and safety and the modern macroeconomic dynamics bringing these issues to the forefront.
The official event program and registration will be made public on Wednesday, October 25.
For sponsorship opportunities, please contact Nicole Hennessey at nicole.hennessey@musicbiz.org.


About the Music Business Association
The Music Business Association (Music Biz) is a not-for-profit membership organization that advances, promotes, and invests in the future of the music business by providing a trusted forum where ideas and cooperation flourish. Through events, education, and engagement, the Association brings together the full breadth of the industry for unparalleled access to networking, resources, and thought leadership.

About Downtown Music Holdings
Downtown is the world's leading music services company with over 2 million clients from 145 countries representing a catalog of over 38 million music assets in a wide variety of genres and languages. Downtown's technology and service offerings support creators and businesses in all facets of the music industry including music creation, distribution, publishing, marketing, royalty collection, financing, accounting and payment services.


Media Contacts
Music Business Association
Nicole Hennessey, VP & Director of Communications, Music Business Association
nicole.hennessey@musicbiz.org
856.313.5532
Downtown Music Holdings
Kite Hill PR
Downtownmusic@kitehillpr.com