Music Business Association Announces Driving Change Virtual Conference Focused on Diversity & Inclusion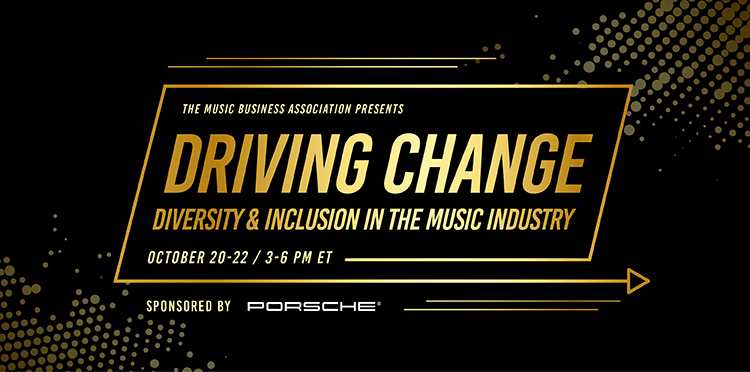 Lawyer/activist Dina LaPolt and Universal Music Group's Jeff Harleston
Announced as First Confirmed Keynote Speakers
The Music Business Association (Music Biz) has announced a brand new virtual conference — Driving Change, sponsored by Porsche Cars North America, Inc. – set to take place Tuesday, October 20 through Thursday, October 22 from 3 – 6 PM ET each day. Through high-level keynotes, panels, and roundtables, the event will bring together executives and thought leaders in the music business in action-based conversations about how our industry can take meaningful steps to support underrepresented communities in our industry, and what we can learn from each other to help institute much-needed change.  
"The summer of 2020 has been disruptive in many ways, not least of which in highlighting that the diverse and inclusive America many hope for is far from being a reality," says Music Business Association President Portia Sabin. "The music industry, which is built on a foundation of love for music created by artists of all races, ethnicities, gender identities, and sexual orientations, is uniquely poised to lead in this arena – if we choose to do so. We look forward to hosting professionals from multiple perspectives who can speak to how we can make meaningful change for our industry going forward, and are grateful to have Porsche Cars North America's support for this event."
The Driving Change program will host panel conversations focused on how HR departments in the music industry can create a diverse candidate pipeline, the difficulty of envisioning equality in an ecosystem where healthcare and mental healthcare are not always a given, and other timely social change topics. Each day of the event will also feature a keynote interview; already confirmed to speak are entertainment lawyer and activist, Dina LaPolt and General Counsel and EVP of Business & Legal Affairs for Universal Music Group, Jeff Harleston. Organizations including the Asian American Collective, Change The Conversation, GLAAD, Nashville Music Equality, She Is The Music, and Women In Music will host roundtables at the conference, and have signed on as promotional partners. 
Jeff Harleston is General Counsel and Executive Vice President of Business & Legal Affairs for Universal Music Group. As a key member of the senior executive team, he is responsible for overseeing all business transactions, contracts, and litigation for UMG's operations worldwide, as well as the company's government relations, trade and anti-piracy activities. In his 26 years with UMG, he has held a variety of senior executive positions including Executive Vice President/Head of Operations for Geffen Records and SVP of Business & Legal Affairs for MCA Records. This year, Harleston was named chair of UMG's Task Force for Meaningful Change, which he now co-chairs with Motown Records President/Capitol Music Group EVP Ethiopia Habtemariam. The task force has committed to set long-term goals for charitable donations from the company, supporting internal D&I efforts in UMG's global offices, creating educational and creative programming focused on racial equality, and pushing for public policy reform, initiatives all backed by a $25 million fund. Harleston has been recognized for his many achievements, including being named Billboard's 2018 "Lawyer of the Year," receiving the 2018 Diversity Award from the Association of Corporate Counsel for Southern California, and being named one of Ebony Magazine's "Power 100" in 2017.
Entertainment attorney Dina LaPolt represents music creators, celebrities, music industry executives, influencers, and owners & controllers of intellectual property. Her firm, LaPolt Law, P.C, is one of the industry's leading law firms, and the only one of its stature founded and run by a sole female attorney. In addition, she serves as an activist for creators and celebrities in the areas of privacy, copyright, and fairness in radio, often advocating for her clients in legislative matters that affect their rights. In 2015, LaPolt helped found songwriter advocacy group the Songwriters of North America (SONA), and a year later would file a lawsuit on behalf of SONA regarding the Department of Justice's mandate requiring 100% licensing by ASCAP and BMI. She also helped to lead the groundbreaking mediations to help stakeholders come together to create and pass the Music Modernization Act (MMA). LaPolt is a vocal advocate for gay rights, channeling her own experiences of discrimination while rising the ranks in the music industry to speak out in support of the LGBTQIA+ community. LaPolt has been honored with numerous industry accolades; most recently, she received the Recording Academy's prestigious Service Award in 2019, making her the youngest attorney and only the second woman to ever receive the award. She was named this year's Variety's Power of Law nominee for her advocacy work, and was inducted into the Billboard Women in Music Hall of Fame in 2019. 
Visit bit.ly/mb-drivingchange to register and view the preliminary program; more program details will be announced in the coming weeks. Registration is donation-based and open to all those within the music business and greater music community. The donations raised from Driving Change will go towards the Music Business Association Scholarship Fund's Inclusion Initiative. 
About the Music Business Association
The Music Business Association (Music Biz) is a not-for-profit membership organization that advances, promotes and invests in the future of the music business by providing a trusted forum where ideas and cooperation flourish. Through events, education and engagement, the Association brings together the full breadth of the industry for unparalleled access to networking, resources and thought leadership. 
About Porsche Cars North America, Inc. | One Porsche Drive, Atlanta, GA 30354 USA
Established in 1984, Porsche Cars North America, Inc. (PCNA) is the exclusive U.S. importer of the Porsche 911, 718 Boxster, 718 Cayman, Macan, Cayenne, Panamera and Taycan. Headquartered in Atlanta, Georgia, since 1998, PCNA is also home to the first Porsche Experience Center in North America featuring a module-based 1.6 mile driver development track, business center, and fine dining restaurant, 356. The company operates a second Porsche Experience Center near Los Angeles. That 53-acre complex features a driver development track with eight educational modules totaling 4.1 miles, a business center, and Restaurant 917. PCNA supports 192 independently owned and operated Porsche dealerships in the U.S., including supplying parts, service, marketing, and training. They, in turn, work to provide Porsche customers with a best-in-class experience that is in keeping with the Porsche brand's 70-year history of leadership in the advancement of vehicle performance, safety, and efficiency. PCNA is an indirect wholly-owned subsidiary of Porsche AG, which is headquartered in Stuttgart, Germany. 
At the core of this success is Porsche's proud racing heritage that boasts some 30,000-plus motorsport wins to date.
Follow us: twitter.com/porsche | facebook.com/porsche
Photos and video footage are available to accredited journalists on the Porsche Press Database at http://press.porsche.com/