Music Biz President Portia Sabin Named To 2022 Billboard Women In Music List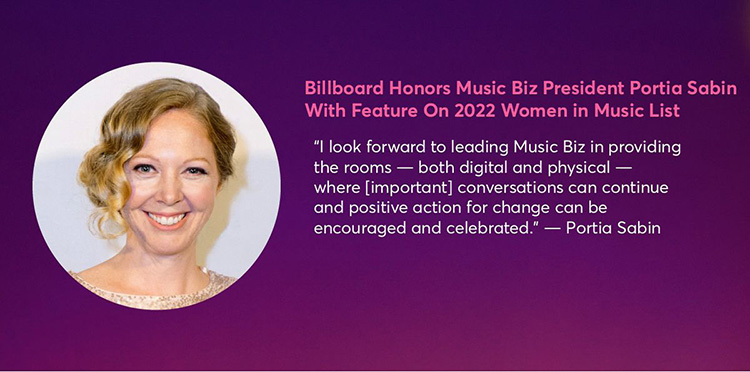 As Women's History Month begins today, we're thrilled to share that Music Biz's President, Portia Sabin, has been named to Billboard's Women in Music 2022 List! In some of the most tumultuous years for both our industry and our world, Sabin led Music Biz to:
Create a slate of virtual events covering topics of interest to the industry –  from social justice to metadata to mental health and beyond –  while providing opportunities for the community to connect in uncertain times. You can view information and recordings from our more than 70 events here.
Diversify our Board of Directors to both reflect the depth and breadth of our growing membership as well as the diverse racial and gender makeup of our industry.  The board now includes 70% female professionals and 48% people of color, which, as Sabin says, is, "…not the end goal but a good start."
Sabin and staff will continue this important work as they prepare for Music Biz 2022, the Association's first in-person event since January 2020! This conference will culminate two years of hard work to provide vital industry conversations as well as new opportunities for growth and inclusion. It's aiming to be one for the history books that will set the bar high for future music industry events — check out the preliminary schedule here and be sure to book your seat today!
Congratulations to all the deserving executives named to this year's edition of the list, including many from Music Biz's board and member community! Click here to see the full list of 2022 honorees.