Music Biz Members: YOU'RE INVITED — Music Biz Meets Reeperbahn Festival Next Week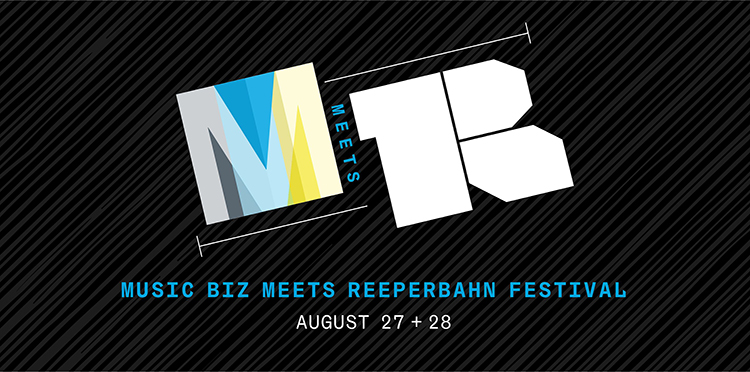 Music Biz members: We invite you to participate in an exclusive event next week co-hosted by Music Biz and our friends at Reeperbahn Festival International.
This year, Reeperbahn Festival International is launching into a new era of transcultural cooperation between artists and the music industry, and we're thrilled to be a part of it! This live hybrid event — set for August 27 and 28 — will include innovative versions of familiar Reeperbahn Festival International formats and topics (panels, a singer-songwriter camp, and ANCHOR Jury & Nominees announcement) and will conclude with a top-class live showcase of global artists. 
Music professionals spanning every segment of the business all over the US and EU will connect virtually in Reeperbahn Festival's custom online platform for a limited time only to exchange ideas, foster international relationships, and be a part of a community advancing music commerce globally. 
You can view the preliminary event agenda below; and stay tuned for more information at the beginning of next week on how you can take advantage of this 2-day international event. If you have any event-related questions, email nick.maiale@musicbiz.org.
---
KEYNOTE PANEL:
Building The Bridge – Creative Collaboration Between the US + Europe
Thursday, August 27 from 12:45 – 1:45PM EDT  
Shared strategies and close working collaborations between two (or three or four) continents is nothing new – but it is ever-evolving, especially in the time of the COVID-19 global crisis. The industry is increasingly becoming more borderless as boundaries are shifting because of new partnerships, delegation programs, communication tools, and revenue-generating outlets. Music Biz and Reeperbahn Festival are bringing together a panel of international industry executives to talk about their experiences and exchange perspectives on how everyone can work together to keep growing the global music business in our current state… and beyond.
Moderator
Katarina Becic, Head of Social Channels, Ableton; Head of Programs, Women in Music
Speakers
R. Caiaffa, Head of Major Label Relations, SoundCloud
Julie Hurwitz, Co-Head of Synch & Brand Partnerships, Kobalt
Vivien Mierzkalla, Label Manager, Secretly Group
Ben Swanson, Co-Founder & COO, Secretly Group
Opportunity to Connect Virtually With All Participants In The Custom Platform
Ongoing Until September 9
You will have an opportunity to make a profile and connect with people all around the world via the custom platform that Reeperbahn Festival has built! Stay tuned for details.

Survive and Thrive' – Songwriting In The Times of A Pandemic
Thursday, August 27 from 3:00 – 4:00PM ET 
In the run-up to the Reeperbahn Festival International – On-Site and Online – 27–28 August from Berlin event, a digital singer-songwriters camp took place where they were able to meet, write together, and learn about each other's markets. The camp was aimed at artists and writers who wanted to use the limitations of this time to their advantage and open themselves and their art to new territories and explore paths into the international songwriting business. The results of the sessions will now be heard and discussed with experts from Nashville and Germany in a joint listening session after the camp, partly digitally and partly in person at the venue in Berlin.
Showcase Night
Friday, August 28 from 12:30 – 4:00PM ET 
Closing out the Reeperbahn Festival International event is a live showcase featuring six incredible acts from Europe and China including German Music Talent's ÄTNA (DEU), ANCHOR 2018 winner Faces On TV (BEL), Velvet Volume (DNK), Nova Heart (CHN), Mimik Banka (CHN) and Chinese Football (CHN). 
This showcase will broadcast live on Reeperbahn Festival's YouTube and Facebook channels as well as the Reeperbahn Festival International website.
And so much more…
---
*PLEASE NOTE:
Registration links for the Music Biz Meets Reeperbahn event were sent to Music Biz members via email — if you are not a member and interested in the event, contact Nick Maiale at nick.maiale@musicbiz.org.
Reeperbahn Festival International will also be hosting another delegation from China in conjunction with a partner as well. While you are invited to take part in those events, Music Biz is not involved in this portion of the summit and is not responsible for any events or programming involving the Chinese delegation. All questions regarding the Chineses delegation of the Reeperbahn Festival International summit should be directed toward the appropriate Reeperbahn Festival contacts. Music Biz is solely responsible for all events occurring between the U.S. and Europe.