Music Biz Member Songtrust Is Hiring – Business Data Analyst Intern (Sp. 2022)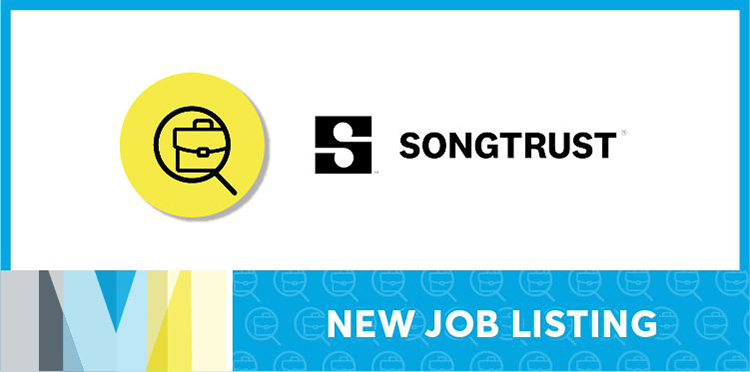 Songtrust is the world's largest technology solution for global music publishing royalty collection and administration. The company was founded to simplify music rights management and remove the complexity of the publishing landscape. Songtrust's core mission is to help musicians, publishers, labels, and distributors easily track and collect global publishing royalties for their music catalogs. Songtrust maintains the most extensive, accessible publishing network in the music industry by having relationships across more than sixty pay sources around the world covering more than 245 countries and territories.
All internship positions are open to either remote or in office employment. To qualify for in office employment one must meet our company vaccination requirements. All internship positions are part time and paid an hourly rate of $15 per hour.
What you'll be doing:
Support data retrieval tasks for teams throughout the organization
Assist with the creation of data glossaries and documentation
Research key influential songwriters and artists to identify and inform Songtrust client and broader industry trends
Create dashboards that consolidate and organize business KPIs that are informative, intuitive, and actionable
You have:
Experience with SQL and advanced Excel
Basic understanding of analytical techniques
Strong written and verbal communication skills
Some experience with business intelligence software (Tableau, Power BI, etc.)
Familiarity with music metadata
Familiarity with the music industry, especially music publishing rights (copyright, licensing, royalty administration)
Why you want to work at Songtrust:
Ample opportunities to work collaboratively in a growing music tech company
Work​ ​in​ ​a​ ​collaborative environment​ ​full​ ​of​​ innovative, passionate, and happy​ ​people
Open, welcoming, and inclusive culture
Q&A Sessions with various Downtown Music Holdings Employees and Leadership
Paid Internship opportunity at $15 per hour
Ensuring a diverse and inclusive workplace where we learn from each other is core to Downtown's values. Songtrust welcomes and encourages all applicants of different backgrounds, experiences, abilities and perspectives to apply.
Click here to learn more & apply for the open position.