Music Biz Member Royalty Exchange Launches "Zillow for Royalties" App: Know Your Worth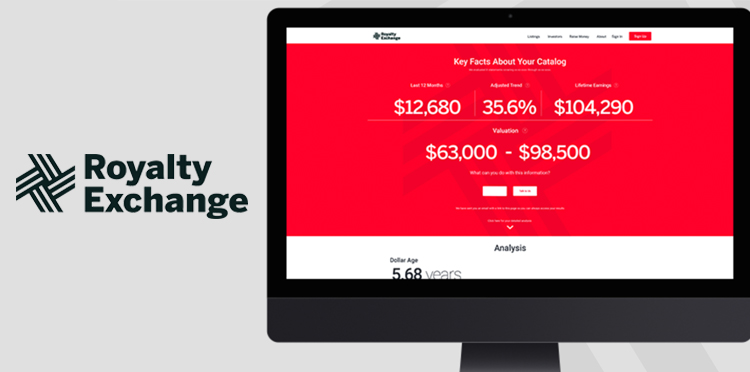 Royalty Exchange, a member of the Music Business Association that operates the world's largest online marketplace for music royalties, launched a new app in beta that gives rightsholders an instant catalog valuation and analysis report … free. 
It's called the Know Your Worth app. It analyzes songwriters' public performance statements from their PRO, and automatically produces a personalized report with details that until now were unavailable from a single source. In the words of one songwriter who tried it out… "it's like Zillow for royalties."
This includes:
A dollar range estimate of the catalog's fair market value
A full accounting of the lifetime and last 12 months earnings for the catalog provided
A list of the catalog's top-earning songs
The catalog's top sources of revenue by format (radio, streaming, TV/Film, etc.)
Year-over-year trending data for all earnings, top songs, and top formats
Finally, it provides the first-ever analysis of what each songwriter earns in public performance royalties on specific streaming services through a metric called the "Latte Index"— or the number of streams on each service needed to buy a Starbucks Latte.
With this information in hand, creators and their representatives can make more informed catalog management decisions —including evaluating any advance or acquisition offers they may receive.
"The music business is based on creation. And while we don't create music ourselves, we pride ourselves for creating value for those who do," said Royalty Exchange CEO Matthew Smith. "The Know Your Worth app is just one way we hope to level the playing field for music creators. For too long, songwriters have had limited access to reliable information about the economic value and potential of their hard work. Arming them with more knowledge about the most important asset they own—their catalog—empowers them to make confident decisions, avoid bad deals, and have the freedom to pursue their art without restrictions."
During the beta, the app supports statements from PRO organizations ASCAP and BMI. Other royalty sources and types will be added soon. The Know Your Worth app is entirely free, and without any obligation to work with Royalty Exchange to view the results. Click here to try the app.