Music Biz Member Primephonic Launches Classical Music Streaming Platform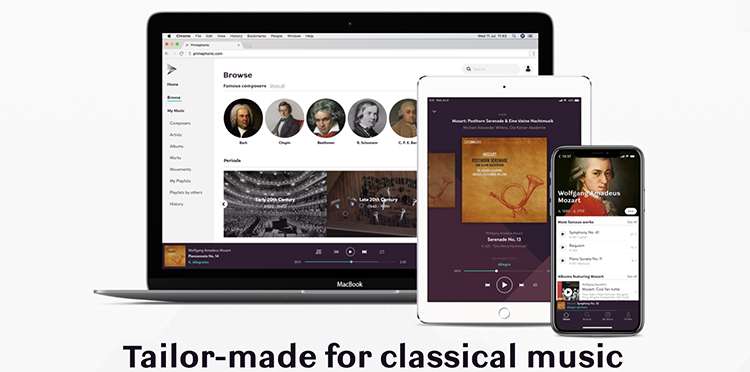 Primephonic, who joined Music Biz in 2017, has just launched their new streaming platform dedicated to delivering a specifically curated experience for Classical music fans. The service is currently available in the United States, the United Kingdom and the Netherlands. The company has plans for a global roll-out beginning in 2019.
At launch, Primephonic featured over one million tracks for fans to peruse and enjoy. Catalogues include those from Warner Classics, Sony Classical, Universal Music Classics, Decca, Deutsche Grammophon and EMI, in addition to more than 400 other labels worldwide.
Creating an entire platform focused on solely Classical compositions allowed Primephonic to enhance the experience for fans of the art form. Metadata algorithms were prepared with Classical compositions in mind, so users can easily search by composer, title, artist, musical period and genre. The Primephonic team also compiled background information, including colorful anecdotes about each artist and recording.
Users have the option to compare different recordings of the same work side-by-side to and observe the evolution of music through the years. In addition, the team of classical music fans behind the service has created a variety of specially curated playlists that allow listeners to take deep-dives into obscure corners of the classical canon, including medieval compositions and minimalism.
Read the LA Times article covering Primephonic's launch for more information.