Music Biz Member Exceleration Music Is Hiring — Digital Operations Associate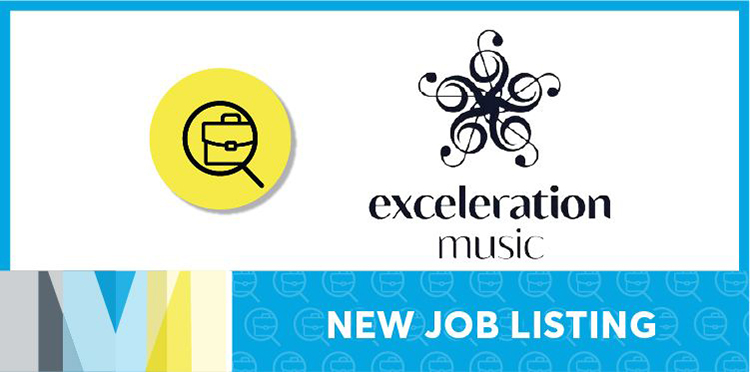 Exceleration Music is a new global music venture focused on investing in and providing personalized solutions to independent labels and artists. Our goal is to establish a world-class, future-facing entity. We strive to be a record company for the future, based on flexibility, deep values and a passion for independent culture. We are building a team to join us on that journey. You will be joining a fast growing, values-focused organization, led by a team of renowned industry experts working with a broad range of music genres.
Driven by our core mission to respect, preserve and enhance the legacies and cultural identity of our growing list of artist and label partners, we care deeply about our company culture. We are committed to providing a working environment that is inclusive and promotes collaboration and contribution. Learn more at ExcelerationMusic.com.


Position Summary
This highly organized and detail oriented individual will support day-to-day digital operations, including assisting with new releases as well as integrating new label acquisitions, ensuring metadata and digital asset accuracy across all digital systems and DSPs. The position will interface across multiple departments in the company, including finance, marketing, and label relations. Reports to the Digital Operations Manager.


Location
United States, remote. Colleagues are working virtually and currently are based in Los Angeles, Nashville, New York, London and other locations.


Responsibilities
• Assist the digital operations team with the creation and delivery of releases
• Work with label managers to ensure all metadata and digital assets meet specific DSP guidelines and requirements upon delivery
• Communicate directly with label managers for all metadata changes, updates, and issues
• Investigate and resolve metadata and digital asset issues and inconsistencies within all label catalogs
• Assist with integration of label catalogs and transitions to all digital systems
• Communicate with DSPs to resolve conflicts or inquires within their dashboards and systems


Requirements
• Minimum 2+ years of digital operations at a record label, distributor, delivery service or DSP
• Experience with distribution systems i.e. AudioSalad, FUGA
• Experience with distribution technology, i.e. XML & DDEX and CRM
• Familiarity with DSP style guides and DSP tools (Apple connect, Spotify catalog Manager, etc.)
• Strong attention to detail and organizational skills
• Passion for process, consistency and data integrity
• Eager to investigate and problem solve with any given project
• Self-starter, equally able to work with a team and independently
• Excellent communication skills


Compensation
A competitive salary, incentive and benefits package will be offered, commensurate with the role and the relevant experience of the final hire.

Click here to learn more and apply via LinkedIn.


Diversity and Equal Opportunity
The company is an equal opportunity employer and makes employment decisions without regard to race, color, religion, sex, sexual orientation, gender identity, national origin, protected veteran status, disability status, age, or any other status protected by law. Further, the company strives to create a diverse, welcoming, equitable and inclusive environment for all applicants, employees, member companies and partners.