Music Biz Member Cinq Music Group is Hiring — Manager, Digital Distribution/Content Operations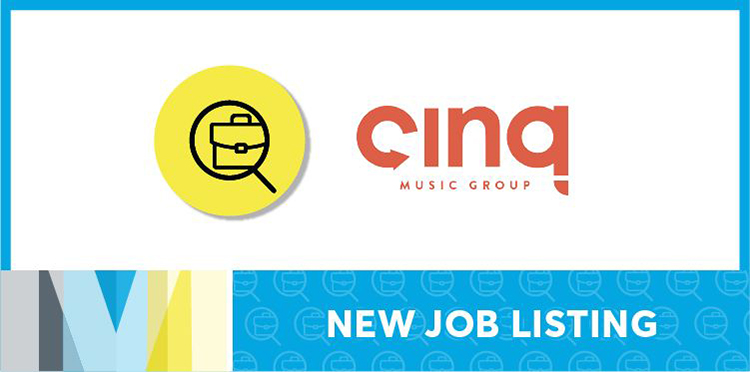 Music Biz member Cinq Music Group is looking to hire a Manager, Digital Distribution/Content Operations to expand its team. Cinq is a GRAMMY-winning independent record label, music distributor, music publisher and rights management company. From rights management to brand management, the company provides a wide range of services for its clients. Using technology as the foundation, Cinq focuses on finding innovative new ways to market and monetize every available revenue stream to maximize its value.


About the Role
Job Title: Manager, Digital Distribution/Content Operations
Classification: Salaried Exempt
Reports to: General Manager
Location: Los Angeles
The Manager, Digital Distribution/Content Operations collaborates with our key clients, client relations/A&R team, the technology and system development team, and our DSP partners including Spotify, Apple Music, Amazon, Pandora, YouTube, Facebook, and others to ensure the successful flow of content from our clients to our DSP network. The day-to-day responsibility of this role is managing content deliveries to our DSP network, troubleshooting any failures, and maintaining our relationships with DSP partners. The larger objectives include growing the DSP network by onboarding new DSP partners, improving our delivery success metrics by analyzing errors, and keeping us informed of changes in the DSP landscape.

Job Description
• Manage new and ongoing music and video DSP integrations across all delivery
and consumer formats including streaming, download, and content monetization.
• Work with clients and our client relations/A&R team to efficiently onboard and set up
products, and distribute content through our proprietary service as well as custom on-
boarding options for top tier clients.
• Work closely with clients and client relations/A&R team to communicate priorities and
ensure timely delivery of frontline and catalog releases.
• Manage catalog onboarding process with new clients for efficient ingestion in
accordance with latest metadata standards.
• Monitor delivery pipelines to DSP partners and troubleshoot delivery errors.
• Ensuring all metadata is compliant to the required standards.
• Performing take-downs and catalog take-overs/transfers
• Provide hands-on training of our proprietary service for new internal and external users
and assist with ongoing client support priorities.
• Develop internal processes to improve client experience and relations.
• Collaborate on the creation and maintenance of technical documentation.
• Liaise with DSP partners to gather feedback on potential delivery improvements.
• Coordinate onboarding of new DSP partners, including running tests and reporting
status.
• Develop and maintain quality working relationships with DSP partners including Spotify,
Apple Music, YouTube, Facebook and others.
• Resolve conflicts and inquiries from internal and external partners.
• Generally, troubleshoot and be our authority for any questions and issues that may
surface from our DSP partners, distributed clients and internal stakeholders.
• Coordinate with team of local and offshore resources, Colombia, Mexico, South Korea,
and Belarus.
• Must have experience and comfort level with remote team collaboration.
• Report department metrics and status of work to Management.

Requirements:
• 3+ years in the music industry, preferably with a distributor or digital delivery platform.
• Must have experience with DDEX, FTP, HTML and/or XML language.
• Strong knowledge of DSP style guides and preferred partner program requirements.
• Familiarity with iTunes Connect, YouTube Creator Studio, Spotify for Artists, and other
content management systems. YouTube certification a plus.
• Organizational skills, along with the ability to provide attention to detail and prioritize
multiple time-sensitive projects at once
• Excellent written and verbal communication / interpersonal skills and problem-solving
aptitude.
• Preferred – bilingual fluent proficiency in English/Spanish (speak/read/write)
• A genuine passion for independent music across multiple genres, familiarity with Latin
Music genres.
• Microsoft Office, Word, Excel, PowerPoint. Jira and Confluence. Tableau would be a
plus.

Benefits:
We offer an industry leading benefits package that includes unlimited PTO, ability to
work 100% remotely, and traditional benefits such as health insurance and tax deferred retirement
plans.

Additional Information:
Cinq Music Group is committed to creating an inclusive work environment that reflects the
diversity of our community. We are an equal opportunity employer. Qualified applicants will
receive consideration for employment without regard to their race, ethnicity, religion, gender,
sexual orientation, age, or disability status.

To Apply:
please send resumes to HR@godigitalmg.com.