Music Biz Member Catch Point Is Hiring —  Investment Associate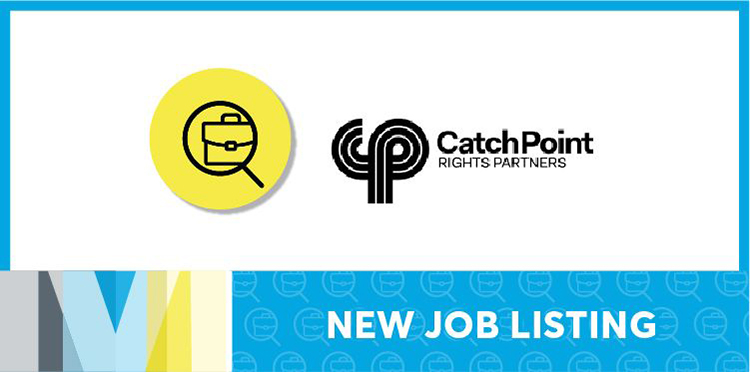 Catch Point Rights Partners LP is an alternative investment firm focused on acquiring and financing music royalties. We source, acquire and manage a broad spectrum of rights and royalties on behalf of our investors with the goal of maximizing the value of our portfolio. The Catch Point catalog includes thousands of sound recordings and musical works.
Job Title: Investment Associate 
We are seeking an investment associate who will be part of the team analyzing and modeling acquisition opportunities and the overall portfolio of the firm. The Associate will work directly with the Co-Founders of the firm and across the team. The Ideal candidate has 3 – 5  years of private equity work in the media sector on either the buy or sell side with a specialization in music. The candidate must have a demonstrated an understanding of basic valuation, financial modeling, and transaction financial due diligence. The candidate will also support the organization's strategic planning and model development functions as well as the creation of reports for our investors and management. 
RESPONSIBILITIES:
Build and update financial and valuation models, synthesize and assess financial, industry data and conduct primary research through industry sources.
Conduct company research – including financial analysis, due diligence on industry trends, market conditions and repertoire performance globally.
Support due diligence on acquisition targets, managing large pools of data to analyze historical financials. Develop sophisticated global forecasts for the industry and by target acquisition.
Work with the development team to create new digital tools to assess and manage the portfolio and surface industry trends.
Assist in the creation of presentations across multiple formats to support acquisitions and to communicate with investors.
Interact with third party providers to monitor royalty income and maximize revenue assurance efforts.
Help to mentor finance and royalty management staff.
QUALIFICATIONS:
3 – 5 years of corporate finance experience in principal investing, in-house acquisitions, or management consulting in the media sector.
Highly motivated with the ability to operate with modest oversight on small deal teams.
A self starter and team player who is solution driven and wants to contribute to a growing firm.
Ability to work accurately and efficiently in a fast paced and dynamic environment.
Strong analytical ability & intellectual curiosity.
Candidate must be comfortable actively participating and presenting in internal discussions, Investment Committee meetings, diligence meetings with the management team and in discussions with representatives of target acquisitions.
Candidate must be able to thrive in collegial, team-oriented environment.
The ideal candidate should be passionate about the media and entertainment pace and interested in making a significant contribution to an innovative and growing organization.
OUR BENEFITS:
We offer a competitive range of benefits including health care, insurance, a retirement plan and flexible time off.
ABOUT CATCH POINT:
We are a rapidly growing firm led by senior executives with deep experience in the media and finance industries. Our point of view is data driven while being highly sensitive to the forces at play in the global entertainment economy. We work in a culture of continuous improvement and value strong team players, hard work, integrity, honesty and innovation. At Catch Point we are working together to evolve and redefine how investment firms operate in the music and media space.
For More Information: www.catchpointrights.com
To apply: send a resume and cover letter to careers@catchpointrights.com
Catch Point Rights Partners provides equal employment opportunities to all employees and applicants for employment and prohibits discrimination and harassment of any type without regard to race, color, religion, age, sex, national origin, disability status, genetics, protected veteran status, sexual orientation, gender identity or expression, or any other characteristic protected by federal, state or local laws.