Music Biz Member BMI Is Hiring: Manager, Media Relations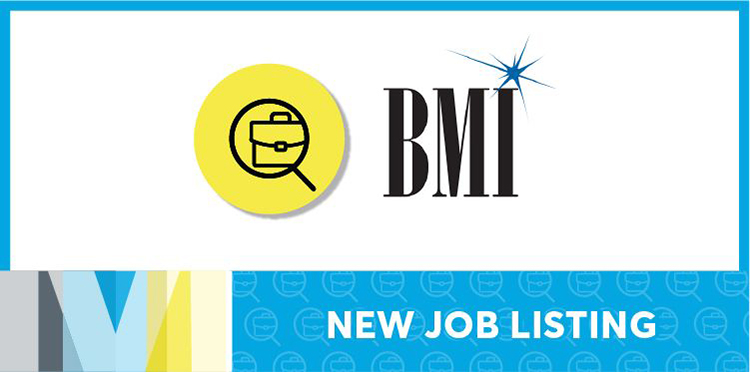 This position will manage the communications efforts for BMI's Pop/Rock and R&B/Hip-Hop Creative teams by working closely with the senior executives and their teams to develop and execute proactive media relations campaigns supporting each division. This role will work directly with the Executive Director of Corporate Communication and contribute to the media relations efforts that support BMI by collaborating closely with the broader New York-based Corporate Communications and Marketing department to align PR, social media and advertising campaigns. As needed, support will also be given to the LA Media Relations lead on Latin or Film, TV & Visual Media NYC-based events.

LOCATION: New York, NY office. This position currently reports to the office (2) days per week and work remotely for (3) days a week. Effective February 28, 2022, this position will report to the NY office Monday-Thursday and work remotely on Fridays until further notice.

FUNCTIONS OF THE JOB:
Essential Functions: This may be representative but not all inclusive of those commonly associated with this position.
Oversee all media relations efforts for BMI's Pop/Rock and R&B/Hip-Hop divisions, including communications and PR for all events such as award shows, festivals (ACL, Lollapalooza and SXSW, among others), panels, showcases and workshops.
Cultivate and manage relationships with the key members of the media, including but not limited to reporters, editors, producers, bloggers and other influencers. Identify and foster relationships with new media partners to expand coverage. This includes keeping contact databases up to date.
Draft press materials, including but not limited to proactive pitches, media alerts, press releases and photo captions.
Collaborate with the Content Team and the Communications Associate on BMI's The Weekly newsletter.
Collaborate closely with the entire Corporate Communications department to support BMI's overall press and marketing efforts, including:

Collaborating with the Social Media team on cohesive PR and social plans to support events and executives for the Pop/Rock and R&B Hip/Hop divisions.
Coordinating with the Design team on event collaterals such as invitations, step & repeats and flyers, as well as aligning PR strategies with advertising campaigns.
Collaborating with the Content team on written materials and video projects for BMI.com, Music World and BMI's The Weekly, including interview questions for BMI affiliates for red carpet events and award shows that support the Pop/Rock and R&B/Hip-Hop divisions
Supporting the LA Media Relations lead (overseeing Latin and Film/TV divisions) on NY-based events.

Travel will be required for festivals, showcases and events as directed by the Senior Vice President and/or Executive Director.
Negotiate and budget for services by outside vendors for related events as needed.
Regular attendance.
Other duties as assigned.
Support our BMI Core Values and cultivate a culture of diversity and inclusion.
POSITION QUALIFICATION REQUIREMENTS
Education: Bachelor's Degree in Public Relations or Communications from four year University or College (or equivalent) preferred.
Experience: Minimum three (3) years media relations experience. Music industry PR experience and/or PR agency experience a plus.
Skills and Abilities: which may be representative but not all inclusive of those commonly associated with this position.
Excellent interpersonal, verbal communications and writing skills.
Strong regional and national press contacts and proven experience working with key media outlets and securing press coverage across all mediums.
Highly proficient multi-tasking professional with exceptional creative and execution skills.
Ability to prioritize multiple assignments and meet deadlines.
Able to establish constructive and informative relationships with BMI affiliates, employees, management and vendors.
Able to interact professionally with a diverse employee population and with all levels of staff and management including BMI's senior leaders
Should be a self-starter who can work independently and with good judgment.
Attention to detail.
Experience working with and maintaining database systems and reports, as well as word processing and spreadsheets.
Proficiency in Microsoft Office, including Microsoft PowerPoint.
Strong typing, proofreading and editing skills.
Creative thinker with a collaborative and flexible approach.
Positive, energetic and enthusiastic attitude.
License(s)/Certifications Required: PRSA A.P.R. certification preferred
For the health and safety of our staff, BMI requires that all team members who are expected to work in BMI offices or interact with the public on BMI's behalf, be fully vaccinated against COVID-19, unless a reasonable accommodation is requested and pre-approved.
BROADCAST MUSIC, INC. IS AN EQUAL OPPORTUNITY EMPLOYER: All applicants will receive equal opportunity for employment without of race, color, sex, religion, nationality, age, sexual orientation, gender identity and/or expression, veteran's or marital status, disability, or any other cultural factor.
Click here to apply.