New Music Biz Infographic Simplifies Global Music Licensing With Country-Specific Guide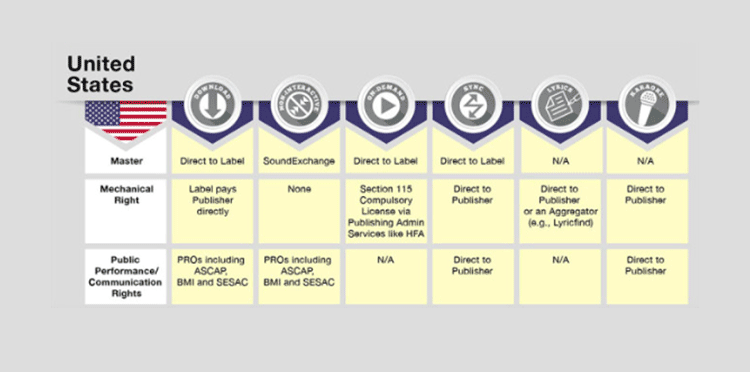 May 8, 2014 – The Music Business Association (Music Biz), formerly NARM and digitalmusic.org, is giving artists, publishers, record labels, and anyone else interested in music licensing a powerful new resource with its "Global Music Licensing Quick Start Guide" infographic, released today during the Music Biz 2014 convention.
Produced by Music Biz's Business Development Workgroup, the document provides an overview of how licensing agencies in 12 different countries handle Master, Mechanical Rights, and Public Performance/Communication Rights for the six most frequently requested types of music uses: download, non-interactive, on-demand, sync, lyrics, and karaoke. The infographic covers Argentina, Australia, Brazil, Canada, France, Germany, Italy, Japan, Mexico, Spain, the U.K., and the U.S., allowing viewers to quickly determine each country's approach to music licensing with just a glance.
"This infographic will be a major asset for anyone interested in music licensing, simplifying a complex process that is becoming increasingly more important for the global music industry," said Cindy Charles, Business Development Workgroup Co-Chair. "We hope that artists and other rightsholders will keep this infographic handy whenever they need to work out a licensing deal, ultimately resulting in more deals and increased revenue for music creators worldwide."
Individual countries can also be downloaded by the links below:

Embed This Infographic On Your Site (copy code below):