Music Biz Explains ISRC Code in New Infographic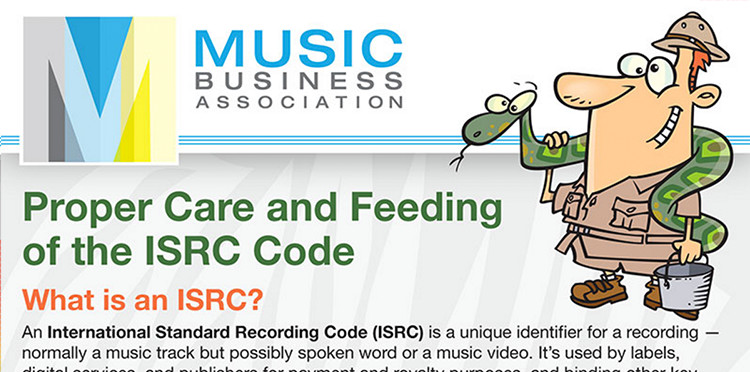 March 26, 2015 – The Music Business Association (Music Biz) has released a new infographic titled "Proper Care and Feeding of the ISRC Code" to teach readers about the prominent music ID standard and educate them about its importance. The infographic explains that an ISRC code is a unique identifier for music tracks, spoken word recordings, and music videos that enables labels, digital services, and publishers to easily collect royalties and attach key metadata to each song. It then explains how to obtain an ISRC, how to determine whether one is needed, and details several common situations in which new ISRC codes would or would not be necessary. 
The infographic is the latest extension of Music Biz's efforts to improve music industry metadata. It will be discussed in-depth at the Association's third annual Metadata Summit on May 12 from 9 a.m. to 3:15 p.m. and the ISRC Working Session immediately following at 3:30 p.m., both during the Association's annual Music Biz 2015 confab at the Sheraton Nashville Downtown Hotel in Nashville.
"ISRC codes are often overlooked despite the fact that they are absolutely essential to music discovery and stakeholder payment," said Bill Wilson, Vice President of Digital Strategy and Business Development for Music Biz. "Without an ISRC, there is no way to properly identify a song, meaning potential customers can't find it, and those who own the copyrights can't collect the royalties they are owed. This infographic goes a long way to educate the industry about the importance of ISRC as one of the most critical components in digital music.

Embed This Infographic On Your Site (copy code below):