Music Biz Confirms Program For First-Ever NFT & Metaverse Summit At Music Biz 2022 Conference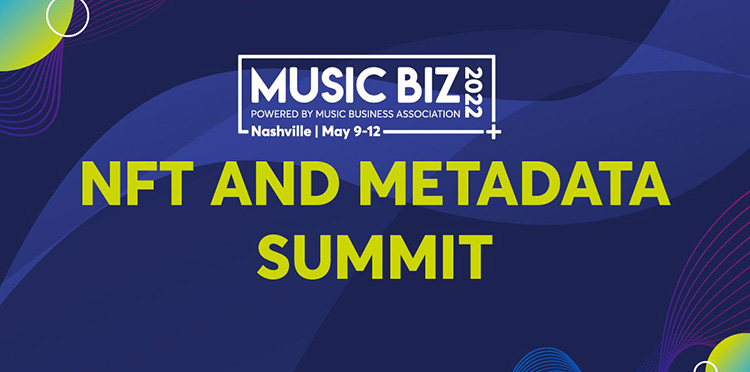 As the events of recent years forced our industry to establish new revenue streams, NFTs and other metaverse applications have become a hot topic of discussion as a future way for artists to profit off the music they create. In our first-ever program dedicated to these new opportunities in the digital ecosystem, attendees will get a basic overview of how the technology works, dive into successful artist case studies, and what opportunities & challenges may arise as the technology reaches maturity!
The full summit agenda can be found below:
1 – 1:20 PM CT
NFT? IDK! WTF! An Overview of Blockchain, NFTs & the Metaverse
Trying to understand cryptocurrency and non-fungible tokens (NFTs) can be frustrating AF, but as an industry we cannot ignore the sheer amount of cash being made and spent in this space. Early adopters have been making millions of dollars by selling digital versions of their art, music, video clips, and photos on the blockchain. As we kick off the inaugural NFT & Metaverse Summit, we'll help you understand basic terminology in the crypotspace, provide case studies of artist and companies who have made great strides in the space in a short period of time, and provide tips on how you can jump on the trend and help your artists capitalize on this revenue stream ASAP.
Robby Towns, Co-Founder & Head of Strategy, GoodCopBadCop


1:20 – 1:40 PM CT
NFTs Are Disrupting Music: How Can You Get Involved In The Explosion?
nft now's Sam Hysell will give an overview of the current music NFT landscape. How are artists and their teams engaging in the space and what success drops have they done to date? The presentation will also expose problems in current revenue models and how NFTS can help to solve them.
Sam Hysell, Co-Founder & COO, nft now


1:40 – 2:20 PM CT
Decoding 'The Drop' — How Artists & Teams Should Approach NFT Drops
NFT technology can create accessible, perpetual revenue opportunities for artists of all sizes in primary and, for the first time, secondary markets. What does this new revenue stream mean for labels, artists, managers, and fans that invest? What is the ever-changing role of D2C and artist/fan relationships? This panel will tackle these questions and give tips on how you can democratize NFTs for fans and give them access to new creative content from their favorite artist that is accessible, affordable, eco-friendly.
Moderator
Christina Calio, Co-Founder, Popins
Speakers
Joe Conyers III, EVP, Global Head of NFT, Crypto.com
Max Shand, Founder, Serenade
Dave Curry, Artist (Black Dave)


2:20 – 2:30 PM CT
Eluvio: Powering NFT Creation For Dolly Parton, The Masked Singer & More
In this session, participants will learn how Music Biz member Eluvio's eco-friendly blockchain platform provided the back-end technology for Dolly Parton's recent SXSW performance, NFTs, and groundbreaking NFT album of "Run, Rose, Run" as part of the "Dollyverse" developed in collaboration with Blockchain Creative Labs. Participants will also learn how to make NFT creation more frictionless; that not all NFTs are created equally; and how NFTs can serve as media, beyond today's limited popular notion of digital images. The session will also discuss how blockchain technology is changing the economics of streaming music and performances, allowing artists/publishers to control all aspects of monetization and rights, ticketing, streaming, minting NFTs, and trading and re-monetization of their digital content.
Michelle Munson, Founder & CEO, Eluvio
Interviewed by: Robby Towns, Co-Founder & Head of Strategy, GoodCopBadCop


2:50 – 3:15 PM CT
Inside the Budweiser Royalty NFT Drop with Vayner X
A conversation around the learnings from bringing 22 emerging artists from around the globe together to create their first NFTs alongside one of the biggest brands in the world, Budweiser.
Michael Boyd, Jr., Head of Music Strategy and Artist Relations, Vayner X
Millie Go Lightly, Recording Artist/Budweiser Royalty NFT Artist


3:15 – 4 PM CT
The Next Wave in the Music Metaverse & The Challenges It Brings
Despite early speculation and skepticism around music NFTs, they are here to stay, reaching a market cap of $80 billion by 2025. This panel will showcase companies looking to make a splash in the coming months and years. They will share what they think is next in the space and what challenges they believe will pop up along the way.
Moderator:
Vickie Nauman, Founder, CrossBorderWorks
Speakers:
Bryce Carr, Director of Creator Partnerships, Music, Rally
Thomas Fiss, VP of Music, OneOf
Melanie McClain, Head of Community, P00LS
Sean Peace, Founder & CEO, SongVest
With just TWO WEEKS until the Conference, have you registered yet? Visit our website for the full 4-day agenda, speaker & panel slate, and of course to secure your seat at Music Biz 2022!