Music Biz Board of Directors Announced; Rachelle Friedman Steps Down as Chairman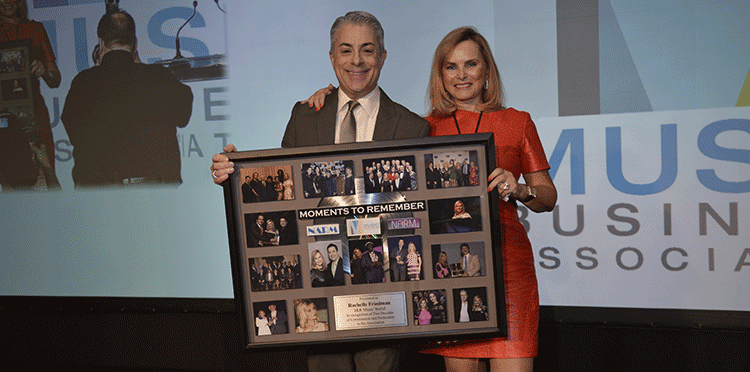 May 7, 2014 – After an unprecedented seven terms as Chairman of the Music Business Association (Music Biz), formerly known as NARM and digitalmusic.org, Rachelle Friedman, Co-Founder and President of J&R Music & Computer World, has stepped down from the association's Board of Directors. 
"I'm sad to leave the Music Biz Board but happy to see the organization in such a good place as I retire," said Friedman. "Each and every year, we were able to nurture the next generation of music industry movers and shakers with our Scholarship Foundation, honor the best and brightest artists and executives with our annual Music Biz awards, launch incredibly successful traveling series such as the Music Startup Academy and Entertainment and Technology Law Conference, and realign the entire organization to better reflect our ideas for the future with our rebrand to Music Biz. I'm confident that the association will continue to reach new heights in the years ahead."
"Rachelle was an incredible Chairman, and we will miss her deeply," said James Donio, President of Music Biz. "Over the years, she has gone above and beyond the call of duty to advance Music Biz's goals and make the industry at large a much better place for physical and digital retailers, managers, artists, record labels, and more. Her stature has also been key to ensuring that women receive a strong voice in the future of the music industry, and for that, we were happy to present her and her husband Joe with our Independent Spirit Award at the 53rd Annual NARM Convention. We wish her well in all her future endeavors."
Friedman and her husband Joe founded J&R Music & Computer World in 1971 in downtown New York City, turning it into one of the most important independent retailers in music history. She joined the then-NARM board in 1996 and has presided over many of the association's biggest advances, including its rebranding from NARM and digitalmusic.org to Music Biz in 2012. For her efforts, Friedman was named to Billboard's Women in Music list in 2011 and received the Independent Spirit Award from Music Biz (then NARM) in 2011.
The Music Biz Board of Directors for 2014-2015 will be:
Vice Chairman
Brent Muhle
iTunes
Secretary
Steve Harkins
Baker & Taylor
Treasurer
John Trickett
Immergent
Len Cosimano
Director at Large
Fred Beteille
YouTube
Christina Calio
Microsoft
Glenn Dicker
Redeye
Mike Fratt
Homer's
Brad Navin
The Orchard
Bruce Ogilvie
Super D/Alliance Entertainment
Dilyn Radakovitz
Dimple Records
Ryan Redington
Amazon
Steve Savoca
Spotify
Matt Signore
Warner Music Group
Darren Stupak
Sony Music Entertainment
Jim Urie
Universal Music Group Distribution
Dave Zierler
INgrooves Fontana
Music Biz Board members serve staggered three-year terms. Steve Harkins has joined the Executive Committee as Secretary, and the Executive Committee is now working together to lead the organization through its transition to the election of a new Chairman in the coming months.