MUSIC BIZ ATTENDEE ALL-ACCESS — How Industry-Focused Events Support the Evolving Music Publishing Space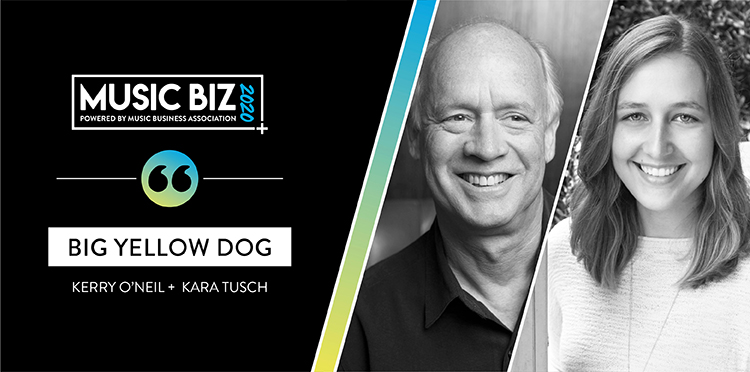 In this Attendee All-Access interview, we asked Big Yellow Dog co-owner Kerry O'Neil and label services manager Kara Tusch about the rapidly changing music publishing space, how the company has incorporated label services into their offerings, and how industry events like the Music Biz Conference are supporting the rise of "full stack" music companies like BYD.
---
Big Yellow Dog Music began as a Nashville-based independent publishing house. With the industry rapidly changing since you opened your doors 20 years ago, you've expanded to include label services for the artists you work with. Can you talk about what inspired this evolution for Big Yellow Dog and the publishing sector in general?
Kerry: About 10 years ago, we increased our resources to incorporate more artist development offerings. We wanted to build up the indie label structure in order to further support the careers of our artists.
How did you determine what services were best to bring into the company's portfolio? Did you base that decision on what you were best equipped to handle, or on the needs of the artists you serve?
Kerry: Originally, we contracted out with different people to provide expertise in areas needed at the time like playlisting consultation, digital advertising, and graphic design. Over time we have brought all three of those areas in-house for better integration, but we continue to use outside help for unique services as needed. This expansion has culminated in the development of our three-person label staff.
When was your first Music Biz Conference? What drew you to attending? And how was the experience? 
Kara: We first attended the Music Biz Conference three years ago in Nashville. It was a fantastic and convenient place for us to meet people from both the indie and major side that we do business with throughout the year.
Year after year, Music Biz critically looks at how our Annual Conference can best serve our members and attendees and adapts it accordingly. As repeat attendees, how have you seen our event change to meet the needs of the evolving publishing space?
Kerry: There is no such thing as your "typical" publisher these days. Each one has their own style and their own agenda. There are a variety of different topics addressed at Music Biz that can be of help to any publisher interested in more personal management, sync, label issues and many other opportunities.
Last year, more than 2,300 industry professionals from 25 different countries attended the Music Biz Conference. While at the Music Biz Conference, have you developed any notable partnerships from the diverse slate of global entities that attend?
Kara: Since a significant portion of our roster is involved in Pop-leaning genres, it's natural that we have people from other countries who would want to meet with us. Nashville is becoming a popular destination for the global music community to conduct business, and the Music Biz Conference provides an ideal space and time each year to schedule meetings like these.
Big Yellow Dog is already registered for Music Biz 2020. What would you say to other publishers who have not yet made up their mind yet about attending our event? 
Kara: You never know who you might meet! You may be attending a panel that is publishing-focused, and sitting next to you is someone who works in tech that has answers to some of the data management problems you're working through. Future collaborations can spark from any interaction you have at the Music Biz Conference!
What are you most looking forward to at this year's Conference? And what mainstays of the Music Biz Conference program do you most look forward to year after year?
Kara: The staff at Big Yellow Dog Music leans young and we are an independent company, so by nature we have a smaller team than most. Being able to sit in on a variety of panels that span different sectors has helped me gain a broader perspective on the industry as a whole and allows me to build my network outward. There are also those panels like the DSP workshops that allow me to stay up-to-date on the latest and greatest on the label services side of things. 
What advice would you give others attending the Music Biz Conference to make the most of the event?
Kara: Find out who is attending in advance so you can set as many meetings as you can! It usually ends up being a hectic week, so scheduling your week out will help you to both take advantage of the panels you want to attend and meet with the people you want to connect with while they're in town.
Our Attendee All-Access Series checks in with previous Music Biz Conference attendees to discuss their past Conference experiences and give first-timers a taste of what to expect at Music Biz 2020!
Music Biz 2020 will return to Nashville May 11-14 at the elegant JW Marriott in the heart of downtown Nashville. The music industry's premier event, our Annual Conference offers a platform for the commerce, content, and creative sectors to network, get on the cutting edge of the latest trends, and meet with trading partners. For the most up-to-date Conference information, visit musicbiz2020.com. To register for the 2020 event, visit this link — early bird rates are available through March 13, 2020.