Music Biz Association 'Industry Jam' Gather Big-Name Musicians and Industry Execs For Blow-out Concert Event in Nashville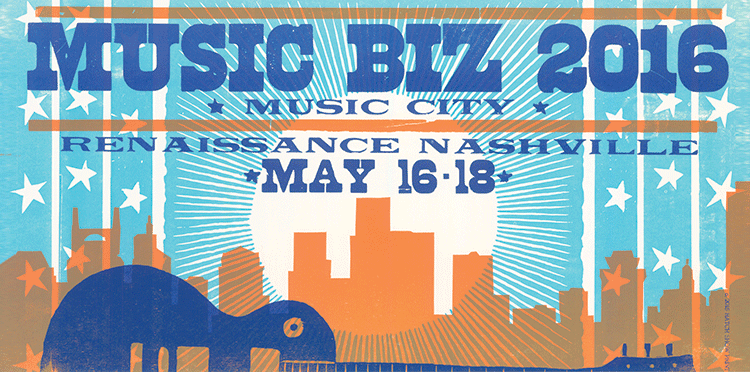 April 13, 2016 – The Music Business Association (Music Biz) will kick off Music Biz 2016 week in Nashville with a special pre-convention event: the first-ever Industry Jam. Co-sponsored by Baker & Taylor, the event will kick off at 9 p.m. on Sunday, May 15, at the Renaissance Nashville Hotel, and all proceeds will benefit Music Biz's Scholarship Foundation.
The centerpiece of the event will be a live performance from house band The R.A.T.S (Rock Against Terrorism), featuring a lineup that includes both big-name musicians and top industry executives. Band members include Adam Kury (Candlebox, Legs Diamond), Dave Dederer (Amazon Music, The Presidents of the United States of America), Mike Aquino (Kevin Cronin, Jack Blades, Jim Peterik), Marty Silber (Brian Wilson, Jeff Beck, The Temptations), Randy Antlept (Off-Broadway, Todd Rundgren), Vince Szydlowski (Capitol Music Group), Mike Gillespie (Concord Music Group), Music Biz Chairman Fred Beteille (YouTube), Music Biz Vice Chairman Steve Harkins (Baker & Taylor), Judy Tint (Counselor-at-Law, The Four Tops), Kevin Quigley (Cinedigm), and Music Biz Treasurer John Trickett (Immergent).
The R.A.T.S will be joined throughout the night by special guests John Densmore (The Doors), Carmine Appice (Vanilla Fudge, Rod Stewart), Jim Peterik (Survivor, Ides of March), Dave Krusen (Pearl Jam, Candlebox), Duane Eddy (Rock and Roll Hall of Fame), Music Biz 2016 Presidential Award for Outstanding Executive Achievement recipient John Esposito (Warner Music Nashville), Joe Osborn (The Wrecking Crew), Jim Horn (The Wrecking Crew), Don Randi (The Wrecking Crew), Mike Deasy (The Wrecking Crew), and Joe Rapolla (Monmouth University).
The Industry Jam will also feature the presentation of an Outstanding Achievement Award to The Wrecking Crew, a legendary collective of L.A. studio musicians who will be recognized for their ground-breaking performances on major releases by The Beach Boys, Frank Sinatra, Simon & Garfunkel, The Monkees, The Righteous Brothers, Jan & Dean, Sonny & Cher, The Mamas & The Popas, The Byrds, Neil Diamond, The Carpenters, Barbra Streisand, and many more. Wrecking Crew members James Burton, Jim Horn, Joe Osborn, Don Randi, and Mike Deasy will be on hand to accept the Award, and Tommy Tedesco will be honored posthumously. Horn, Osborn, Randi, and Deasy will also sit in with The R.A.T.S.
The event will also include special memorial tributes, signed instrument raffles, and celebrity book signings.
"The Industry Jam is a perfect opportunity for those in town for the Music Biz 2016 convention to come together and connect on a personal level before we get down to business the following day," said James Donio, President of Music Biz. "Music is at the heart of everything we do, and we've designed this event to capture that spirit as we begin our second stay in Nashville. There's really no better way to put everyone in the right mindset and serve as a reminder that everything we do is in service to the song."
The Industry Jam is not included with a Music Biz 2016 registration. The cost of attendance is $20 per ticket, with college students admitted free of charge. To purchase a ticket in advance, visit industry-jam.eventbrite.com. All proceeds from the door and raffle tickets will benefit Music Biz's Scholarship Foundation.
Music Biz 2016, which will return to Nashville from May 16-18, is the music industry's premier event, giving the commerce and content sectors a place to meet with trading partners, network with new companies, and learn about new trends and products impacting the music business. Registration is open now. For more information or to sign up for the conference, visit www.musicbiz2016.com.