Music Biz Announces Three New Board Members from Major and Indie Record Companies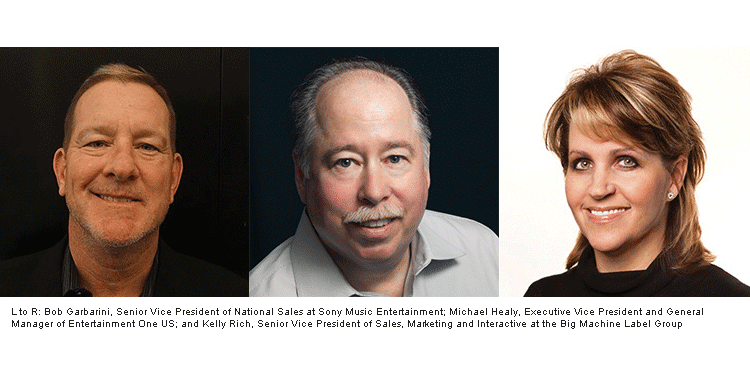 September 22, 2015 – The Music Business Association (Music Biz) has elected three new representatives from one major label and two of the biggest independent music companies in the U.S. to fill current vacancies on its Board of Directors. Bob Garbarini, Senior Vice President of National Sales at Sony Music Entertainment; Michael Healy, Executive Vice President and General Manager of Entertainment One US; and Kelly Rich, Senior Vice President of Sales, Marketing and Interactive at the Big Machine Label Group, bring extensive experience to the Music Biz Board, with expertise in sales, marketing, finance, administration, digital initiatives, radio, and more. These latest elections bring the Board to 18 members, providing a balanced view of the industry with a wide range of voices around the table from both commerce and content. 
"We're thrilled to welcome Bob, Michael, and Kelly to the Music Biz Board of Directors," said James Donio, President of Music Biz. "Throughout their careers, they have done amazing things for the music community, helping to build some of the biggest stars in the biz and developing sales and marketing strategies that have brought the industry into the future. We look forward to working with them as we continue to tackle the biggest issues facing the business today."
"I'm pleased to be joining the Music Biz board to support their efforts in building and maintaining community within the business," said Garbarini. "Music Biz plays a valuable role in creating consensus and promoting growth across the marketplace by helping find ways that companies can work together to make the most of the industry's opportunities."
While attending the University of Missouri's School of Journalism, Garbarini began his career in the music industry 36 years ago with positions in college, community, and commercial radio. He went on to gain music retail experience at Streetside Records in St. Louis in the 1970s before joining BMG in 1986 and Sony Music Entertainment in 2005. Over the years, Garbarini has held positions in field sales and marketing management, supply chain logistics, and inventory management. As Senior Vice President of National Sales at Sony Music Entertainment, he works closely with the company's labels to develop sales strategies for a wide range of products and releases and directly oversees the field team responsible for physical sales.
"Music Biz does great work bringing the industry together to find common ground on complex issues, and I'm happy to be a part of that as we work to continue that tradition," said Healy. "Today's music business is filled with challenges we could not have even imagined years ago, and organizations like Music Biz are essential to finding solutions that work for everyone. I'm excited to bring Entertainment One's perspective to the table."
Healy has been with Entertainment One US since 1999. He previously served as Executive Vice President of Finance and Operations, during which he managed all financial and administrative aspects for the company, then known as Koch Records. He also centralized the company's Production, Royalties, A&R Administration, and Operations departments. Prior to joining Entertainment One, Healy was Vice President of Operations and Chief Financial Officer of the Velvel Music Group from 1997 to 1999. He began his music industry career in 1986 at independent record label Private Music as Vice President of Finance and Business Administration, working with Yanni, Leon Redbone, and Andy Summers, among others. Healy also worked at major label PolyGram, which has since been acquired by the Universal Music Group, as Director of Royalty Accounting prior to joining Velvel. Healy is based in Port Washington and New York City. He reports directly to Entertainment One CEO Darren Throop.
"It's an honor to join the Music Biz Board, and I'm happy to have the chance to share Big Machine's vision for the future with my fellow Board members," said Rich. "We're proud to be part of the evolution of the music business, and I'm looking forward to lending an independent voice to the discussion."
Rich joined the Big Machine Label Group (an independent label formed in 2005 by Scott Borchetta and distributed by UMG) in 2006 and now oversees and implements sales, consumer marketing, and digital initiatives for the entire label group. Her efforts have contributed to more than 47 million album sales, more than 187 million digital track sales, and more than 10 billion streams from artists including Taylor Swift, Florida Georgia Line, The Band Perry, Thomas Rhett, Justin Moore, Tim McGraw, Rascal Flatts, Reba, Eli Young Band, Maddie & Tae, and more. Additionally, Rich has been named a Billboard Women in Music honoree in 2010, 2011, 2012, and 2013. In 2014, she was also named one of Music Row's "Rising Women on the Row" and was honored as one of Nashville Business Journal's "Women in Music." Rich has more than 27 years of experience in the music industry, including previous positions at Western Merchandisers, BMG, Arista Nashville, Dreamworks, and UMG Nashville.
Music Biz's Board of Directors also includes:
Chairman
Fred Beteille
YouTube
Vice Chairman
Steve Harkins
Baker & Taylor
Treasurer
John Trickett
Immergent
Secretary
Ryan Redington
Amazon
Candace Berry
Universal Music Group
Bryan Burkert
The Sound Garden
Christina Calio
Microsoft
Glenn Dicker
Redeye
Amy Dietz
INgrooves Music Group
Stephen Judge
Schoolkids Records
Bruce Ogilvie
Super D/Alliance Entertainment
Dilyn Radakovitz
Dimple Records
Steve Savoca
Spotify
Matt Signore
Warner Music Group
Colin Young
iTunes