Music Biz 2023: SoundExchange To Receive First Impact Award for Technological Excellence At 2023 Bizzy Awards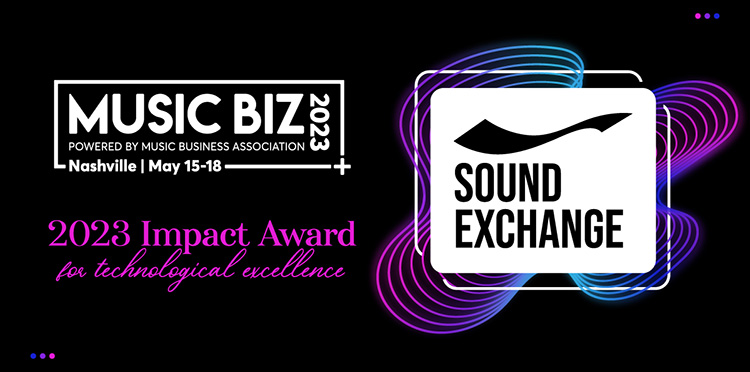 SoundExchange's Michael Huppe will accept honor during
May 17th Awards Dinner, sponsored by The LSS Group at RBC Wealth Management
April 13, 2023 — The Music Business Association (Music Biz) today announces that it will present the first edition of a new Bizzy Award, the Impact Award for Technological Excellence, to SoundExchange at the second annual Bizzy Awards dinner on Wednesday, May 17 at the JW Marriott Nashville during the Music Biz 2023 conference.
The new Impact Award recognizes a company or individual that is at the forefront of innovation in the music business, by providing solutions to meet the needs of the modern industry or pioneering the ways it will operate in the future.
"Music Biz has long celebrated forward-thinking trendsetters who push the boundaries of where our global industry is headed next," said Music Biz President, Portia Sabin. "We're beyond thrilled to present the debut Impact Award in 2023 to SoundExchange, for their two decades of leadership and innovation in helping ensure artists get the royalties they are owed!"
Music tech organization, SoundExchange was independently formed in 2003 to build a fairer, safer, simpler, and more efficient music industry through technology, data, and advocacy. The only organization designated by the U.S. government to administer the Section 114 sound recording license, SoundExchange collects and distributes digital performance royalties on behalf of 650,000 creators and growing. Through proprietary music tech solutions that turn data into accurate revenue, SoundExchange has paid out more than $10 billion in distributions to date.
SoundExchange's President and CEO, Michael Huppe — who has been on-staff since 2007 and helmed the company since 2011 — will accept the award during the dinner program, hosted by Noelle Scaggs (Fitz and the Tantrums, Elektra solo recording artist, Diversify the Stage) and sponsored by The LSS Group at RBC Wealth Management. Previously announced, Music Biz's 2023 Presidential Award for Outstanding Executive Achievement will be presented to Gina Miller, SVP and General Manager, Nashville for MNRK Music Group. Finalists for the seven crowd-nominated 2023 Bizzys Awards have also been confirmed, with winners to be announced during the May 17th Bizzys Dinner — click here for the full list of finalists.
# # # #
About Music Biz 2023
After its highly successful return to an in-person format in 2022, Music Biz 2023 will take place May 15 – 18, 2023 at the JW Marriott Nashville. The organization's flagship event will once again deliver four days of industry-defining conversations and connections, plus important discussions on how our industry may evolve to better serve the needs of all music professionals. Music Biz has confirmed that Kobalt Founder & Chairman, Willard Ahdritz will participate in a keynote conversation on Tuesday, May 16th. Indie artist, LU KALA, Jillian Rutstein of Prescription Songs/Amigo Records, and Tracy Gardner of TikTok will participate in the closing Music Biz LIVE keynote on the morning of Thursday, May 18th. Visit musicbiz2023.com for an up-to-date conference agenda, event registration & lodging information, and more.


About The Music Business Association
The Music Business Association (Music Biz) is a not-for-profit membership organization that advances, promotes and invests in the future of the music business by providing a trusted forum where ideas and cooperation flourish. Through events, education and engagement, the Association brings together the full breadth of the industry for unparalleled access to networking, resources and thought leadership.


About RBC Wealth Management – U.S.
In the United States, RBC Wealth Management operates as a division of RBC Capital Markets, LLC. Founded in 1909, RBC Wealth Management is a member of the New York Stock Exchange, the Financial Industry Regulatory Authority, the Securities Investor Protection Corporation, and other major securities exchanges. RBC Wealth Management has $510 billion in total client assets with more than 2,100 financial advisors operating in 187 locations in 42 states.


Music Biz Media Contact
Nicole Hennessey, Vice President — nicole.hennessey@musicbiz.org