Music Biz 2019 CMA Breakfast and Music Biz Presentations: Scripted Remarks from Music Biz President James Donio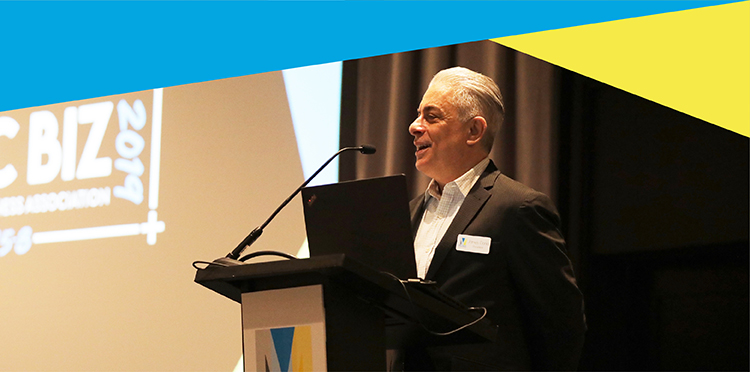 Music Biz President James Donio
Thank you, Sarah (Trahern, CEO of the Country Music Association).
Let's have another round of applause for Kassi, Cassadee and Danielle. Weren't they terrific?
CMA has graciously and generously sponsored our Opening Breakfast for the fourth year in a row! Please join me again in showing them how much we value their support.
Before I go any further, let's also thank our wonderful friends at WEA for another fantastic opening night cocktail party.
It is my privilege to officially welcome you to our 2019 Annual Conference, our fifth consecutive event in Music City, and our first at one of Nashville's newest premier hotels, the JW Marriott.
We chose to the Marriott to best accommodate our event, which I'm pleased to announce is our largest in 17 years. Our attendees include representation from across the commerce, content and creative communities with almost 100 delegates from nearly 20 countries outside the U.S. I think that's pretty inspiring!
What inspires you about your life in and around music and this business? Is there something that makes you excited every day? What is it that, along the lines of what Taylor Swift sings in her newest song, "ME!," makes this industry and all of our related professions, "one of the things that's not like the others."
Is it that moment when a fiercely original 17-year-old singer/songwriter like Billie Eilish, or a genre-blending wordsmith like Lil Nas X, blast into the zeitgeist as pop culture phenomena with unmistakable and mesmerizing talent?
Or is it when we can all celebrate Cardi B's triumphant ascendance to the top of the Rap genre as the first solo female artist to take home the GRAMMY for Best Rap album?
Or maybe it's newcomer Lizzo's unapologetic and affirming musical platform that promotes LGBTQ acceptance, female empowerment and positive body image?
Or perhaps it's the examples set by three of today's strongest female artists Ariana Grande, Kacey Musgraves and Beyonce, each commanding our attention in their own way as they establish their own rules and proudly manifest their own art, careers and destinies?
If you're of a certain generation, you may draw great inspiration from seeing bands like The Rolling Stones still delivering that special magic and swagger after all these years. Or being able to recapture a moment of your prior fandom with any number of other band comebacks and reunions.
And let's not forget the veritable force of nature known to the universe as Kanye West, who brought his weekly Sunday Service to Coachella. How could we help but not be inspired by that?
Or maybe you're driven by the machinations of the business itself as we witness the healthy debates fueled by the evolving compensation structure, including the Music Modernization Act and the path toward a new Music Licensing Collective.
Industry partners are taking stock of their respective roles and responsibilities, and trying to find ways to advance the business by working out differences, which today might actually seem like having to find how to make the impossible possible.
I think we've all been inspired with each passing month by how many music consumers are now streaming and subscribing to a music service. The trend is extremely encouraging, and forecasts from any number of analysts provide a foundation for new investment and experimentation as we look ahead.
In the first third of 2019, for instance, BuzzAngle Music reports that total music consumption has increased 4.5%, with audio streaming continuing its unprecedented climb at a rate of 44.7%. And video streaming, the highly dynamic way in which artists' bring their songs to life, has gone up 20.1% since the beginning of the year.
We cannot have a conversation about inspiration in our industry without including Record Store Day. The worldwide celebration topped itself yet again with 827,000 vinyl albums sold industry-wide in the U.S., up almost 13% compared to 2018. In fact, total album sales across all formats (vinyl LP, CD, digital album, cassette, etc.) rose 29.6% for the week!
Our industry is also there to inspire others in times of the most critical need in the aftermath of epic and unspeakable tragedies, or on a day-to-day basis to just listen and provide personal support with programs like Porter's Call here in Nashville.
I know I have been inspired each and every day of the past 31 years by the chance to work for, and ultimately lead, an organization with the unique opportunity to be at the nexus of these, and so many other inspiring reasons, to want to be a part of the music business.
Another reason I am inspired is because I had a door opened for me to help prepare the future creators and executives who are next in line to learn and then lead.
I have been teaching at Monmouth University in New Jersey for the past six years. There, I have seen almost 200 young men and women take meaningful steps out of my class and onto a career path that will hopefully inspire them each day. Just this past January, I added another school to my roster when I began teaching a similar class at my alma mater, Temple University, in Philadelphia. I returned to the campus four decades after I started. On that first night, I visualized my 16-year-old self walking into the very same building where I took my first class.
Of course, I had absolutely no idea at the time that someday I would walk through that same door and down those same halls as a professor. Plus, my degree is in Journalism, so I certainly wasn't expecting to return as a professor of music business. But here I am, and I hope some of you will be able to experience the joy of connecting with young people like the ones I have taught at Monmouth and Temple.
If you think you might want to take the leap into academia, give it serious consideration. It may seem like there is simply no time to give back some of your experience and expertise. But I say, "Make the time." It's worth it.
So, how exactly does this all tie back to Music Biz? Well, Education is one of the three pillars of our organization's mission. In addition to providing continuing education opportunities to our legal members through our Entertainment and Technology Law Conferences, we also offer an ongoing slate of online programs that form the basis of our Common Ground Webinar Series. These virtual events are opportunities for our members to avail themselves of a wide variety of companies, organizations, speakers, data presentations, and more. The series most recently included a multi-session Leadership Development Program, which culminates both here in Nashville, and virtually via our website, with a session focused on emotional intelligence.
Our Academic Partnership Program now includes 25 colleges and universities across the United States, the newest addition being Murray State University in Kentucky. This translates into more than 4,000 students who are members of Music Biz. Many are here this week and I know you'll welcome them.
Many of these students have benefited from their membership by applying for and receiving Music Biz Scholarship Foundation financial awards each year. This money can often make a big difference in the viability of a student being able to continue going to school.
For the past seven months, the Music Biz staff itself has been inspired as they executed a coordinated Engagement plan to promote membership with programs that build community and support involvement with the Association at a higher level.
This initiative included reaching more people who work at member companies, but were not aware of all the benefits they could take advantage of as an employee of a member company; inactive members whose dues had lapsed; and prospective companies who were not yet members of the Association. We underscored the point that the Association is so much more than a four day event.
If your company is a member, YOU are a member, and you are entitled to take advantage of the other programs and services we provide throughout the year, from our web site, to our daily news and analysis feed, to our job center, to our other conferences, meetings and mixers, to the Scholarship Foundation, and more. As a result of this initiative, there are many new or returning attendees here this week.
In March and April, we held a number of Nashville-based get-togethers to share our excitement for this year's Conference with the Nashville community, that has so graciously and warmly embraced our Association and our event since we moved it here in 2015.
These get-togethers also served to introduce new audiences to our existing Nashville community, as Music City further solidifies as Music Biz's home away from home, as well as a central hub for the industry-at-large.
We obviously realize that everyone places a different value and priority on each benefit we offer. Think of it this way, "you have to be willing to put something in if you want to get something out." So the message really is that you have to be present to win.
For example, our Physical Business Action Committee is advocating for the importance of the independent physical retail sector through meetings with the management community that are arranged and conducted under Music Biz's auspices.
Last month, the PBAC spearheaded an initiative to celebrate the album, whether it is physical, download or streamed, asking the Music Biz community to share with us which albums they simply can't live without, and which album artwork they found to be most iconic.
Posters showcasing some of the survey results are displayed throughout the hotel and programming rooms, with instructions on how you can take the survey yourself. Your submission will enter you to win prize packages including physical music media, merch and hardware. Thank you to Record Store Day, Alliance Entertainment, Baker & Taylor, Ingram Entertainment, eBay, and Universal Music Enterprises for donating to the prize packages.
If you want to access the survey now, you can do so by using the Bit.ly link shown on screen. Three survey winners will be announced at the Awards and Hall of Fame Dinner.
Our premier pillar is, of course, our slate of Events.
The broadening of the Association's international profile and membership is such an important part of our strategic plan. To that end, we saw the third sold-out edition of our global music business summit, NY:LON Connect, held this past January in London.
This event, held in partnership with MusicAlly, gathers the brightest minds across the industry to plot a course for sustained growth in the industry as the year begins. There were sessions on budding international markets, global streaming platforms, in-car streaming, and how managers can adapt their promotion tactics to best support their artists in the streaming age.
We also debuted the NY:LON Startup Showcase Awards, which was won by ClicknClear, a music startup that pre-clears master and publishing rights for music used in performance sports such as cheerleading, gymnastics and figure skating.
Plans for the 2020 edition back in New York are in the works.
But our crown jewel is this Annual Music Biz Conference. Branded by many as a "can't miss" event, it is now in its 62nd year. With year-over- year industry growth yet again in 2018 and into 2019, our program addresses new opportunities, as well as challenges that have arisen, as we continue to meld the worlds of music, technology… and life!
In addition, the event allows for networking among a community whose paths might not cross otherwise, opening the door for relationships that will shape what's next for our industry. It even gives new talent and next-gen leaders a platform to express their art and make connections that can affect them in unimaginable ways.
And as always, it is also a time to celebrate those who continue to push the boundaries of creative and executive achievement, along with the trailblazers who laid the foundation for our vibrant industry.
If you yourself are seeking inspiration, then you've come to the right place.
Maybe you're looking to tap into the wisdom of Paul Rosenberg, who pulls double duty as both a high-profile manager and the CEO of Def Jam.
Or perhaps you could benefit from hearing the story of a 20-year-old who's already the CEO of his own entertainment brand.
If so, I highly suggest you make it to this year's #NEXTGEN_NOW panel, featuring four individuals from across the industry who are proving that age doesn't always equal authority.
You might also look to the power duo of Motown and Capitol's Ethiopia Habtemariam and Caroline's Jacqueline Saturn, who have used their professional journeys to pave the way forward for future women executives in the music business.
Or, perhaps the entrepreneurial prowess of an artist like Slick Rick can help you reinvest in yourself and diversify the ways you earn money as an artist or songwriter.
Whoever you are, and wherever your inspiration comes from, the Annual Music Biz Conference was designed to help YOU along your music business journey. By the end of our program, I sincerely hope you will leave with the tools that will transform you into the kind of professional that inspires all those you interact with.
Looking ahead, we are set for two more years at the JW Marriott in 2020 and 2021. So mark your calendars now.
And I must add here's hoping that the state of Tennessee remains the accepting and inclusive place I am sure we all agree it should be.
Every year, it is our custom to congratulate our member companies that are commemorating special milestones:
Island Records and Motown Records are both celebrating 60.
It's Music Millennium's 50th anniversary.
Schoolkids Records' is marking its 45th anniversary.
And Burnside Distribution is celebrating its 25th Anniversary.
If we've forgotten anyone, we salute you too!
In 1969, the landmark Woodstock music festival featured iconic performances catapulting the careers of artists including Jimi Hendrix; Crosby, Stills, Nash & Young; The Who; Jefferson Airplane; Santana; Grateful Dead; Creedence Clearwater Revival; Joan Baez; and Janis Joplin.
The event transcended music to promote a message of unity and peace at the height of the counterculture movement. Sadly, many of those artists are no longer here to share their brilliance.
It is always hard to accept the painful and heartbreaking loss of members of our music community. Let's have a moment of silence for all of the artists and executives we lost this past year whose contributions we valued and whose memory we will cherish forever.
I want to express my thanks to our Board of Directors and, of course, my exceptional and peerless staff for their expert and tireless efforts to bring this year's conference to life and deliver the benefits that make this YOUR association all through the year.
Please join me in a round of applause for the Music Biz Board and staff.
And, naturally, none of this would be possible without the terrific support of our generous sponsors, advertisers and promotional partners. Plus, we are so indebted to the over 300 speakers who are sharing their insight, experience and perspective.
And of course the City of Nashville and our many members and sister organizations that make this home.
As we've all learned much too often lately, our next minutes, hours, days, weeks, months, and years, are not guaranteed. Embracing that reality, it never escapes my mind how extremely lucky and proud I am to continue to enjoy this amazing adventure — soon to be beginning my 32nd year.
We've accomplished so many great things, and I don't think it is overstating it to say that the industry we serve is the better for our efforts. I personally believe the future of the music business, and Music Biz's place in it looks as bright and promising as ever.
And that should indeed inspire all of us!
I wish you all the very best that life has to offer, and I want you to know how much everyone at Music Biz appreciates you being here this week.
Thank you!