[Music Biz 2018 Speaker Spotlight] Jon Bahr, CD Baby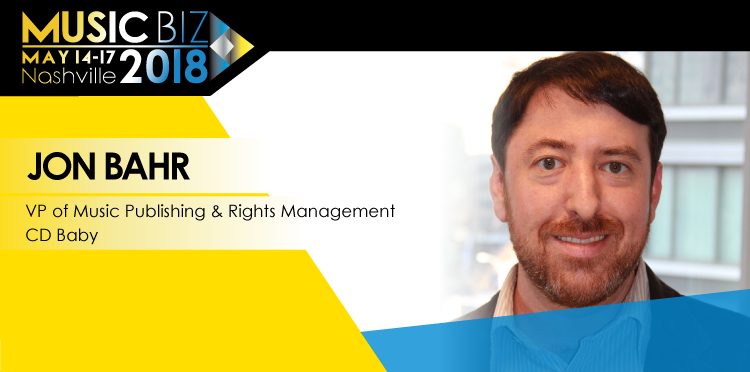 The Music Business Association is excited to welcome John Bahr, VP of Music Publishing & Rights Management at CD Baby for 'Beyond the Sync: A New Era of Music Licensing for Film, TV and Podcasts' on Wednesday, May 16 at 3 PM during the Music Biz 2018 conference in Nashville! Check out the fun Speaker Spotlight below to get to know Jon a little more before his Music Biz panel.
Music Biz is celebrating its 60th year in 2018. How many Association conferences have you been to and what was your greatest memory? If it's your first — what panel/keynote/event, etc. (other than your own) are you most excited for? Check out the preliminary schedule here.
This will be my second year attending and speaking at Music Biz. In my previous role at ASCAP, I never attended but always kept up with the event coverage. I am most excited for the people that attend Music Biz. I found it incredibly valuable last year and it seemed like one of the best turn outs of the year for business development.
What is your go-to playlist right now? When do you listen to it most?
Every Friday I have a routine of looking at a few trusted sources for the week's key new releases that match my tastes. I then save them on Spotify and listen to the newly saved songs over the coming week. Every Friday I repeat the process. It keeps things fresh.
Music Biz recently made an announcement that its annual conference will take place in Nashville through at least 2020. What's your favorite thing to do in Nashville? If you've never been, what are you most excited to do May 14 – 17?
Nashville is such a great city for folks in the industry to do business, along with building relationships in the evening over on Broadway, either in the back of Robert's Western or the roof of Tootsies. The food is obviously fantastic throughout town; from the more classic stuff (BBQ/Hot Chicken), to the newer gems like Rolf & Daughters. Over the last decade, Nashville has become a cross-genre town, so it is a great place for a diverse music conference. That's the reason CD Baby has held its annual DIY Musician Conference in Nashville too.
---
Music Biz 2018 — the Music Business Association's 60th anniversary conference — is set to take place Monday, May 14 through Thursday, May 17 at the Omni Nashville. The 4-day innovative event will bring together global power players and industry enthusiasts committed to the future of music monetization for 100+ panels, presentations, workshops, private meetings, cocktail parties, live music, and more.
Highlights will include keynotes from YouTube's Lyor Cohen, mega-manager Scooter Braun, Republic's Wendy Goldstein; Digital Service Workshops with Amazon, Apple, Facebook, Pandora, SoundCloud, Spotify, and YouTube; Music's Leading Ladies Speak Out powered by Nielsen Music; the Awards Breakfast sponsored by CMA featuring special presentations to the RIAA's Cary Sherman and the Radakovitz Family of Dimple Records'; the Awards Luncheon sponsored by BuzzAngle Music & TiVo honoring breakthrough singer/songwriter Julia Michaels, Scooter Braun, Latin hit Despacito, and more to be announced. The full preliminary schedule can be accessed at musicbiz2018.sched.com.
Register today at musicbiz2018.com to join the 2,000+ attendees expected to descend on Nashville for the four most important days on the industry calendar!
Questions? Email Music Biz's Manager of Events, Sales, and Marketing at nick.maiale@musicbiz.org.