[Music Biz 2018 Speaker Spotlight] Jimmy Wheeler, Provident Music Group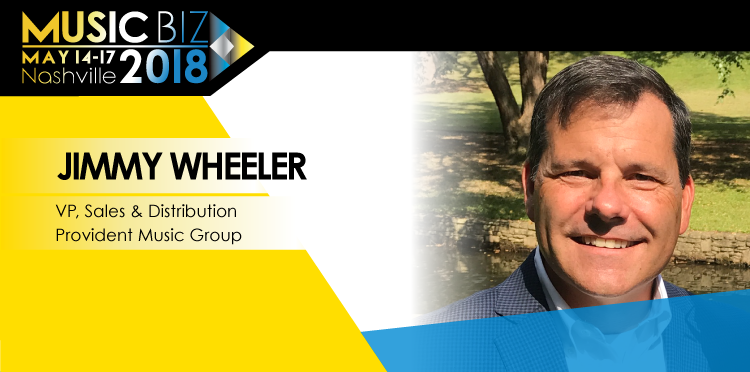 The Music Business Association is excited to welcome Jimmy Wheeler, VP of Sales & Distribution at Provident Music Group for 'The Gospel Truth Behind Christian Music's Influence and Trends' on Thursday, May 17 at 10:30 AM during the Music Biz 2018 conference in Nashville! Check out the fun Speaker Spotlight below to get to know Jimmy a little more before his Music Biz panel.
Music Biz is celebrating its 60th year in 2018. How many Association conferences have you been to and what was your greatest memory? If it's your first — what panel/keynote/event, etc. (other than your own) are you most excited for? 
I have been to every NARM/Music Biz conference since the mid 90s.  First of all, I applaud the association's team for evolving over the years to adapt to the changes in the music business.  The incredible changes we have seen just in the last five years have forced us all to look at our businesses differently. Music Biz has become a pertinent resource, as well as a think tank to address the issues we face daily.  One of my favorite memories was the year they had a variety of artists taking photos with attendees. I met Lisa Marie Presley and thought I had an "in" with her because Elvis died on my 10th birthday, and my dad worked with Elvis in the 60s and 70s.  As I waited for my turn, I pulled up a picture of my parents with Elvis on my phone…I really thought she would be impressed!   Well, she wasn't…she looked at me like an idiot, turned to the camera and barely smiled. Needless to say, I walked away disappointed that LMP didn't think I was cool!  
If you could perform with a hologram of any artist, who would it be and what song would you sing?
First off, I am sales person…not a singer.  But for this exercise I will dare to dream. P!nk, hands down, would be the hologram and the song would be "Just Give Me Reason". P!nk is an unbelievable talent and it would awesome to play the role of Nate Ruess in the song.
Music Biz recently made an announcement that its annual conference will take place in Nashville through at least 2020. What's your favorite thing to do in Nashville? If you've never been, what are you most excited to do May 14 – 17?
I am a Nashville native and love the fact that Music Biz will be here for at least a few more years.  Having conference in Nashville makes perfect sense since this is Music City. In addition, Nashville's central location makes traveling here a lot easier for most attending.  I do love going "honking tonking" on Broadway, but I don't do it that often as the "New Nashville" can get a little nutty on the weekend!
---
Music Biz 2018 — the Music Business Association's 60th anniversary conference — is set to take place Monday, May 14 through Thursday, May 17 at the Omni Nashville. The 4-day innovative event will bring together global power players and industry enthusiasts committed to the future of music monetization for 100+ panels, presentations, workshops, private meetings, cocktail parties, live music, and more.
Highlights will include keynotes from YouTube's Lyor Cohen, mega-manager Scooter Braun, Republic's Wendy Goldstein; Digital Service Workshops with Amazon, Apple, Facebook, Pandora, SoundCloud, Spotify, and YouTube; Music's Leading Ladies Speak Out powered by Nielsen Music; the Awards Breakfast sponsored by CMA featuring special presentations to the RIAA's Cary Sherman and the Radakovitz Family of Dimple Records'; the Awards Luncheon sponsored by BuzzAngle Music & TiVo honoring breakthrough singer/songwriter Julia Michaels, Scooter Braun, Latin hit Despacito, and more to be announced. The full preliminary schedule can be accessed at musicbiz2018.sched.com.
Register today at musicbiz2018.com to join the 2,000+ attendees expected to descend on Nashville for the four most important days on the industry calendar!
Questions? Email Music Biz's Manager of Events, Sales, and Marketing at nick.maiale@musicbiz.org.