[Music Biz 2018 Speaker Spotlight] Jean-François Bert, Transparency Rights Management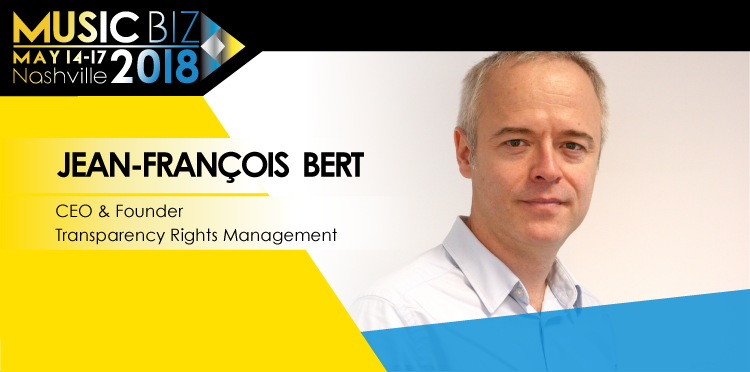 The Music Business Association is excited to welcome Jean-François Bert, CEO & Founder of Transparency Rights Management for 'Do You Really Want to Leave Your Ex-US Publishing Revenue on the Table?' on Thursday, May 17 at 11 AM during the Music Biz 2018 conference in Nashville! Check out the fun Speaker Spotlight below to get to know Jean-François little more before his Music Biz panel.
If you had to pick just one album to listen to for the rest of your life — what would it be and why?
"Pornography" by The Cure. This is the first album I ever bought with my own money (it was an audio cassette actually, the LP was too expensive). An older friend gave me a ride to the city so I could get my hands on it. Originally I wanted to buy the Alan Parsons Project album, which includes the hit "Eye in the Sky", but the store was out of stock. I asked the cashier for the most similar album and he showed me the bizarre, red cover of Pornography… However, when I got home I discovered the two albums sounded nothing alike.  I  don't know what the cashier was thinking, but I had no choice but to listen to The Cure album again and again since it was my only album. I listened to it so many times I ended up falling in love with it, and I haven't stopped listening to it since.
If you could have front row tickets to any concert in any city at any venue — what and where would you choose?
 Obviously it would be a concert of The Cure (sorry, I'm afraid I am a little obsessed), and it would be at the Royal Albert Hall in London.  
Music Biz recently made an announcement that its annual conference will take place in Nashville through at least 2020. What's your favorite thing to do in Nashville? If you've never been, what are you most excited to do May 14 – 17?
Reaching Nashville safely after the three connecting flights from Paris will be exciting :-)!  However, once I'm in Nashville, I absolutely want to go to a bar and listen to a country band. I still don't know which sort of alcohol is needed to bear this, but I will be counting on local fans to guide me.
---
Music Biz 2018 — the Music Business Association's 60th anniversary conference — is set to take place Monday, May 14 through Thursday, May 17 at the Omni Nashville. The 4-day innovative event will bring together global power players and industry enthusiasts committed to the future of music monetization for 100+ panels, presentations, workshops, private meetings, cocktail parties, live music, and more.
Highlights will include keynotes from YouTube's Lyor Cohen, mega-manager Scooter Braun, Republic's Wendy Goldstein; Digital Service Workshops with Amazon, Apple, Facebook, Pandora, SoundCloud, Spotify, and YouTube; Music's Leading Ladies Speak Out powered by Nielsen Music; the Awards Breakfast sponsored by CMA featuring special presentations to the RIAA's Cary Sherman and the Radakovitz Family of Dimple Records'; the Awards Luncheon sponsored by BuzzAngle Music & TiVo honoring breakthrough singer/songwriter Julia Michaels, Scooter Braun, Latin hit Despacito, and more to be announced. The full preliminary schedule can be accessed at musicbiz2018.sched.com.
Register today at musicbiz2018.com to join the 2,000+ attendees expected to descend on Nashville for the four most important days on the industry calendar!
Questions? Email Music Biz's Manager of Events, Sales, and Marketing at nick.maiale@musicbiz.org.