[Music Biz 2018 Speaker Spotlight] Jay Mogis, Nightlife Music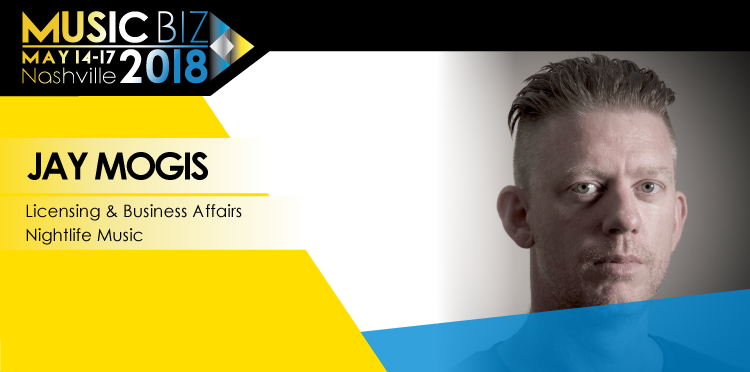 The Music Business Association is excited to welcome Jay Mogis, Licensing & Business Affairs at Nightlife Music for 'From Little Things, Big Things Grow: Using and Abusing Metadata in Australia' on Tuesday, May 15 at 1:40 PM during the Music Biz 2018 conference in Nashville! Check out the fun Speaker Spotlight below to get to know Jay a little more before his Music Biz panel.
Music Biz is celebrating its 60th year in 2018. How many Association conferences have you been to and what was your greatest memory? If it's your first — what panel/keynote/event, etc. (other than your own) are you most excited for? Check out the preliminary schedule here.
This is, admittedly, my first time at Music Biz. After living in Australia and Japan my whole life, I couldn't be happier about coming to the US for the first time, and for such a great reason. I've started mapping out my schedule and it looks like I'll be bouncing between discussions on rights, data and tech the entire week. Too much to choose one favorite here! You'll likely find me at the Jaxsta Lounge and the BuzzAngle Terrace in the mornings and afternoons, then catching as much live music as possible in the evenings. Joining in recognizing Nile Rodgers stands out as a key moment for me if I had to choose one though. His work with INXS on the Original Sin single had a significant impact on the diversity of Australian Music at the time and has influenced countless others since. The whole event looks amazing, and I'll be arriving early and leaving late to make sure I get the most out of my time at both MusicBiz and Nashville. I guess that means I'm excited about the whole program!  
What is your go-to playlist right now? When do you listen to it most?
I have a fairly eclectic taste and a few different hats, so this one is hard. When I'm working on my research I listen to instrumental chill playlists, so I'm not distracted by the lyrics. When I'm working at Nightlife, we test playlists for over 5000 music clients daily, and I focus on more commercial applications. When I'm in the car it changes between 90s indie obscurities, and pretty much any other random music tangent I may be on at the time. My go-to playlist is mostly friends and people I have played with over the years, but that's my crew! I suppose I have playlists for every occasion, but blending hip-hop and roots lists using crowdDJ has been turning up some gems lately. Other times I blend chill beats and acoustic folk, or basically anything that will hack my discovery algorithms in awesome ways and let me listen to great sounds, both old and new.
Music Biz recently made an announcement that its annual conference will take place in Nashville through at least 2020. What's your favorite thing to do in Nashville? If you've never been, what are you most excited to do May 14 – 17?
I'm probably just as excited about experiencing the sights, sounds and delicacies of Nashville as I am about being at the event. I've given myself an extra few days before and after the conference so I can get a real feel for the city, and hope to make some great connections so I can keep coming back. Apart from that, you will probably find me stalking the guitar stores for that elusive L Series Jazzmaster that is missing from my collection… Or riding around on a cruiser looking at old buildings. I'll likely check out the Johnny Cash Museum, The Grand Ole Opry, and RCA Studio B this trip, though I might save a few things for future years. If you see me around, feel free to suggest places to see local original music, eat like a local, and shop for vintage guitars!  
---
Music Biz 2018 — the Music Business Association's 60th anniversary conference — is set to take place Monday, May 14 through Thursday, May 17 at the Omni Nashville. The 4-day innovative event will bring together global power players and industry enthusiasts committed to the future of music monetization for 100+ panels, presentations, workshops, private meetings, cocktail parties, live music, and more.
Highlights will include keynotes from Pandora's Roger Lynch, mega-manager Scooter Braun, Republic's Wendy Goldstein; Digital Service Workshops with Amazon, Apple, Facebook, Pandora, SoundCloud, Spotify, and YouTube; Music's Leading Ladies Speak Out powered by Nielsen Music; the Awards Breakfast sponsored by CMA featuring special presentations to the RIAA's Cary Sherman and the Radakovitz Family of Dimple Records'; the Awards Luncheon sponsored by BuzzAngle Music & TiVo honoring breakthrough singer/songwriter Julia Michaels, Scooter Braun, Latin hit Despacito, and more to be announced. The full preliminary schedule can be accessed at musicbiz2018.sched.com.
Register today at musicbiz2018.com to join the 2,000+ attendees expected to descend on Nashville for the four most important days on the industry calendar!
Questions? Email Music Biz's Manager of Events, Sales, and Marketing at nick.maiale@musicbiz.org.