[Music Biz 2018 Speaker Spotlight] Hans Peter Roth, Muserk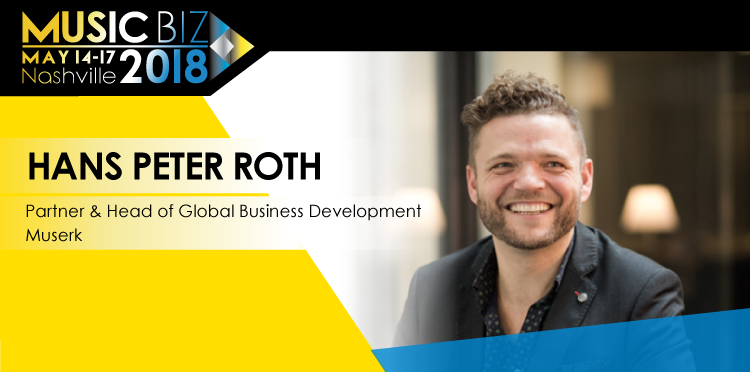 The Music Business Association is excited to welcome Hans Peter Roth, Partner & Head of Global Business Development at Muserk for 'My Song, My Money…Why Metadata?' on Tuesday, May 15 at 2 PM during the Music Biz 2018 conference in Nashville! Check out the fun Speaker Spotlight below to get to know Hans a little more before his Music Biz panel.
If you could have front row tickets to any concert in any city at any venue — what and where would you choose?
It would be for the recording of "The New York Rock and Soul Revue: Live at the  Beacon" back in 1991. Donald Fagan had a stellar line up, performing one great song after another.  My favorite is Michael McDonald's "Lonely Teardrops". The upbeat melody, including a great instrumental part, with lyrics crying out gets me every time. Not to mention it always reminds me of the scene in the movie, Leaving Las Vegas, where Nicolas Cage is driving to…well…Las Vegas. 

If you had to pick just one album to listen to for the rest of your life — what would it be and why?
It has to be Dusk by The The. This album was one of the major reasons why my wife and I started dating 22 years ago.  Our shared love of the album helped bring us together!
If you could perform with a hologram of any artist, who would it be and what song would you sing?
Easy, it would be performing together with my then 12 year old daughter in the finale of  the Danish Voice Jr show in 2015.  She blew the roof off with her version of "Everybody Wants to Be a Cat" (in Danish) from Aristocats. Watch the following and I am sure you will understand! https://www.youtube.com/watch?v=_elZBydhYPw
---
Music Biz 2018 — the Music Business Association's 60th anniversary conference — is set to take place Monday, May 14 through Thursday, May 17 at the Omni Nashville. The 4-day innovative event will bring together global power players and industry enthusiasts committed to the future of music monetization for 100+ panels, presentations, workshops, private meetings, cocktail parties, live music, and more.
Highlights will include keynotes from YouTube's Lyor Cohen, mega-manager Scooter Braun, Republic's Wendy Goldstein; Digital Service Workshops with Amazon, Apple, Pandora, SoundCloud, Spotify, and YouTube; Music's Leading Ladies Speak Out powered by Nielsen Music; the Awards Breakfast sponsored by CMA featuring special presentations to the RIAA's Cary Sherman and the Radakovitz Family of Dimple Records'; the Awards Luncheon sponsored by BuzzAngle Music & TiVo honoring breakthrough singer/songwriter Julia Michaels, Scooter Braun, Latin hit Despacito, and more to be announced. The full preliminary schedule can be accessed at musicbiz2018.sched.com.
Register today at musicbiz2018.com to join the 2,000+ attendees expected to descend on Nashville for the four most important days on the industry calendar!
Questions? Email Music Biz's Manager of Events, Sales, and Marketing at nick.maiale@musicbiz.org.