[Music Biz 2018 Speaker Spotlight] Gloria Green, Middle Tennessee State University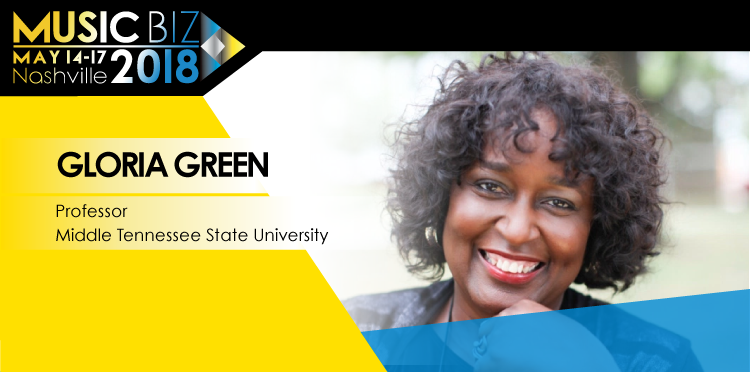 The Music Business Association is excited to welcome Gloria Green, Professor at Middle Tennessee State University for 'Snack Chat' on Thursday, May 17 at 3:30 PM during the Music Biz 2018 convention in Nashville! Check out the fun Speaker Spotlight below to get to know Gloria a little more before her Music Biz event!
If you could have front row tickets to any concert in any city at any venue — what and where would you choose?
Since you didn't say "living or dead," it would totally be front row at a Prince concert — any venue; anywhere! That is one concert I wish I'd taken the time to go see while Prince was still with us. If I could create my own show, I'd have Prince and Michael Jackson make nice with each other, and put them both on stage!
If you had to pick just one album to listen to for the rest of your life — what would it be and why?
It would be Josh Groban's AWAKE. Don't judge! I have my reasons. I'm also a complicated, multi-layered, don't-put-me-in-a-box, diverse music listening, music loving, woman! And as a woman, I reserve the right to change my mind and choose something else later. But to be truthful, it also depends what type of mood I want to be in for the rest of my life. I think I'd rather create my own playlist of my favorites and use that as my lifetime album.
Music Biz recently made an announcement that its annual conference will take place in Nashville through at least 2020. What's your favorite thing to do in Nashville? If you've never been, what are you most excited to do May 14 – 17?
My favorite thing is to play a game of how "not to get caught in downtown traffic" since the morning rush hour lasts through lunch, and the evening rush hour begins at 2 p.m. Best time to avoid backed up traffic is after midnight, except on days when the Titans have a night game, or the Predators are playing. But the most fun is when those things happen on the same night, along with a concert at the Ryman or a Broadway show at TPAC! Such fun driving around Nashville these days! Oh, and then there's skipping lunch all week to save enough money to park!
---
Music Biz 2018 — the Music Business Association's 60th anniversary conference — is set to take place Monday, May 14 through Thursday, May 17 at the Omni Nashville. The 4-day innovative event will bring together global power players and industry enthusiasts committed to the future of music monetization for 100+ panels, presentations, workshops, private meetings, cocktail parties, live music, and more.
Highlights will include keynotes from YouTube's Lyor Cohen, mega-manager Scooter Braun, Republic's Wendy Goldstein; Digital Service Workshops with Amazon, Apple, Facebook, Pandora, SoundCloud, Spotify, and YouTube; Music's Leading Ladies Speak Out powered by Nielsen Music; the Awards Breakfast sponsored by CMA featuring special presentations to the RIAA's Cary Sherman and the Radakovitz Family of Dimple Records'; the Awards Luncheon sponsored by BuzzAngle Music & TiVo honoring breakthrough singer/songwriter Julia Michaels, Scooter Braun, Latin hit Despacito, and more to be announced. The full preliminary schedule can be accessed at musicbiz2018.sched.com.
Register today at musicbiz2018.com to join the 2,000+ attendees expected to descend on Nashville for the four most important days on the industry calendar!
Questions? Email Music Biz's Manager of Events, Sales, and Marketing at nick.maiale@musicbiz.org.