[Music Biz 2018 Speaker Spotlight] Fabiana Claure, University of North Texas College of Music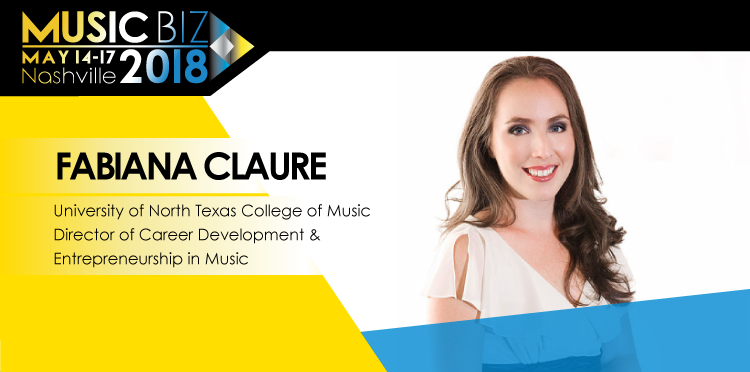 The Music Business Association is excited to welcome Fabiana Claure, Director of Career Development & Entrepreneurship in Music at the University of North Texas College of Music for 'Learning Music Entrepreneurship by Doing: How to Create Experiential Opportunities in an Academic Setting' on Wednesday, May 16 at 11 AM during the Music Biz 2018 conference in Nashville! Check out the fun Speaker Spotlight below to get to know Fabiana a little more before her Music Biz panel.
Music Biz is celebrating its 60th year in 2018. How many Association conferences have you been to and what was your greatest memory? If it's your first — what panel/keynote/event, etc. (other than your own) are you most excited for? Check out the preliminary schedule here.
This will be my first Music Biz conference. Mostly I'm looking forward to the variety of sessions. I can't choose a particular session as my favorite since there is such a wide array of topics and presenters. The more I look at the schedule, the more excited I get.
What's that one song that has the power to get you through the work day? Describe it.
"Guarde Nos Olhos (Keep In Your Eyes)" by Ivan Lins and Vítor Martins. It's part of Ivan Lins's 2004 Latin-Grammy award winning album, "Cantando Historias" (Singing Stories). I really love this song. It has such a peaceful feeling and contains beautiful harmonies. The song narrates the journey of  living in the countryside, then moving to the city.
If you could have front row tickets to any concert in any city at any venue — what and where would you choose?
I'd love to see pianist Martha Argerich perform at Carnegie Hall. That would be amazing!
---
Music Biz 2018 — the Music Business Association's 60th anniversary conference — is set to take place Monday, May 14 through Thursday, May 17 at the Omni Nashville. The 4-day innovative event will bring together global power players and industry enthusiasts committed to the future of music monetization for 100+ panels, presentations, workshops, private meetings, cocktail parties, live music, and more.
Highlights will include keynotes from YouTube's Lyor Cohen, mega-manager Scooter Braun, Republic's Wendy Goldstein; Digital Service Workshops with Amazon, Apple, Facebook, Pandora, SoundCloud, Spotify, and YouTube; Music's Leading Ladies Speak Out powered by Nielsen Music; the Awards Breakfast sponsored by CMA featuring special presentations to the RIAA's Cary Sherman and the Radakovitz Family of Dimple Records'; the Awards Luncheon sponsored by BuzzAngle Music & TiVo honoring breakthrough singer/songwriter Julia Michaels, Scooter Braun, Latin hit Despacito, and more to be announced. The full preliminary schedule can be accessed at musicbiz2018.sched.com.
Register today at musicbiz2018.com to join the 2,000+ attendees expected to descend on Nashville for the four most important days on the industry calendar!
Questions? Email Music Biz's Manager of Events, Sales, and Marketing at nick.maiale@musicbiz.org.