[Music Biz 2018 Speaker Spotlight] Daniel Dewar, Paperchain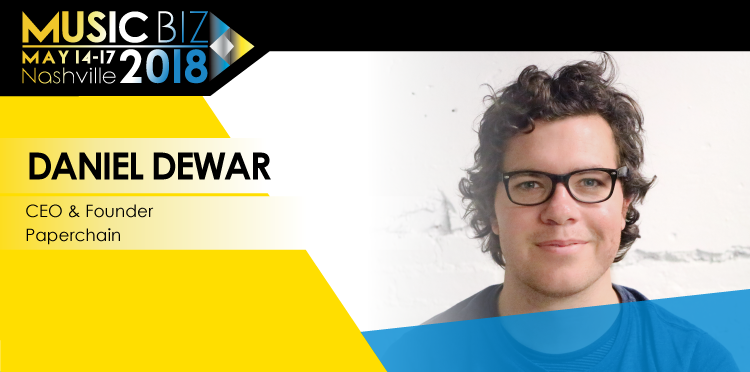 The Music Business Association is excited to welcome Daniel Dewar, CEO & Founder of Paperchain 'Battle of The Blockchain' on Tuesday, May 15 at 11 AM during the Music Biz 2018 conference in Nashville! Check out the fun Speaker Spotlight below to get to know Daniel a little more before his Music Biz panel.
Music Biz is celebrating its 60th year in 2018. How many Association conferences have you been to and what was your greatest memory? If it's your first — what panel/keynote/event, etc. (other than your own) are you most excited for? Check out the preliminary schedule here.
I'm very interested in the "Who Needs You Anyway? Reinventing the Artist-Label Relationship in the Digital Era – A Legal Perspective" panel. I think when some startups come to market with messages of disinter-mediating or removing labels in order to provide direct artist-to-fan platforms, they're misunderstanding the function labels perform. There is an evolution happening in the artist-label relationship, but it's vastly different to labels simply being removed from the supply and business chain.  I hope this panel covers those conversations that are happening.
What's that one song that has the power to get you through the work day? Describe it.
Right now, it's, "Supermodel" by SZA. Ctrl. was the best record of 2017 and "Supermodel" is such a stark and honest admission of insecurity.  It really puts her artistry front and centre from the start of the record. It elicits a different kind of power, in that it makes me stop, listen and take perspective on whatever it is I'm working through. And it reminds that great art can appear out of nowhere, and its impact can be physically forceful. After listening I feel rejuvenated knowing I'm lucky to exist at the same time a work such as this exists, and I'm energized to work harder and keep the aspirations high.
What is your go-to playlist right now? When do you listen to it most?
My own — "I.Work.To.This" — which does what it says on the label. I don't like to listen to music with lyrics or strong dynamics while I work (for the most part), so I started building a list of ambient and electronic pieces that are conducive to "zoning" out and losing track of time. Helps me get into the right mental flow for work. Currently, it's at 305 tracks, 32 hours, and continues to be added to. Check it out here.
---
Music Biz 2018 — the Music Business Association's 60th anniversary conference — is set to take place Monday, May 14 through Thursday, May 17 at the Omni Nashville. The 4-day innovative event will bring together global power players and industry enthusiasts committed to the future of music monetization for 100+ panels, presentations, workshops, private meetings, cocktail parties, live music, and more.
Highlights will include keynotes from YouTube's Lyor Cohen, mega-manager Scooter Braun, Republic's Wendy Goldstein; Digital Service Workshops with Amazon, Apple, Facebook, Pandora, SoundCloud, Spotify, and YouTube; Music's Leading Ladies Speak Out powered by Nielsen Music; the Awards Breakfast sponsored by CMA featuring special presentations to the RIAA's Cary Sherman and the Radakovitz Family of Dimple Records'; the Awards Luncheon sponsored by BuzzAngle Music & TiVo honoring breakthrough singer/songwriter Julia Michaels, Scooter Braun, Latin hit Despacito, and more to be announced. The full preliminary schedule can be accessed at musicbiz2018.sched.com.
Register today at musicbiz2018.com to join the 2,000+ attendees expected to descend on Nashville for the four most important days on the industry calendar!
Questions? Email Music Biz's Manager of Events, Sales, and Marketing at nick.maiale@musicbiz.org.