[Music Biz 2018 Speaker Spotlight] Cindy da Silva, The Rocks Management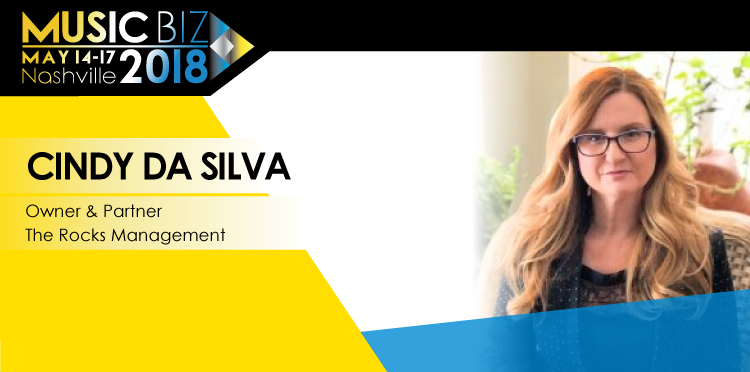 The Music Business Association is excited to welcome Cindy da Silva, Owner & Partner at The Rocks Management  for 'The Business of Merch: Fundamentals & Strategies to Make Music Merchandise Work for You' on Wednesday, May 16 at 2 PM during the Music Biz 2018 conference in Nashville! Check out the fun Speaker Spotlight below to get to know Cindy a little more before her Music Biz panel.
What is your go-to playlist right now? When do you listen to it most?
New upcoming album by Hollis Brown. Can't seem to get enough of it, and due to some inexplicable glitch with my Jeep's bluetooth, it comes on automatically when I commute to work. Seriously obsessed.
If you had to pick just one album to listen to for the rest of your life — what would it be and why?
"Odyssey and Oracle" by The Zombies. It's a perfect album and I have so many memories attached to it. I wouldn't be able to function without it. Plus, it ends the best flower child dance song EVER, Time Of The Season!
Music Biz recently made an announcement that its annual conference will take place in Nashville through at least 2020. What's your favorite thing to do in Nashville? If you've never been, what are you most excited to do May 14 – 17?
Stuff my face with Loveless Cafe's biscuits and jam, and then cry afterwards about how my jeans probably won't fit tomorrow morning. Tragic!
---
Music Biz 2018 — the Music Business Association's 60th anniversary conference — is set to take place Monday, May 14 through Thursday, May 17 at the Omni Nashville. The 4-day innovative event will bring together global power players and industry enthusiasts committed to the future of music monetization for 100+ panels, presentations, workshops, private meetings, cocktail parties, live music, and more.
Highlights will include keynotes from mega-manager Scooter Braun and Republic's Wendy Goldstein; Digital Service Workshops with Amazon, Apple, Pandora, SoundCloud, Spotify, and YouTube; Music's Leading Ladies Speak Out powered by Nielsen Music; the Awards Breakfast sponsored by CMA featuring special presentations to the RIAA's Cary Sherman and the Radakovitz Family of Dimple Records'; the Awards Luncheon sponsored by BuzzAngle Music & TiVo honoring breakthrough singer/songwriter Julia Michaels, Scooter Braun, Latin hit Despacito, and more to be announced. The full preliminary schedule can be accessed at musicbiz2018.sched.com.
Register today at musicbiz2018.com to join the 2,000+ attendees expected to descend on Nashville for the four most important days on the industry calendar!
Questions? Email Music Biz's Manager of Events, Sales, and Marketing at nick.maiale@musicbiz.org.