[Music Biz 2018 Speaker Spotlight] Ash Kernen, Kernen Law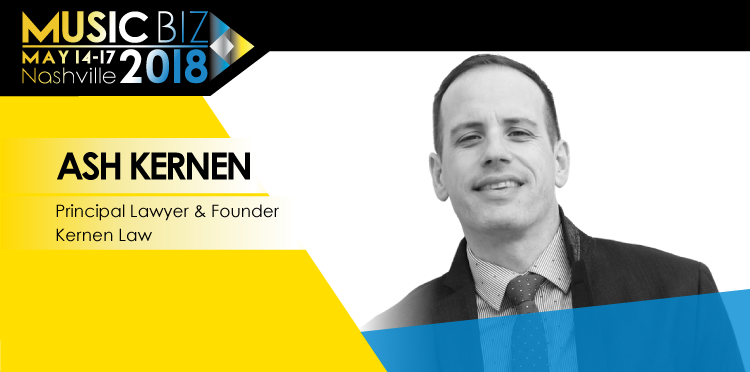 The Music Business Association is excited to welcome Ash Kernen, Principal Lawyer & Founder of Kernen Law for 'Who Needs You Anyway? Reinventing the Artist-Label Relationship in The Digital Era — A Legal Perspective' on Tuesday, May 15 at 1:20 PM during the Music Biz 2018 conference in Nashville! Check out the fun Speaker Spotlight below to get to know Ash a little more before his Music Biz panel.
Music Biz is celebrating its 60th year in 2018. How many Association conferences have you been to and what was your greatest memory? If it's your first — what panel/keynote/event, etc. (other than your own) are you most excited for? 
There are so many great panels and events that I'm excited about, but if I had to say just one,  I'm definitely excited to hear Hilary Rosen interview Scooter Braun.  That dude is turning out to be this generation's Bob Geldorf or Bono (who despite dividing opinions, I admire the hell out of for his philanthropic work).  Scooter is not only a fine business man, but a great humanitarian. His work with Houston and Manchester was incredible. Being someone who has tried hard to weave social-justice and good-works into my own existence (albeit at a much humbler level), first as an artist and now as a lawyer, I think that type of dedication to your fellow-man is to be admired, if not lauded.  Especially in this industry and this cultural moment, where vanity, materialism, and self-centeredness seem to be in vogue. Scooter, if you're reading this, your first beer is on me brother!
If you could have front row tickets to any concert in any city at any venue — what and where would you choose?
I'd be remiss if I didn't quickly point out that I'm not one for the front row. I think there's a catharsis that comes with being amongst the people that gets lost up there. It's almost like the performers become too humanized, whereas when you step back a bit and take it all in, including the collective energy of the crowd, it becomes surreal and the performers are larger than life.  But that little point aside, if we're talking theoretically I would step in the time-machine and travel back to the original Woodstock Festival. Frankly, I'd prefer to see Jimi's set but I'd take just about anybody. Just being there to experience the purity of it all would be a dream come true. Back in the modern world, my dream concert would be a tri-headlined, evening concert of Beach House, Band of Horses, and Coldplay, taking place under the stars at Red Rocks Amphitheater.  Ever since I first heard the album, Dave Mathews' Live at Red Rocks, that place has held a deep mysticism, lore, and spirit in me (and so many others as well). The natural beauty and acoustics are breathtaking. Ironically, I've never had a chance to see a concert there (yet), but I did make the pilgrimage once passing by during a road trip. I took an acoustic guitar and sat on the stage, with only my buddy and one tourist family being there, and strummed my guitar. For those brief 30 seconds I felt like the biggest rock star in the world, lol.   But I suppose, just like that concert, I'll just have to keep on dreaming about that too!
Music Biz recently made an announcement that its annual conference will take place in Nashville through at least 2020. What's your favorite thing to do in Nashville? If you've never been, what are you most excited to do May 14 – 17?
As a huge fan of all-things-music, I'm slightly embarrassed to say I've never been to Nashville despite its legendary place in American music history.  But I'm stoked to say that that's about to change! Of course there are the usual things to be excited about, like Music Row (in general) and BlueBird Café's open-mic night (in particular).  However, as a huge indie-rock guy, I'm equally hype to check out the city's burgeoning indie-rock scene. (Side note. Dream night = Jack White, Dan Auerbach, and Alison Mosshart drinking copious amounts of whiskey together in one blissful jam-filled evening. We'll call it the Camp Nashville Peace Accord, lol).  Additionally, I hear the gastro-scene is bumping, and anyone who knows me, knows I live for good eats. So in short, definitely looking to get into the nooks and crannies of the city…. good people, good food, and great music. That's where you'll find me.

---
Music Biz 2018 — the Music Business Association's 60th anniversary conference — is set to take place Monday, May 14 through Thursday, May 17 at the Omni Nashville. The 4-day innovative event will bring together global power players and industry enthusiasts committed to the future of music monetization for 100+ panels, presentations, workshops, private meetings, cocktail parties, live music, and more.
Highlights will include keynotes from YouTube's Lyor Cohen, mega-manager Scooter Braun, Republic's Wendy Goldstein; Digital Service Workshops with Amazon, Apple, Facebook, Pandora, SoundCloud, Spotify, and YouTube; Music's Leading Ladies Speak Out powered by Nielsen Music; the Awards Breakfast sponsored by CMA featuring special presentations to the RIAA's Cary Sherman and the Radakovitz Family of Dimple Records'; the Awards Luncheon sponsored by BuzzAngle Music & TiVo honoring breakthrough singer/songwriter Julia Michaels, Scooter Braun, Latin hit Despacito, and more to be announced. The full preliminary schedule can be accessed at musicbiz2018.sched.com.
Register today at musicbiz2018.com to join the 2,000+ attendees expected to descend on Nashville for the four most important days on the industry calendar!
Questions? Email Music Biz's Manager of Events, Sales, and Marketing at nick.maiale@musicbiz.org.