[Music Biz 2018 Speaker Spotlight] Andie Rankins, Administrators of Gospel Music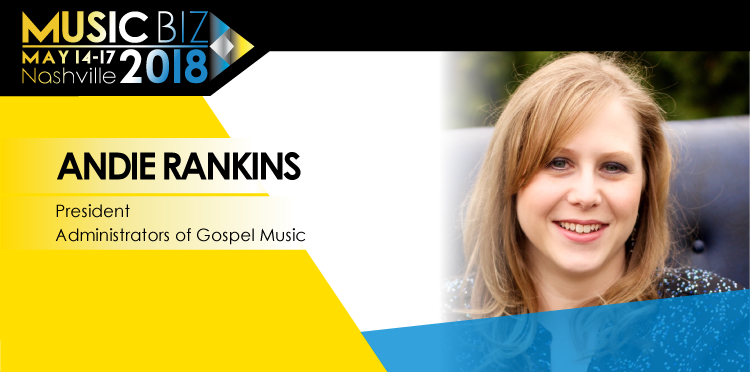 The Music Business Association is excited to welcome Andie Rankins, President of Administrators of Gospel Music for 'The Gospel Truth Behind Christians Music's Influence and Trends' on Thursday, May 17 at 10:30 AM during the Music Biz 2018 conference in Nashville! Check out the fun Speaker Spotlight below to get to know Andie a little more before her Music Biz panel.
What's that one song that has the power to get you through the work day? Describe it.
The one song that has the power to get me through the workday is the 90's favorite, "Can't Touch This" by MC Hammer. This song is a classic. Anytime I hear it I want to dance. Plus, it makes me feel untouchable, like I can do anything!
If you could have front row tickets to any concert in any city at any venue — what and where would you choose?
It would be at the Ryman Auditorium in Nashville watching Amy Grant, with just her and her guitar. I've listened to her my entire life. Her songs have such a depth and honesty to them. I have fond memories of listening to her newest releases (on cassette tapes back in the day) and reading the liner notes. I own every single album she has ever released. She is still my favorite artist of all time.
What is your go-to playlist right now? When do you listen to it most?
My go-to playlist right now is one Spotify curated for me called Daily Mix 1. It consists of artists such as Silver Trees, NEEDTOBREATHE, Johnnyswim, Penny and Sparrow, and more. I love it because I get to hear new artists that I wouldn't normally listen to. I listen to it mostly when I am at work. The predominantly acoustic vibe with the songs' lyrics, is calming and helps me focus on completing my work.
---
Music Biz 2018 — the Music Business Association's 60th anniversary conference — is set to take place Monday, May 14 through Thursday, May 17 at the Omni Nashville. The 4-day innovative event will bring together global power players and industry enthusiasts committed to the future of music monetization for 100+ panels, presentations, workshops, private meetings, cocktail parties, live music, and more.
Highlights will include keynotes from YouTube's Lyor Cohen, mega-manager Scooter Braun, Republic's Wendy Goldstein; Digital Service Workshops with Amazon, Apple, Facebook, Pandora, SoundCloud, Spotify, and YouTube; Music's Leading Ladies Speak Out powered by Nielsen Music; the Awards Breakfast sponsored by CMA featuring special presentations to the RIAA's Cary Sherman and the Radakovitz Family of Dimple Records'; the Awards Luncheon sponsored by BuzzAngle Music & TiVo honoring breakthrough singer/songwriter Julia Michaels, Scooter Braun, Latin hit Despacito, and more to be announced. The full preliminary schedule can be accessed at musicbiz2018.sched.com.
Register today at musicbiz2018.com to join the 2,000+ attendees expected to descend on Nashville for the four most important days on the industry calendar!
Questions? Email Music Biz's Manager of Events, Sales, and Marketing at nick.maiale@musicbiz.org.