Music Biz 2018 Business Awards Breakfast Scripted Remarks from Music Biz President James Donio, Chair of the Board Fred Beteille, and Vice Chair Steve Harkins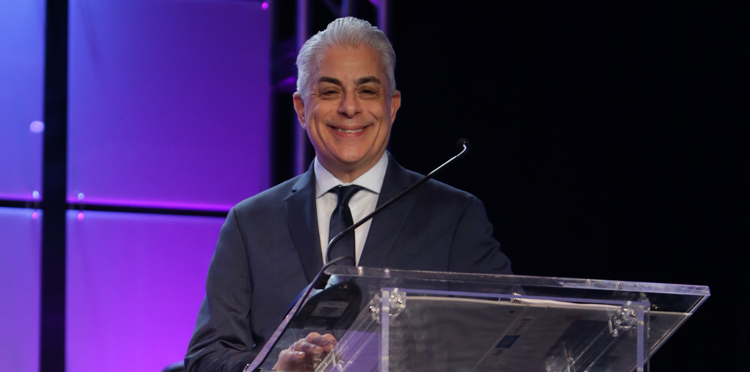 Music Biz President James Donio
Before I go any further, let's thank our wonderful friends at WEA
for last night's great cocktail party. This get-together has become a longstanding tradition at Music Biz, and we appreciate your support and commitment to the organization and this conference.
Now, I get the chance to officially welcome all of you, on behalf of Music Biz, to our 60th Annual Conference. It's our Diamond Anniversary.
Diamonds are known to be the strongest and most durable substances on earth.  I think we have earned this anniversary because we have been demonstrating those diamond-like qualities for six decades. We've fought hard to flourish, not only in the face of the myriad changes in the music business, but against the broader economic headwinds. We've literally been there through every shift in music format and through the way fans discover and consume music. At this conference, we promise to honor our past, highlight our present and herald what's coming next.
So, what exactly was in the water in 1958? At this point, we're a bit past the initial burst of energy from Rock and Roll. Elvis Presley jump-started both that genre and Country. While he had gone into the army in 1958, the Philadelphia program American Bandstand hosted by Dick Clark had just made its national debut in August 1957. Clearly something was happening around music across the country, but at this point, there were almost no specialty record stores!
The National Association of Recording Merchandisers was formed by a bunch of wholesalers and distributors who wanted to partner with the labels to advance their cause and get music into drug stores, which were the main retail outlet for 45s and albums. In fact, Russ Solomon, who we will honor on Thursday as our first Music Business Hall of Fame inductee, started his career buying records for his father's business, Tower Cut Rate Drug Store, and just two years after NARM's founding, opened the first Tower Records in Sacramento. The industry was in its infancy as new companies, organizations, programs, and initiatives were created to help the industry to develop and grow. And our founders were not alone. CMA, The Grammy Awards, Warner Brothers Records, RIAA's Gold & Platinum Program and the Billboard Hot 100 are also hitting the big 6-0 along with us, and we congratulate them!
So what was the music everyone was listening to that year? The top songs were classics like "Volare"; "All I Have to Do Is Dream" by The Everly Brothers; Elvis' "I Beg Of You"; Tommy Edwards' "It's All In The Game"; and don't forget two of the greatest novelty tunes of all time. "Purple People Eater" and "Witch Doctor." If you don't know them, trust me and check them out. They're addictive!
Christmas albums and Broadway Cast Recordings such as My Fair Lady hit the Billboard Charts in 1958. The show is coincidentally having a 60th Anniversary revival on Broadway right now. There was also The Music Man and Soundtracks for hit films South Pacific and Gigi. And who could forget that one of  Frank Sinatra's most iconic collections "Come Fly With Me" dominated the album charts.
We are celebrating our legacy with a collection of signature photos from our convention's past, displayed in giant 3-D cubes you've seen as you entered the conference area. These photos recall some of our most memorable moments from our annual event and feature artists who famously made their industry debuts at our NARM events, such as Whitney Houston in 1986; Mariah Carey in 1990; Josh Groban in 2002; and Taylor Swift, who was a newcomer in 2007 and who returned just three years later to claim her Artist of the Year Award.
There are shots of headline performers through the decades …from The Four Seasons to Donna Summer…from Dolly Parton to Joan Rivers…from Tony Bennett to BB King.  And award winners including Frank Sinatra, Garth Brooks, Katy Perry, Scott Borchetta, and Reba McEntire. You may have been surprised to see former President Jimmy Carter and politician and activist Jesse Jackson, but both actually addressed NARM conventions. Plus there are some of the most celebrated executives like Dick Clark, Don Cornelius, Clive Davis, Russ Solomon, Sylvia Rhone, and NARM's own grande dame Mickey Granberg.
Our Association was established to serve the music industry. Through 60 years of musical styles and commerce evolutions, we continue to provide value to our members. We've outlasted the 45, the 8-track, the MiniDisc — and depending who you ask — the digital download. So, I guess we have been doing something right. Our goal has always been to be a platform where music — as a business — is taken seriously.
Over these six decades, we've made a real difference and we take pride in that legacy, as we've helped advance the industry disciplines of music discovery, promotion, merchandising, operations, research, and more. It's been quite a ride. And we certainly have quite a scrapbook to show for it.
Since we're in a celebratory mood, let's also congratulate all the other companies who are commemorating their own milestones this year.
Merlin's 10th
CDBaby's 20th
ADA's 25th
SoundGarden's 25th
Newbury Comics' 40th
Rhino's 40th
Smithsonian Folkways' 70th
If we've forgotten anyone, we salute you too!
When we changed our name to the Music Business Association in 2013, we made a commitment to expand the profile and scope of our organization and events to fully encompass every facet of the business. As you mingle and meet during this event, I believe you'll see we have delivered on that mission. This success is also attributed in no small measure to moving this annual gathering to Nashville.
We have received such an amazing level of commitment from the city itself, the Music City Music Council and all of our industry partners who call Nashville home.
We have announced our plans to keep the conference here for at least the next two years.
We'll be moving to a brand new hotel that is set to open its doors in just a few months, the JW Marriott. Music Biz 2019 will take place from Sunday, May 5, through Wednesday, May 8. Music Biz 2020 will take place from Monday, May 11, through Thursday, May 14. So mark your calendars!
But I'm getting ahead of myself. I hope you'll agree that this year's program is our best ever, with some truly marquee participants.
The third edition of our Leading Ladies program — powered by Nielsen — boasted an exceptionally impressive line-up of top female executives including Republic's Wendy Goldstein and stellar creators like Dolly Parton and Linda Perry. They shared inspiring career journeys, talked about the climate for women in business, and explored partnerships.
This afternoon, Roger Lynch will talk about his experiences in his first six months at Pandora, and what he sees ahead for the company, streaming and the industry-at-large, joined by Sony Music Nashville CEO Randy Goodman. And tomorrow we'll hear how Scooter Braun seamlessly blends business and philanthropy.
We've weathered one of the most dramatic changes in the music industry, the transition from purely physical formats to a hybrid marketplace with digital and physical.
And now our industry is growing again. In fact, 2017 was a better year for the recorded music business worldwide than we've seen in quite some time. According to this year's IFPI Global Music Report, revenues topped $17 billion, up from $16 billion in 2016. That's an annual growth rate of 8.1%. Streaming has been the undisputed driver, boosting revenues by 41% year-on-year, and adding almost $2 billion to hit $6.6 billion.
Stateside, according to RIAA recorded music revenues continued their streaming-fueled growth, rising 16.5% to $8.7 billion. It's the first time in nearly two decades that revenue substantially increased two years in a row. In fact, streaming accounted for almost two-thirds of all industry revenue at $5.7 billion, up 43%. But, the physical space showed its resilience, passing downloads for the first time since 2011 with $1.5 billion. Vinyl's success marches on with revenue up 10% to $395 million.
Data from our friends at BuzzAngle and Nielsen clearly underscore that these consumption patterns are not shifting as we are several months into 2018. Total consumption volume is up in the mid-teens versus the same period in 2017 — with audio and video streaming leading the way and on- demand streams dominating album equivalent volume — in spite of steadily declining overall sales numbers.
Helping to buck the sales trends, we must congratulate Record Store Day on 11 amazing years of priceless service to this industry, not only for its commercial contributions, but for the tremendous global goodwill generated by this event for all of us. Music Biz has proudly been a sponsor of Record Store Day for more than a decade. According to Nielsen, a whopping 733,000 vinyl albums were sold the week ending April 26, marking the biggest week ever for vinyl sales during a Record Store Day week. Of the total vinyl albums sold on Record Store Day 2018, Nielsen found that consumers purchased 580,000 at independent retailers.  The Record Store Day Town Hall will take place tomorrow at 9 AM to debrief and start planning for 2019.
In addition to the encouraging commercial news, there is good news on the policy front. We applaud the cross-section of content, commerce and creative voices across the industry who support the Music Modernization Act, designed to improve songwriter royalty rates from streaming companies, while making the music licensing process more efficient for those same companies. It has passed the House of Representatives and has been introduced in the Senate. Find links to more info on the MMA on our web site musicbiz.org.
Music Biz continues to execute a strategic plan that is built around three pillars: Events, Education and Engagement. Our top priority is providing the industry with great events to offer access to information; exposure to new music, products and services; networking; and new business opportunities.
This conference has topped last year's — which was our biggest in 16 years — with about 2,200 attendees. There are hundreds of first-timers, continuing the trend since we moved the event here of welcoming the vibrant and growing Nashville music community's artists, musicians, songwriters, managers, publishers, brands, and entrepreneurs than ever before.
Plus, we have many representatives from around the globe, from Spain to China, from Israel to South Korea.
It's also the largest program ever, with more than 350 speakers in more than 150 sessions. And we're committed to striving for as inclusive a program as possible, providing balance and diversity in topics and participants. Believe it or not, our critically- acclaimed Entertainment & Technology Law Conference series is now in its 9th year. Programs are mounted during this event here in May, as well as in September in New York. The event has been lauded for the mix of legal and industry experts and the timely treatment of newsworthy cases and legislation.
The newest addition to our events portfolio is NY:LON Connect, which we produce in partnership with our UK media colleagues at MusicAlly headed by Paul Brindley. It was envisioned by our own Bill Wilson as a high-level, limited attendance, executive summit filling a void at the beginning of the calendar year. It alternates between New York and London — thus the name — to assemble thought leaders from the international music industry to discuss and debate key issues and trends. The 2018 gathering at The Dream Downtown during GRAMMY Week in New York drew a standing room only crowd and a waiting list of about 100 people hoping to get in if we had a cancellation. Feedback was uniformly positive, and our discussions with MusicAlly are underway for the third edition to take place in late-January 2019 in London. Stay tuned for our announcement about dates and venue.
The second pillar of our strategic plan focuses on Education because we feel we have a responsibility to encourage and prepare the next generation of music business leaders and visionaries. Our Academic Partnership Program continues to expand, now encompassing 24 colleges and universities. In the past year, we have added…
Five Towns College;
Lindenwood University;
Popakademie;
University of Montana;
University of North Texas;
USC; and
York College of Pennsylvania.
That translates into 3,000 students who are members of our community. More than 200 are here with us this week, and I know you've been making them feel welcome. We've expanded our Career Day to two days this year for students to be introduced to companies at which they may find internships or jobs. You'll hear about how our student members continue to benefit from our Scholarship Foundation later this morning.
And, while we are touching on introducing different aspects of the business, producers from the television competition show The Four are on-site scouting talent. I know there are lots of artists among us this week. If you are interested in auditioning here is information to make that connection.
We have a variety of ways our members engage with us and each other.  Some of those cross over with our other pillars of events and education, such as our monthly Common Ground Webinar Series that offers companies an opportunity to introduce themselves, promote something new they are doing, or share valuable data, insights and analysis.
Members can also engage by coming together when there is a need to support a shared idea, interest or initiative. For example, our Physical Business Action Committee is advocating for the importance of the independent physical retail sector through meetings with the management community that are arranged and conducted under Music Biz's auspices.
Of course, there are any number of other in-person and virtual meetings throughout the year, foremost with our Board of Directors, but individually with members as my staff and I travel around the country. And our social media efforts via Facebook, Instagram and Twitter have helped materially in bringing our engagement levels to new heights every month. Naturally, as we all engage and become closer, it makes it even harder to accept the painful and heartbreaking loss of members of our music community. Let's have a moment of silence for all of the artists and executives we lost this past year whose contributions we valued and whose memory we will cherish forever.
As always, I want to express my deep appreciation to our Board of Directors and, of course, my amazing staff for their brilliant, inventive and tireless efforts to bring this year's conference to you. Please join me in a round of applause for the Music Biz Board and staff. And, naturally, none of this would be possible without the terrific support of our generous sponsors, advertisers and promotional partners.
Thank you all so much. I am finishing up 30 years with the organization this month. No one takes a job and imagines they will be there for half of their life. It's a particularly significant, gratifying and emotional time for me. Music Biz is my extended family. To those who through my three decades have shared their advice and their experience, their friendship and their support, and maybe just an encouraging word when it was most needed, I offer my sincerest and most heartfelt appreciation. My wish is that your experience at this milestone event will be productive and rewarding in every way possible.
As we all ponder and speculate about what's next in the business, and in our own working lives day to day, I can fully commit one thing to you. Music Biz will do what it has always done…be a trusted forum for confronting whatever may come our way. Working together, we've got this.
Thank you! Now, please welcome our Vice Chairman of the Board of Directors, from Baker & Taylor…Steve Harkins.
— 
Vice Chair Steve Harkins
Thanks, Jim.
I am here to acknowledge the good work of the Association's Scholarship Foundation, and to announce the Class of 2018. Since 1966, the Foundation has awarded eight million dollars in financial assistance to deserving students. And it is because of the generosity of our donors that the Foundation is able to continue this valuable member benefit. Thank you Atlantic Records, Big Machine Label Group, Sony Music Entertainment, Redeye, Spotify, Universal Music Group, and WEA for your support. And a special thanks to Apple Music for graciously donating gift cards to all of this year's winners. This year 17 outstanding students are sharing $43,000 in awards.
Three of our winners are present here today:
Sheila Miller-Elias who attends Full Sail University in Winter Park, Florida;
Julian Worden from William Paterson University in Wayne, New Jersey; and
Hannah Yak from Ferris State University in Big Rapids, Michigan
Let's have a round of applause
for Sheila, Julian, and Hannah and the entire Scholarship Foundation's Class of 2018. I would also like to take a moment to thank those members that serve on the Scholarship Committee. And, last but not least the Foundation's longtime Executive Director Pat Daly, whose dedication and passion for this organization has set an example for us all for four decades!
—
Chair of the Board Fred Beteille
Good morning. It's amazing to see how this event and organization have grown over the past few years. There's a renewed spirit and energy that you can truly feel… and for those that were around in some of the darker days of the business, the difference is palpable. Part of this is due to the wonderful city of Nashville. Another huge part of this is due to the growth of the business. But most of all, it's due the hard work of many wonderful people. On the top of that list is the Music Biz team. Thanks to Jim and the Music Biz Team for all they do… it's a small group of people who work tirelessly to make it happen.  Let's give them a round of applause.
Another group of people who's dedication can not go unrecognized is the Music Biz board. Jim told me to tell you to stand when your name is called – so please do so, or you will be subject to the wrath of Donio.
Introduce Board
From Universal Music Group, Candace Berry

From The Sound Garden, Bryan Burkert

From Redeye, Glenn Dicker

From INgrooves Music Group, Amy Dietz
From Sony Music Entertainment, Jennifer Fowler

From Spotify, Phillip Eubanks

From YouTube, Symon Hallam

From Entertainment One, Michael Healy

From Schoolkids Records, Stephen Judge

From Pandora, Elizabeth Moody

From Super D/Alliance, Bruce Ogilvie

From Dimple Records, Dilyn Radakovitz

From Big Machine Label Group,Mike Rittberg

And From Apple Music, Colin Young
Serving with me on the Executive Committee are:
Vice Chairman, from Baker & Taylor, Steve Harkins

Treasurer, from Warner Music Nashville, Matt Signore

And Secretary, from Amazon, Ryan Redington
They are an amazing group of people that I am honored to work with. I look forward to continuing this work over the coming years.
When I first became Chairman, I was trying to get the lay of the land…. and I had a call with Jim Urie… he said to me (and I'm paraphrasing) – "You're so young, does it freak you out to be doing this… you know this organization has been around since 1958… don't fuck it up."  Maybe I should have been freaking out.
60 years. Unreal. As you've heard from Jim, the legacy of this organization is far reaching, with material impact on the arts, commerce and culture.  It's truly an institution – one that I'm honored to be a small part of. It is somewhat ironic that we are recognizing the 60th anniversary of this and many other music industry institutions at a time where some of our most important institutions are under fire. This false and self-serving narrative neglects to recognize that our institutions are the foundations of our society, our businesses, our customs and traditions. They help make us who we are and provide guidelines that help navigate a complex and often times challenging world. In our industry, our institutions have helped us navigate extreme change. But at the end of the day, institutions are essentially just groups of people united behind a common purpose
A quote I once heard comes to mind:
With institutions, the whole is always less than the sum of its parts. There will never be a state as good as its people, or a church worthy of its congregation, or a university equal to its faculty and students.
Or in our context… all of us are Music Biz… and while the people in it may change over time, it's the people who make it what it is.  Thanks to all of you for your continued support.