Music Biz 2017 Speaker Spotlight: Zeke Stokes, GLAAD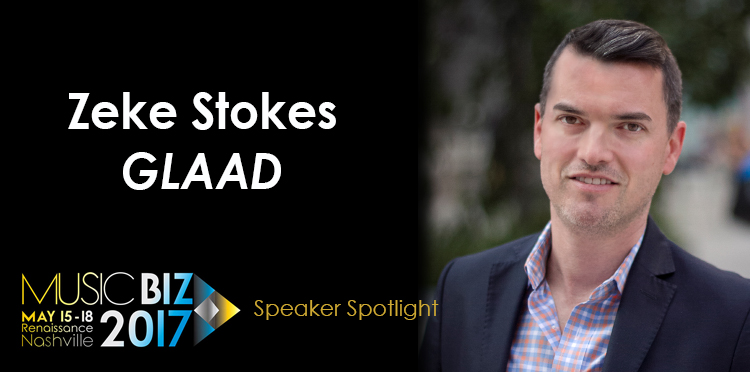 The Music Business Association is excited to welcome Zeke Stokes, VP of Programs at GLAAD for 'LGBTQ in the Music Business: Where is the Representation?' on Wednesday, May 17 at 11AM during the Music Biz 2017 convention in Nashville! Check out the fun Speaker Spotlight below to get to know Zeke a little more before his Music Biz panel!
Have you ever been to the Music Biz Convention? If so, what's your favorite memory from the event? 
I am a big Halsey fan, and I was so excited to meet her as she was named Breakthrough Artist at last year's conference. She has gotten even bigger since then, so it just serves as another example of how Music Biz remains on the cutting edge of what's now and what's next.
Have you ever struck an important business deal at Music Biz? If so, can you share you some insight with us?
As VP of the non-profit GLAAD, I was able to leverage contacts made at the conference to help influence opposition to negative legislation in Tennessee that threatens the state's economy — and the music business in Nashville.
What's the first concert you ever attended? What did it mean to you?
My first concert was Taylor Dayne, and it was at the King Street Theater in Charleston, SC. The theater itself is long gone, but whenever a Taylor Dayne song comes on, it can put me right back on top of that chair dancing to "Tell It To My Heart."
What song is currently stuck in your head? AND What is your "album of the year"?
"Treat You Better" by Shawn Mendes has been stuck in my head since I heard it the first time, and I find myself singing it under my breath on a near daily basis. But as far as album of the year goes, it's not even a contest — The Weeknd's "Starboy" is where it's at!
Who do you predict will be the biggest breakout artist in the next year or years ahead?
I have my eyes on Paris Jackson. She's already seeing success as a model, and I'm hoping she's going to hit the recording studio soon and build on the amazing legacy of her family.
---
Music Biz 2017, the industry's premier convention, is set to bring together 1,500+ music industry professionals from across the globe Monday, May 15 to Thursday, May 18 in Nashville at the Renaissance hotel. The "four most important days on the industry calendar" will include 100+ panels; live music showcases; workshops with Apple, Amazon, Google/YouTube, SoundCloud, Spotify, and Pandora; meetups; mixers; awards honoring Adele, Lukas Graham, Maren Morris, Paula Abdul & more; keynotes from Spotify's Troy Carter & Atlantic's Julie Greenwald; and so much more.
Visit musicbiz2017.sched.com for the full schedule and musicbiz2017.eventbrite.com to register!
Questions? Reach out to Music Biz's VP of Communications Nicole Hennessey at nicole.hennessey@musicbiz.org today!