Music Biz 2017 Speaker Spotlight: Zeeshan Zaidi, OnTour with Ticketmaster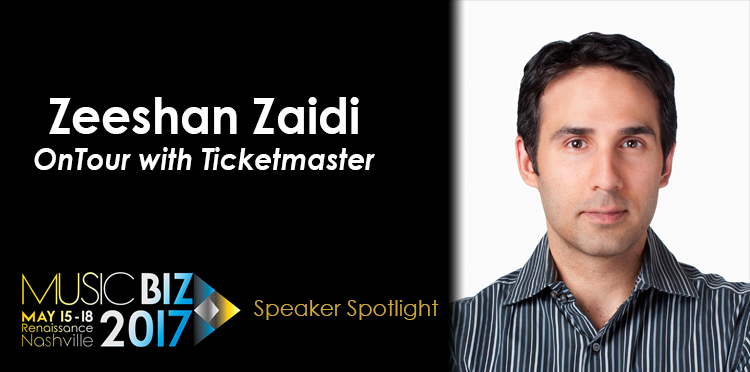 The Music Business Association is excited to welcome Zeeshan Zaidi, Sr. VP & GM, OnTour with Ticketmaster for 'Getting Tickets to Your True Fans – An Actionable Discussion' on Thursday, May 18 at 9:40 AM during the Music Biz 2017 convention in Nashville! Check out the fun Speaker Spotlight below to get to know Zeeshan little more before his Music Biz panel!
Have you ever been to the Music Biz Convention? If so, what's your favorite memory from the event? (panels, awards, performances, location, funny story, etc.)?
I have! I enjoyed the convention a lot. My favorite memory from Music Biz was meeting all the entrepreneurs and learning about all their exciting startups.

What's your favorite thing to do in Nashville — besides attend the Music Biz Convention?
Hang with my friends! So many great people in the industry down in Nashville, I love doing the rounds and catching up with everyone.
What panel, presentation, event, etc. (other than your own) are you looking forward to the most at Music Biz 2017?
Both panels moderated by my friend Bill Wilson — he's great at getting to the heart of issues.
What can attendees expect from your panel at Music Biz 2017?
We're excited to tell everyone about the latest tools to combat bots and scalpers and make sure that artists get tickets into the hands of real fans!
---
Music Biz 2017, the industry's premier convention, is set to bring together 1,500+ music industry professionals from across the globe Monday, May 15 to Thursday, May 18 in Nashville at the Renaissance hotel. The "four most important days on the industry calendar" will include 100+ panels; workshops with Apple, Amazon, Google/YouTube, SoundCloud, Spotify, and Pandora; meetups; mixers; live music; awards honoring Reba McEntire, Adele, Lukas Graham, Maren Morris, Paula Abdul, Hamilton & more; keynotes from Spotify's Troy Carter & Atlantic's Julie Greenwald with Kelly Clarkson; and so much more.
Visit musicbiz2017.sched.com for the full schedule and musicbiz2017.eventbrite.com to register!
Questions? Reach out to Music Biz's VP of Communications Nicole Hennessey at nicole.hennessey@musicbiz.org today!