Music Biz 2017 Speaker Spotlight: Tomás Uribe, Stereotheque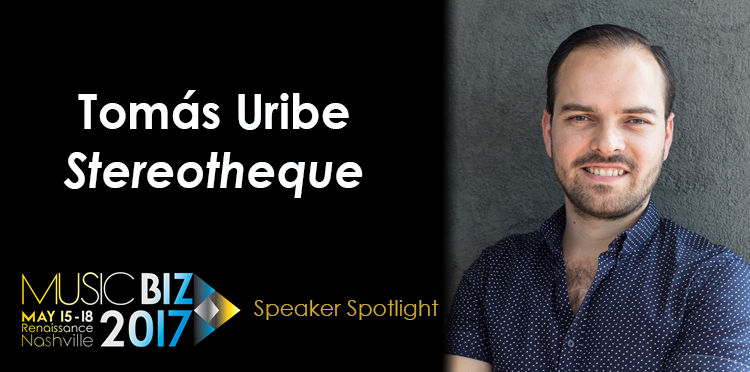 The Music Business Association is excited to welcome Tomás Uribe, Co-Founder & CEO at Stereotheque for 'The Untapped Market: The Hispanic Music Consumer' on Tuesday, May 16 at 3:10 PM during the Music Biz 2017 convention in Nashville! Check out the fun Speaker Spotlight below to get to know Tomás little more before his Music Biz panel!
What's the first concert you ever attended OR what's the best concert you've ever attended?
The best concert I've attended was Nine Inch Nails at the Barclays Center (Brooklyn, 2013). The shows that Trent Reznor puts together are incredible from any and every standpoint. The visual and interactive effects (he worked in partnership with Moment Factory) they use includes computer vision, laser, light programming and real-time video. These effects are not used as a simple commodity for the concert but it accentuates the music and every single song and performance. These were the best 2 hours of my live music experience.
How did you know you wanted to get into the music industry?
I've been in the music industry (directly or indirectly) since I was 7 years old when I began studying music. Toured around Europe with a children's choir, then studied music composition, film scoring and bass at university, toured with my band and released two albums. I then transitioned to the music tech industry, creating my own company and have always been involved in one way or another.
What song is currently stuck in your head? AND What is your "album of the year"?
Song: "Good as Hell" by Lizzo
Album: "I See you" by The xx.
What can attendees expect from your panel at Music Biz 2017?
Hispanics have become Super Consumers… With a population that will account for more than half of the population growth in the U.S. by 2020, spending the most on music consumption versus the average user, and brands need to know how to cater to them.
---
Music Biz 2017, the industry's premier convention, is set to bring together 1,500+ music industry professionals from across the globe Monday, May 15 to Thursday, May 18 in Nashville at the Renaissance hotel. The "four most important days on the industry calendar" will include 100+ panels; workshops with Apple, Amazon, Google/YouTube, SoundCloud, Spotify, and Pandora; meetups; mixers; live music; awards honoring Reba McEntire, Adele, Lukas Graham, Maren Morris, Paula Abdul, Hamilton & more; keynotes from Spotify's Troy Carter & Atlantic's Julie Greenwald with Kelly Clarkson; and so much more.
Visit musicbiz2017.sched.com for the full schedule and musicbiz2017.eventbrite.com to register!
Questions? Reach out to Music Biz's VP of Communications Nicole Hennessey at nicole.hennessey@musicbiz.org today!