Music Biz 2017 Speaker Spotlight: Timothy Trudeau, Syntax Creative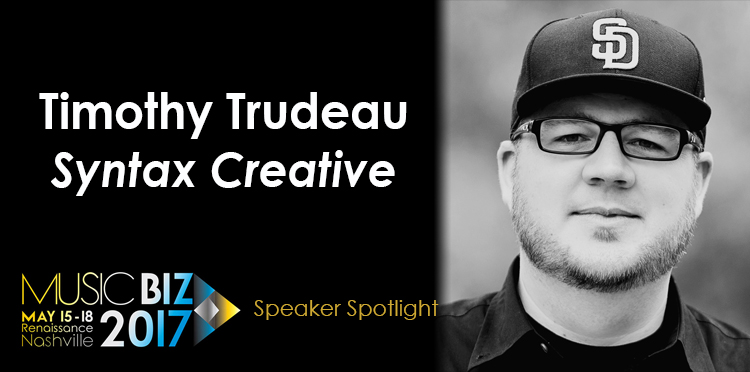 The Music Business Association is excited to welcome Timothy Trudeau, CEO at Syntax Creative for 'How Niche Streaming Services Can Grow Your Profit Mix' on Tuesday, May 16 at 2 PM during the Music Biz 2017 convention in Nashville! Check out the fun Speaker Spotlight below to get to know Tim little more before his Music Biz panel!
Have you ever been to the Music Biz Convention? If so, what's your favorite memory from the event? (panels, awards, performances, location, funny story, etc.)?
I started attending in 2005 and it continues to be beneficial!
Have you ever struck an important business deal at Music Biz? If so, can you share you some insight with us?
Back when I ran a Southern California based Hip Hop label, I attended Music Biz in order to set up meetings with several of the top independent distributors. Sitting down face-to-face is invaluable. Not to mention it's much more affordable to attend Music Biz than it would be to travel to Los Angeles, New York and Nashville to set up meetings with individual companies. By the way, didn't mean to leave you hanging… we ended up selecting Entertainment One.

How did you know you wanted to get into the music industry? Or maybe you didn't?
Originally, I had no desire to get into the industry. I simply wanted to make music. The problem came when I wanted other people to hear the music too. I realized that I would have to understand the industry if I ever wanted these songs to make it past my bedroom. I ended up loving the business side so much, that it's where I spend most of my time now. Besides, there can be an expiration date for artists, whereas, you can use the skills you learn in the music business to not only help your own musical career, but to also parlay it into other careers both in and outside the industry.
What's your favorite thing to do in Nashville — besides attend the Music Biz Convention?
I come to Nashville so much that I consider it a second home. And technically it was since I owned multiple rental properties down here for over a decade. So, my favorite thing to do is to take out-of-towners off the path of the typical touristy stuff that folks do here. Those things are great too, but this whole state and part of the country is beautiful. Leave downtown if you can!

What panel, presentation, event, etc. (other than your own) are you looking forward to the most at Music Biz 2017?
As a digital distributor, I'm most excited about the workshops and presentations by our digital service providing partners such as Apple Music, Spotify, Google and Pandora. These companies are constantly developing new features and tools that we love learning about so that we can relay it back to as many of our 130 distributed labels as possible.

What can attendees expect from your panel at Music Biz 2017?
Our panel is titled 'How Niche Streaming Services Can Grow Your Profit Mix.' I'll be bringing my experience with niche markets such as underground Hip Hop, Christian or Bluegrass and be joined by some really smart people who know much more than I do.
---
Music Biz 2017, the industry's premier convention, is set to bring together 1,500+ music industry professionals from across the globe Monday, May 15 to Thursday, May 18 in Nashville at the Renaissance hotel. The "four most important days on the industry calendar" will include 100+ panels; workshops with Apple, Amazon, Google/YouTube, SoundCloud, Spotify, and Pandora; meetups; mixers;live music; awards honoring Adele, Lukas Graham, Maren Morris, Paula Abdul & more; keynotes from Spotify's Troy Carter & Atlantic's Julie Greenwald; and so much more.
Visit musicbiz2017.sched.com for the full schedule and musicbiz2017.eventbrite.com to register!
Questions? Reach out to Music Biz's VP of Communications Nicole Hennessey at nicole.hennessey@musicbiz.org today!